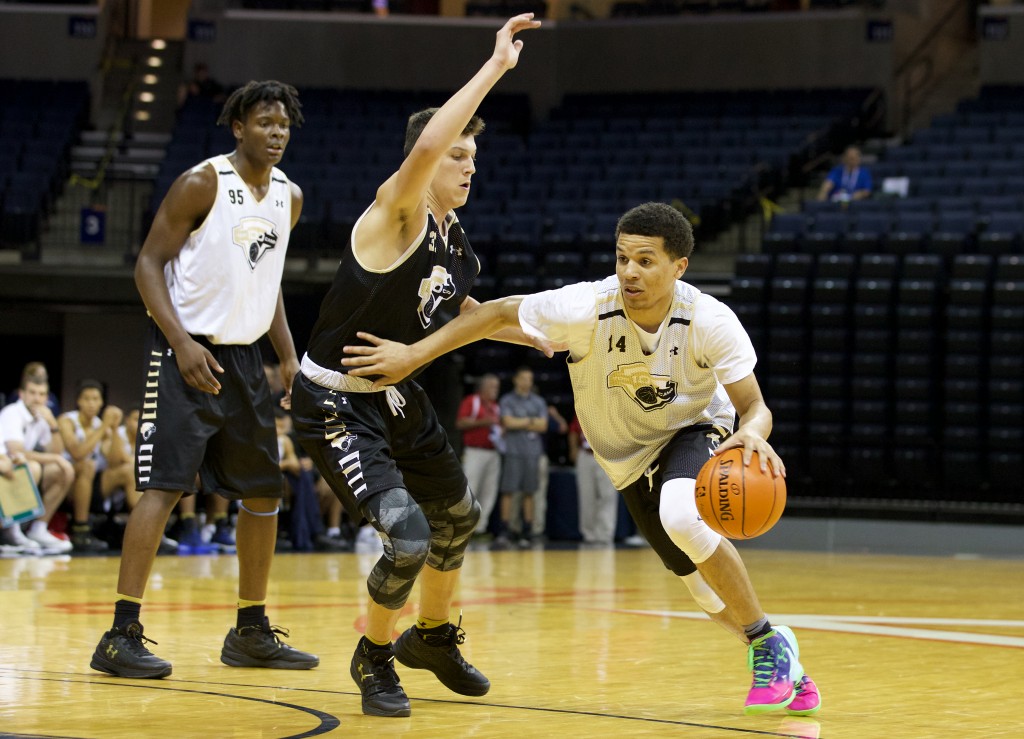 CHARLOTTESVILLE, VA — It was a great three days of action at the NBPA Top 100 camp and there was a lot to take away from the national stage. What were the lessons learned from this year's camp? Justin Young jumps right into it. 
2018 POINT GUARDS RULE THE REALM 

Less than a week from now we'll be talking about the point guard class of the 2017 NBA Draft. Yes, that's a special group. When they were prep stars, they were elite at this level. Then college came. Some shined (see De'Aaron Fox and Lonzo Ball), some were sidelined with injuries and recovered (see Dennis Smith), some played well but never won (see Markelle Fultz). 
Is this 2018 class just as good? Maybe. There may not be an elite level guy in terms of freaky athleticism like the 2016 high school class but the 2018 group may be deeper at the top. 
There are at least a dozen floor generals that can step into a high-major program and log important minutes. We saw a number of them at the NBPA Top 100 camp. The best players on the hardwood were point guards. 
I'm not sure there was a better guard from start to finish than that of Jahvon Quinerly. The New Jersey native was a terrific mixture of scoring, passing, rebounding, defense, play-making and leadership. He seemed to get better as the camp progressed while other players seemed to hit their wall. 
Quinerly was brilliant in this setting and was trending throughout the week among the throng of media in the building. 
In the second tier of top performers at the point guard spot is Ayo Dosunmu and Immanuel Quickley. Their match-up on Thursday was the best head-to-head pairing of the camp and it didn't disappoint. Be sure to read that recap. Dosunmu was a scoring problem for defenders throughout and Quickley was the most impressive athlete from all of the guards. Don't misread "second tier" as not as good because these guys were brilliant all week long. 
In the third tier, we find Devon Dotson. Courtney Ramey, Anferne Simons and Elijah Weaver from the 2018 point guard class at the NBPA Top 100 camp. Dotson was simple but aggressive on both ends. Ramey was fast and terrific as a set up man. Simons mixed scoring, shooting and winning as good as anyone. Weaver was tough, tough and tough. 
OH BIG MEN, WHERE OUT THOU? 
As good as the guards were at the NBPA Top 100 camp, I do wonder about the overall week of work from the big men. Truthfully, it was a little lack luster. 
Simi Shittu was far away the most productive and that's because he just out worked everyone inside. 
David McCormack was great during the time he played. But he only logged three games worth of action. His travel teammate Armando Bacot was very good. He has been very good all spring long for Team Loaded on the 17U adidas Gauntlet and his stellar play continued at the camp. But he's a 2019 prospect. And a darn good one at that. 
So we come back around to square one and the original thought - where are the 2018 big guys and where is their production? 
Javian Fleming showed his value and should be, if he isn't already, a priority for the Southern high-major schools. The Mississippi paint-eater did a good job of playing his role as a rebounder. 
There was an opportunity for separation for players but I think a lot of 2018 post players that were in camp left just as they came in - nice rotational players for their respective levels. I'm not sure there were a lot of anchor type of studs in the group.
HI, I'M THE CAMP'S BEST DEFENDER 
Ashton Hagans is a really unique prospect. He's not going to impact the game with scoring like so many other players do. He can impact it with his passing and for those of us who have watched him over the years, we know this all too well. But Hagans's defense? Well, that was just on a whole different level. And that was fun to watch. We don't get to see that too often from players, let alone underclassmen at an invite-only elite national camp.
"My mindset when I came into the camp was all about defense. I wasn't really worried about scoring," Hagans said. "If I can play defense and be in the top 20, that's what I want to do. So, I just focused on defense." 
Guys like Race Thompson, John Newman III, Omar Payne, Josh LeBlanc, Naz Reid, Matt Van Komen, Taeshon Cherry and Bryan Penn-Johnson also stood out on the defensive end of the floor at camp. Loved their efforts. 
KEEPING IT SIMPLE 
Joe Wieskamp, an Iowa commitment, was an anchor to his team that went undefeated in pool play. You never saw him force a play, take a bad shot or make a bad decision. Simplicity wins at this level and Wieskamp got that. 
AJ Reeves was one of my favorite players that I saw during the April NCAA Live Period and his sweet stroke continued to shine moving into June. The 6-foot-5 wing can let it fly from three and was one of the most productive scorers in the camp. 
Keldon Johnson got better as the week went along. And stronger. One of the best at getting to the FT line. Uber aggressive rim attacker.