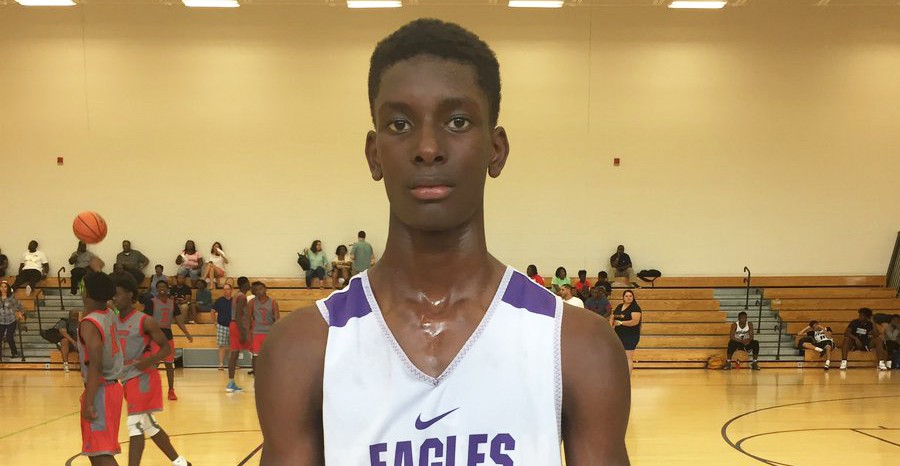 The 14U division of the 2017 Bob Gibbons Tournament of Champions was loaded with next up players. Bre Singleton breaks down her top performers from the age group. 
Brody Peebles, Pro One Select Navy
Brody Peebles kept his scoring mean streak going this weekend. He had a monster first half against the Harrison Hoyas, scoring 18 of the team's 36 points. He would go on to drop 39, showing off his back-to-the-basket game and effortless shooting.
Moussa Diabute, Florida Eagles (pictured above) 
Standing at an astounding 6'9", it's easy to see how Moussa Diabute might impact a basketball game. The Florida Eagles big man made it extremely difficult for opposing teams to score in the paint all weekend. Whether it be blocks or simply altering shots, Diabute had command over anything inside the arc. With 22 and 21 point performances on Saturday and Sunday respectively, he has no problem putting the ball in the basket either. Heading to Montverde Academy, Diabute is one to watch for out of Florida.
Jalen Jeter, Lake Worth Pride
The most creative finisher I saw all day was 2021 PG Jalen Jeter. Running with Lake Worth Pride, Jeter has the handles and explosiveness to get to the basket on any defender. Many of his 18 points came by way of up-and-unders and reverse layups, using the rim for protection against the trees in the paint.
Bryce McGowan, Team SC
One thing's for sure, Bryce McGowan can absolutely fill it up. In one of, (if not the best) shooting performances of the weekend, the Team SC guard hit 8 threes on his way to 34 points. Moving without the ball and shooting off the dribble, McGowan found several ways to get his quick release off.
Jace Carter, Orlando Team Jayhawks
Rising freshman Jace Carter certainly chose a big time event to make a name for himself. The 6'4 wing had an impressive run during bracket play, showing off his playmaking ability. A solid outing from Carter on Saturday night helped Team Jayhawks cruise past Pro One Select Navy.
Derek McDonald, WE Elite
WE Elite G/F Derek McDonald scored from just about anywhere, hitting 5 threes of his own in a 27 point performance. McDonald did it all, creating plays for teammates, controlling the boards, and finishing strong.
AJ White, Southern Stampede
AJ White was one of the premier ball handlers in the 14U division this weekend. The consummate PG, White made plays for others, defended, facilitated, and got key baskets when necessary. Aside from breaking down defenses, an impressive aspect of White's game is his smooth shot. The Southern Stampede leader kept defenders honest with his range, and after they adjusted, broke them down and got into the paint at will. He'll definitely be a player to keep an eye on moving forward.