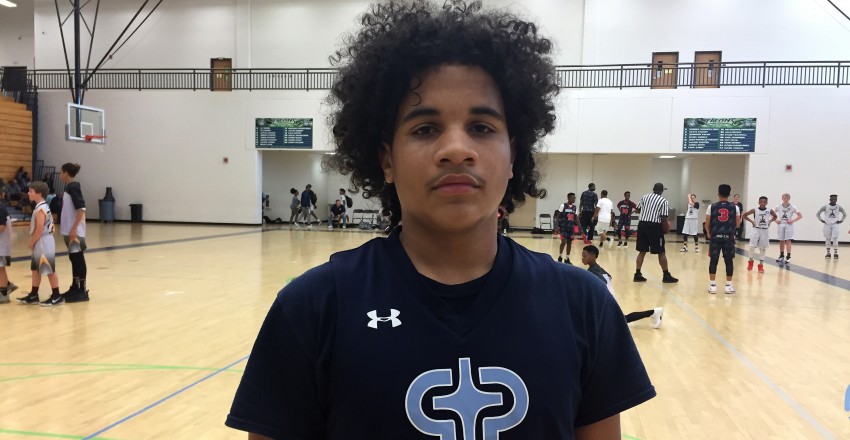 I got a chance to see some great games Saturday for #GACupIV. A few players separated themselves from the competition and led their teams to big wins. Here's what I saw:
10U
TNBC Select 52, Atlanta Tapout 13
Ty Harpring led TNBC Select to a huge win over Atlanta Tapout. The Select scored in transition, in the paint, and hit quite a few shots from beyond the arc. Anthony Brantley added 10 points in the win. 
12U
Hoops 360 38, Upson County Spurs 32
The Spurs were able to pull themselves within six at the intermission despite a dominating 14 point first half performance from Christian Butler of Hoops 360. Upson County wasn't able to keep it close for long, as a strong third quarter from Hoops 360 pushed their lead back to double digits. Butler finished with 17 points.
Atlanta Celtics  63, Atlanta Tapout 46
The Celtics were bigger and faster than Atlanta Tapout. They got ahead early and withstood a late run by Tapout to secure the W. Jaiden Cheeks and Christian Hyland fueled the win with 12 and 11 points respectively. Jonah Hibbert provided a spark for Atlanta Tapout, hitting 5 threes in the game.
13U
Hoops 360 - Howard 69, Curahee Defenders 54
Hoops 360 jumped out to a double digit lead early in this one. Caleb Blackwell did a little bit of everything for Hoops 360, with 15 of his 19 coming in the first half.
I saw two very good games in the 14U Division. Cameron Shelton and Landon Kardian had stellar games for their respective teams.
TNBC Select 61, Walton Flames 53
The Walton Flames cut a double digit lead to two early in the fourth quarter but couldn't get stops to seal the deal. Grant Shobe had it going from deep, hitting five 3s on his way to 19 points for the Flames. Justin Bogard added 13 in the loss.
Landon Kardian dominated the o-boards putting up 15. Justin Wilson with a good, aggressive game from the PG spot, put up 14 points.
God's Property 47, Montgomery Fire 45
In an extremely physical game, free throws ended up sealing the deal for God's Property. Cameron Shelton hit two clutch free throws with one second left win it. The team from Montgomery clamped down on defense in the second half but needed one more stop and score to get the job done. Shelton finished with 22 for God's Property.
16U
BTA Elite 57, Team Affect 53
Matthew Weidner put up 15 points for BTA Elite on their way to a win. Jay Rucker added 11 giving BTA just enough to edge out the opposing squad. Team Affect pulled to within four midway through the fourth quarter but couldn't muster enough offensive possessions to put them over the top. Jalen Weekes had 16 points and Courtney McBride managed 12 in a tough loss.