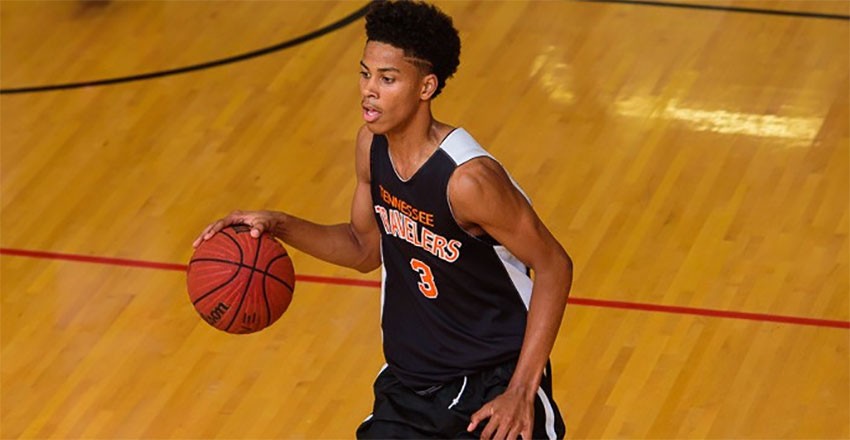 There are a number of quality unsigned seniors at the 2017 Atlanta Jam. So, we went through the rosters and came up with our top 20 unsigned prospects at the event this weekend at Suwanee Sports Academy. 
Team Penny had a great showing in North Carolina at the Phenom Hoop event. The Memphis team has a quintet of players worth a good long look. Nik Merriwhether and Radarius Washington hail nation powerhouse Memphis East. Both are coming off of big weekends in the Tar Heel State. Desmond Johnson is a big time scorer with a long line of schools in tow. Tavon Hancock and Takorian Smith round out the bunch. All five are considering prep, junior college and other levels after this spring period. 
Staying in Tennessee, the Bobcats have Tajion Jones (pictured above). He has picked up some Division I offers in the spring and should be one highly evaluated player by the low-majors this weekend. And the Bobcats are historically good at Suwanee Sports Academy. 
The Smyrna Stars have a number of quality unsigned seniors on the roster this weekend. The trio of Demierre Black, Trey Foster and Reyhan Cobb are all worth some time by the low-majors. All three can score. Black and Foster are two of the best unsigned guards in Georgia and Cobb is one of the most versatile. 
AC Georgia has a couple of intriguing available players. Jacquavius Hayes was an all-state player at Jackson High School and probably the best available big man in the tournament. Phil Cirillo was a one-time Air Force commitment. 
Game Speed Nation has a duo worth watching, too. Jykayle Waller scored 17.2 points a game as a senior at Cornerstone Christian in Jacksonville. His travel teammate Kamari Brown is worth a peek, too. 
Charlotte Aces guard Jael Scott is one of the best guards in the tournament. He's available and carries a 4.0 GPA. Intriguing, right? 
Chandler Wright and CJ Smith of the Atlanta Timberwolves. Wright is an athletic 6-foot-7 forward who continues to get better and better. He's trending upward heading into his college career. He's worth a good look by the non Division I schools and possibly some low-majors. Smith is one of the best shooters in the tournament. He's a nice prospect for the NAIA schools to take a peek at. 
Need size? Check out Florida Elite's Andre Williams. The 6-foot-8 big man from Lauderdale Lakes is a nice JUCO/Division II prospect to evaluate. So is Malachi Gayle of the Reach Higher Kings. The native New Yorker is an upside post player. 
Former Kennesaw State commitment Ralueke Orizu is suiting up for the Atlanta All-Stars and the 6-foot-8 post player should draw a nice crowd. He's a quality student, too. 
Team EAT's front court is a good one with Chris Bois and Cameron Gaines. The Rockdale County HS pair were two of the best players at our Senior Showcase in March. So was Deon Berrien of the Georgia Bulls, who is a big time competitor.