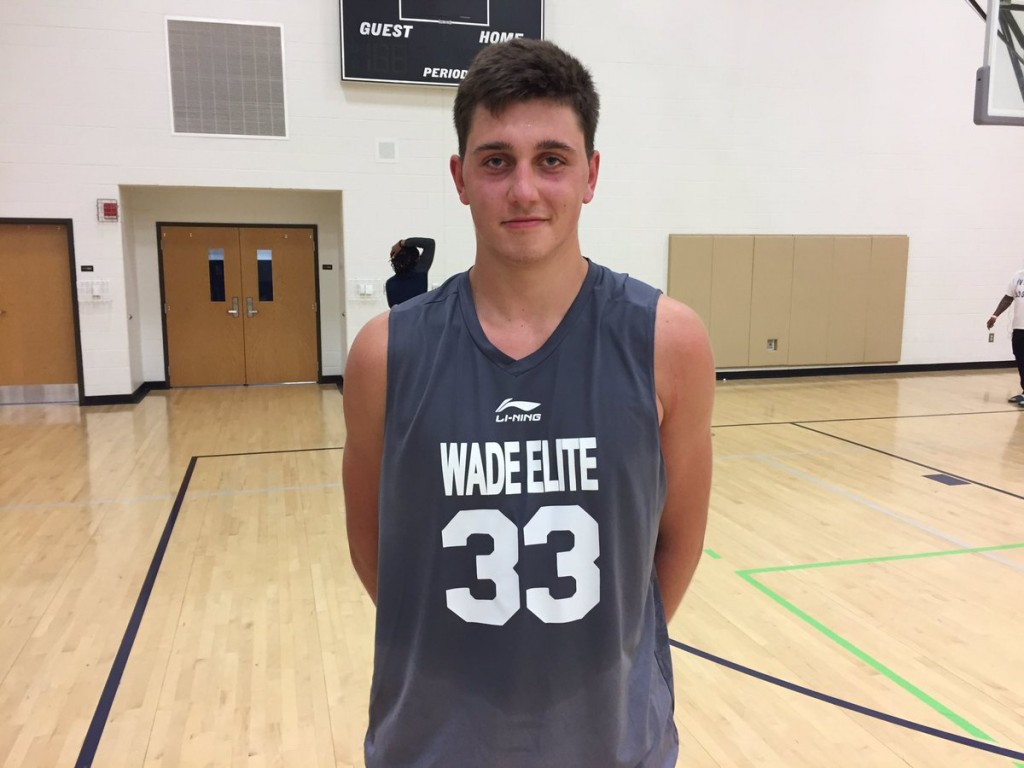 16U's lined the field for Friday Night's opening Atlanta Jam action at Discovery High School. Georgia, Florida and Alabama were all well represented.
Wade Elite hangs on
Wade Elite survived a Atlanta Xpress comeback, 55-53, after Lithonia's Brison Rockcliff missed a contested layup with seconds left that would have tied the game. Rockcliff finished with a game-high 16 points, five assists and four steals to lead the Xpress.
Wade Elite's size and balanced attack was tough for the Xpress to slow down initially, who trailed 37-21 at the half. Gertautas Urbonavicius (pictured) opened the game with two quick pure jumpers. Though he didn't score in the second half, the 6-foot-7 stretch forward from Lithuania made a lasting impression. His mature skillset included passing and rebounding the ball as he finished with nine points and nine rebounds. A member of the U16 national team, Urbonavicius attends Cardinal Gibbons High in Florida and will be entering his junior season. He says that no one is recruiting him currently since he is somewhat a new face from Europe still. From first glance, Urbonavicius has a little Kyle Wiltjer in his game.
Aside from Urbonavicius, Kwabena Opoku (St. John Paul II, FL) and Yussif Basa-ama (Westlake Prep, FL) controlled the paint at 6-foot-8 and 6-foot-9. Opoku ran the floor extremely well and threw down three big slams while streaking down the middle of the paint. He had 11 points, six rebounds, two assists and two steals. Basa-ma had a nice touch around the rim and soft hands, resulting in 11 points and nine rebounds.
AC Georgia turns up the heat
AC Georgia defeated Pro One Select White 60-44 after leading by just four at the half. Northview's Joseph Jones sparked AC Georgia's second half spurt with his energetic play on the perimeter. Only 5-foot-8, Jones collected 13 points, eight rebounds, six assists, two steals and four blocks. Jones' non-stop motor was contagious and lifted his teammates around him to play with the same energy. Backcourt mates Xavier Ayers and Kamerron Oyola fed off Jones' play, Ayers finishing with 15 points and four assists while Oyola, a steady floor general, had 10 points, eight rebounds, three assists and two steals.
Discovery High's Leslie Nkereuwem might have the most upside of the bunch. Playing on his home court, the 6-foot-7 rising junior posted nine points, eight rebounds, two steals and four blocks. Nkereuwem defends the rim on defense and seals well and scores on the block on offense. Nkereuwem looks like he could become a stretch four or a big wing with continued work on his ball handling an outside shot.
Pro Select's Jervae Peters (Grissom, AL) scored a game-high 19 points while attacking the basket. He was held to six points in the second half. Jamin Graham (Etowah, AL) was impressive on the low block. The 6-foot-6, 215-pound big man had 14 points and six rebounds. He had good back to the basket post moves and used ball fakes in the lane to free himself. Though they lost the game, Jamin showed well.
Comet hits Pro One Gray
South Gwinnett's Jaron Thames poured in 27 points and grabbed seven rebounds in Team Power's 73-41 win over Pro One Gray. Thames was smooth getting to the basket and splashed two pretty three-pointers. At 6-foot-4, Thames has a long frame that projects well, similar to that of Peachtree Ridge's Devin Vassell. His next step will be honing in on becoming a consistent two-way player. If he can use his length to his advantage on defense, he could be a major cornerstone for the Comets over the next two seasons.