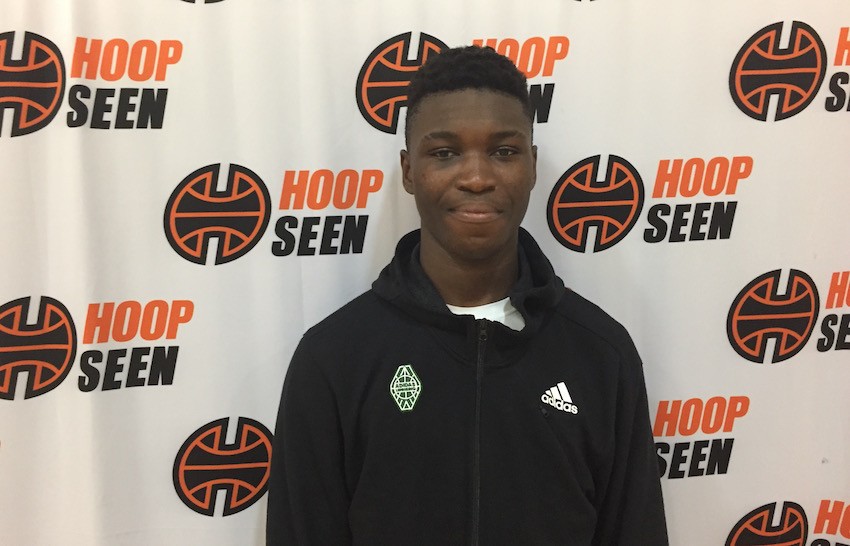 SUWANEE, GA – The Atlanta Jam resumed on Saturday with bracket play and intense matchups across the board. With college coaches lining the baseline, several prospects distanced themselves from the rest and had impressive showings during the second evaluation period.
Here are the Saturday storylines from Garrett Tucker's point of view…
PRO ONE TEAMS PRODUCE
Pro One Select brought over several teams from Alabama in each age group and a handful of players had productive performances throughout the day:
COTNER SHOWS FLASHES
He is by no means the best player on his Pro One Select White team right now, but don't be surprised if 2018 East Lawrence (AL) power forward Kendall Cotner ends up being one of the most productive players on the roster.
At 6-foot-8, Cotner is long and rangy with his hands and wingspan. He's still learning the game on a game-by-game basis, but the athletic big man shows flashes at times during games. Cotner possesses ball instincts and is instantly one of the best rebounders when he enters the game. He is quick off his feet and rebounds the ball at its highest point.
Cotner is a virtual unknown for the average fan in north Alabama, but remember the name. After a few years at the JUCO level he could be a prospect entertaining some high-major interest with his instinct and natural ability.
DODD & FIDDLER HEAT UP
Pro One Select Navy 17U got off to a slow start on Friday night with a loss to South Florida Elite, but the talented roster had an impressive showing against the Charlotte Aces to close out action Saturday evening.
2018 forward Dalton Dodd scored 23 points in a win, as he displayed his offensive versatility and ability to score from all three levels. Dodd is quickly becoming automatic scoring 8 to 10 feet away from the basket with his touch around the goal.
Athletic wing Chase Fiddler showed why a handful of college programs are currently drooling over him. The 6-foot-4 shooting guard can jump out of the gym and make plays above the rim. He did that and plenty more on Saturday. Campbell and Tennessee Tech are just a small sample size of the schools currently pursuing him.
THE LEGEND OF BRODY PEEBLES GROWS
Pro One Select has quickly developed into a solid program with multiple age divisions from top to bottom. Despite all the college interest the three 17U programs have garnered, the talk of the program is an eighth grader – yes, a player that has yet to enter high school.
Brody Peebles, a talented shooter and scorer, has had a phenomenal spring and continues to build on each performance. Friday evening, the 6-foot-1 guard dropped a cool 41 points to kick off the tournament.
Peebles followed that up with a couple of other impressive performances on Saturday, as he scored 32 and 22 in the two early games.
With long range on his shot, Peebles is dangerous as soon as he crosses half-court. The talented scorer pulled off an impressive 14-point stretch in two minutes this evening versus Team Manimal. It's entertaining to watch him get things going in the scoring department. Get you popcorn ready – the Peebles show is just getting underway.
HOP ON THE LEAP OF FAITH
Georgia's Leap of Faith squad is littered with underclassmen playing in the 17U division, but, make no mistake, these young cats can go! With a nice mixture of size, length, and guard play, the Peach State products proved they could play with anyone after a nice win over Rip City to start the day.
Led by sophomore Stanley Eze and freshman Jordan Meka (pictured), Leap of Faith has two intriguing forward prospects to highlight their squad. Both prospects have length and athleticism and ooze potential and upside. They are two youngsters to mark down in Georgia's 2019 and 2020 classes.
While those two were impressive, the player that makes Leap of Faith go is 2019 point guard Coleman Boyd. The savvy point guard gets where he wants in the lane and has a knack for finding open teammates in the lane. He dished off several assists at the tail-end of a close game to help seal a victory for LOF.
COAST TO COAST PROSPECT
Rip City's 17U squad made the long trip to Atlanta from Las Vegas, Nevada, and, as expected, their prospects have reaped the benefits. No one has been more impressive than 6-foot-3 shooting guard Jacob Heese, though.
A tough, gritty guard with an endless motor, Heese makes his team go. He has decent ball skills and displayed several ways to score the ball, but his most consistent option is his mid-range game.
Despite being a West Coast product, Heese holds scholarship offers from two east coast programs: Stetson and USC Upstate. Upstate followed him closely throughout the day and had a constant presence at each game.