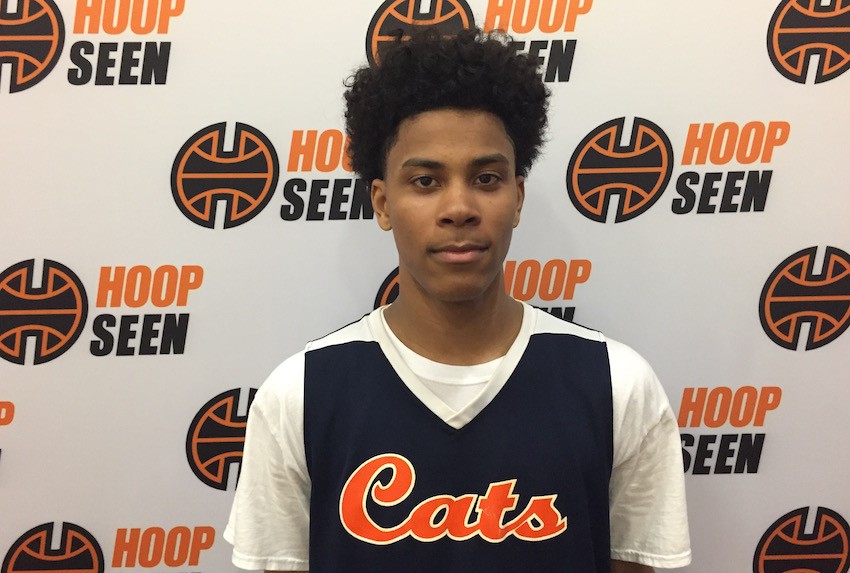 The opening night of the Atlanta Jam tipped off Friday night with 17U action at Suwanee Sports Academy. With dozens of college coaches on-hand, some of the best talent in the Southeast suited up for scholarship opportunities.
Here are Friday's storylines from the eyes of Garrett Tucker…
BERRIEN IMPRESSES TO START #ATLJAM
2017 Lakeside (GA) forward Deon Berrien had a solid showing at our Senior Showcase in March and he continued his impressive play on Friday evening at the Atlanta Jam.
Playing with the Georgia Bulls, the 6-foot-5 forward posed a matchup problem for the opposing defense with his versatility and scoring ability. Berrien started the game knocking down a couple of 3's and followed with some tough finishes at the rim. The lefty has a knack for scoring the ball, as he finished with 17 points in a victory.
As an available senior, Berrien is entertaining several options at the junior college level. Following the game, he mentioned Northern Oklahoma, Seminole State, Wallace State-Hanceville, East Georgia, and West Georgia as some of the schools currently recruiting him. After two years of JUCO ball, expect Berrien to be a wanted prospect for low and mid-major programs.
SOUTH FLORIDA ELITE WINS IN THRILLER OVER PRO ONE SELECT NAVY
In a neck-and-neck battle throughout the game, South Florida Elite ended up coming away with a narrow overtime win over Pro One Select Navy by a score of 76-74.
The Sunshine State squad was led by a trio of guards in their win. Kenneth Lucien, Marcus Pelissier, and Reese Wilkerson all scored 16 points to lead their team to a victory. The suffocating defense of Lucien and DeAnte Moore was pivotal, too.
Dakota Myers led Pro One Select with 18 points in the loss. The 6-foot-7 big man played tough around the rim and finished with contact. He also displayed his ability to stretch the floor with a couple of three-pointers. Athletic point guard Fabian Bell chipped in with 17 points.
TENNESSEE BOBCATS LOOK LIKE CONTENDERS AGAIN
The Tennessee Bobcats have been a staple team on championship Sunday at Suwanee Sports Academy. If their opening game of this year's Atlanta Jam means anything, the Tennessee squad will be in contention this Sunday, too.
With versatility and size across the board, 2018 forward Chris Clayton made a strong impression with his skill-set and old man's game. A blue-collar combo forward that can play inside and out, the 6-foot-5 forward showed a nice shot from the perimeter, along with toughness and finishing ability around the goal.
Clayton has yet to receive his first scholarship offer, but he mentioned several low-major programs involved in his recruitment. Furman, VMI, and Charlotte were among the schools watching him Friday night.
Unsigned senior Taijon Jones (pictured above) showed flashes of his talent throughout the game. The bouncy 6-foor-4 shooting guard didn't score many points, but he looks like a promising shooter with some upside to his game. A mixture of Division I and Division II programs are hot on his trail and you can expect that number to grow with a couple of productive days here at the #ATLJam.
HELLO, MY NAME IS…
I didn't get to see a lot of the Mississippi Hawks on Friday, but you better believe I'm making it a point to check them out again on Saturday. Why? It's because of 2018 forward Cameron Woodall.
At 6-foot-6, Woodall is blessed with some extreme athleticism and the ability to play above the rim. He was productive in a blowout win for the Hawks. Woodall claims an offer from Chicago State as well as interest from a couple of JUCO programs in Mississippi. The Raymond High School product is a sleeper to keep an eye on going forward this weekend.