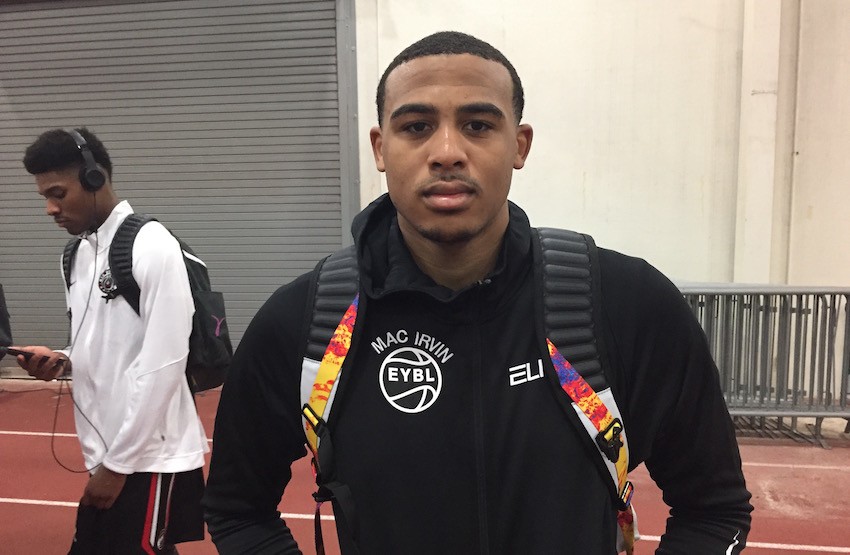 Some of the top players in the country were on-hand for the first Nike EYBL session in Hampton, Virginia this weekend. While several five-star talents impressed, some under-the-radar prospects had productive weekends for their respective teams.
Here are five breakout players that used the first evaluation period to their advantage and will be closely followed going forward:
Talen Horton-Tucker, 2018 SF, Mac Irvin Fire: Horton-Tucker (pictured above) may have been the most valuable player for any team in Hampton. The Mac Irvin Fire product is positionless and has no problem playing the 1-4 and doing a little bit of everything. Horton-Tucker brings toughness and grit to the floor, while also mixing in some playmaking and passing abilities. The 6-foot-5 forward stayed in attack mode and made things difficult for opposing defenses. With his versatility and toughness, Horton-Tucker is an instant glue-guy that high-major programs will want to see heading into Indianapolis.
Cooper Kaifes, 2018 SG, Mokan Elite: Coming into the initial April evaluation period, Cooper Kaifes had zero scholarship offers. Oral Roberts had offered in the past, but after a recent coaching change, the 6-foot-3 guard is back to ground zero. After this past weekend, it's safe to say Kaifes will have plenty of suitors when it's all said and done. A shooting specialist, Kaifes shot over 50% from 3 throughout the weekend, including 66% from the field overall. With his shooting ability, some deceptive athleticism, and a high basketball IQ, Kaifes should be a name mid-major programs in the Midwest are aware of.
D.J. Stewart, 2018 SF, Mississippi Express: After earning scholarship offers from Ole Miss, Louisiana Tech, and UAB, it seems the word is out on athletic wing D.J. Stewart. At 6-foot-5, Stewart has been blessed with athleticism and the ability to play above the rim. After the first session of the Nike EYBL, the Mississippi product proved he is a viable scoring option in the half-court. While the stats don't show it, Stewart has improved as a three-point shooter and is becoming more consistent with his shooting.
Jalen Lecque, 2019 CG, Southern Stampede: Lecque burst onto the scene this weekend and he did so loudly. The 6-foot-3 combo guard is wired to score the basketball and made it known that he is one of the best pure scorers on the Nike circuit. Lecque is a savvy shot-maker that can score it in a variety of ways. He also has a knack for getting the free-throw line, as he made 27 trips to the charity-stripe in four games. After averaging over 20 points in Hampton, Lecque has popped onto high-major programs' radars and he has already reeled in a couple of scholarship offers.
Trey Doomes, 2018 CG, Nike Team Florida: Doomes was one of the most impressive players on Friday's opening night of the live period. The 6-foot-3 combo guard was one of the most explosive guards throughout the weekend and made things extremely difficult on the defense. With his ability to finish at the rim and pass the ball effectively, Doomes is going to be an intriguing player for high-major and mid-major programs.