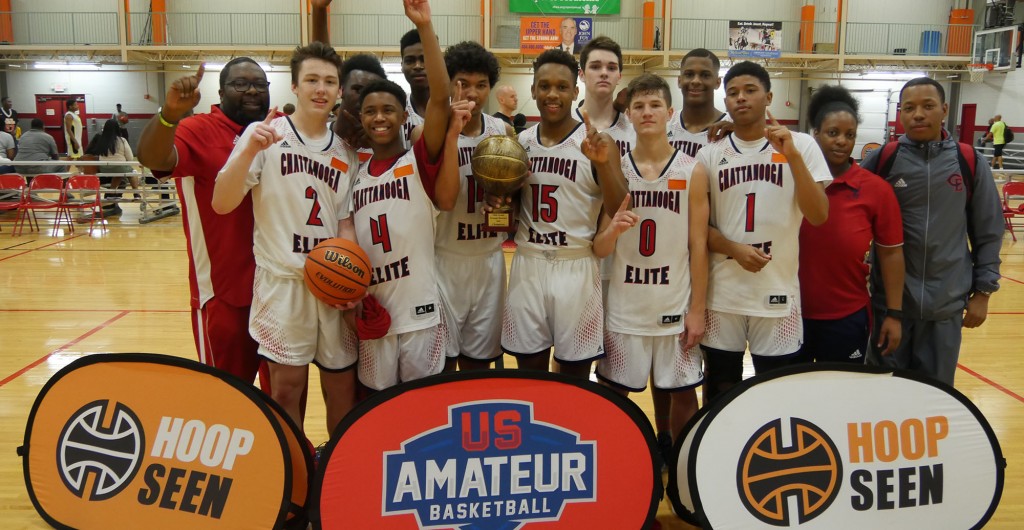 The 16 and under division at the Atlanta Jam had three champions over the weekend. We recap each of the title games. 
16U BLACK: NSB GAME SPEED ELITE 59, MEMPHIS PREP 51
NSB Game Speed Elite led wire-to-wire behind a sturdy defensive effort. 6-foot-6 big man Andy Antoine set the tone with all six of his blocks coming in the first half. He also added seven points and 10 rebounds. 
Guards Malik Dixon and Kenan Blackshear did damage, combining for 37 points. Dixon contributed 19 points and six rebounds while Blackshear added 18 points, eight rebounds and three assists. 
Memphis Prep received a team-high 13 points from Dee Merriweather who scored 11 in the second half. Will Wilson chipped in 11 points and five rebounds. - Kyle Sandy 
16U GOLD: JACKSONVILLE MAGIC 61, CHARLOTTE DRAGONS 32
The Jacksonville Magic repeated as Atlanta Jam champions on Sunday morning, as they defeated the Charlotte Dragons in convincing fashion, 61-32, and reclaimed the first-place trophy.
The Sunshine State squad jumped out to an early lead with their stifling defense and play in transition. In the end, the early scoring margin was too much for the Dragons to overcome.
The Magic used a total team effort on the scoreboard. Raishad Newsome led the way with 13 points, followed by 12 points from Denzel Wiggins and 10 from Michael Brooks.
Left-handed forward Paul Hudson capped off a solid weekend for the Charlotte Dragons with 14 points in the loss. Seth Bennett added 10. - Garrett Tucker
16U ORANGE: CHATTANOOGA ELITE GREY 66, GEORGIA IMPACT 63 
There seems to be a tradition here at HoopSeen events on Sundays - the action goes down to the wire and championship games tend to be settled by one or two possessions. That happened between Chattanooga Elite Navy and Georgia Impact in the 16U Orange title game. 
The two teams went back and forth throughout the match-up and essentially traded buckets in the contest. In the end, one simple turnover under the basket in the closing seconds eliminated any chance for Georgia Impact to steal the win. 
Chattanooga Elite Navy brought up the title with a 66-63 win on Sunday morning. Point guard Kameron Watson was a blur from the wing to the rim all game long. The McCallie School speedster finished with a team-high 18 points in the win. He couldn't be contained with the ball in his hands. 
Watson's drive and kick ability helped guard Blake Pruitt hit three three-pointers en route to 12 points. Brett Newsome scored 10. Solomon Bridgeman and Amon Grace each added eight.   
Rashad Elloie led the Impact with 20 points. Kai Khalees added 11 in the game. The Impact squad has enjoyed an immensely successful spring and have made a habit of playing for titles at our events. - Justin Young