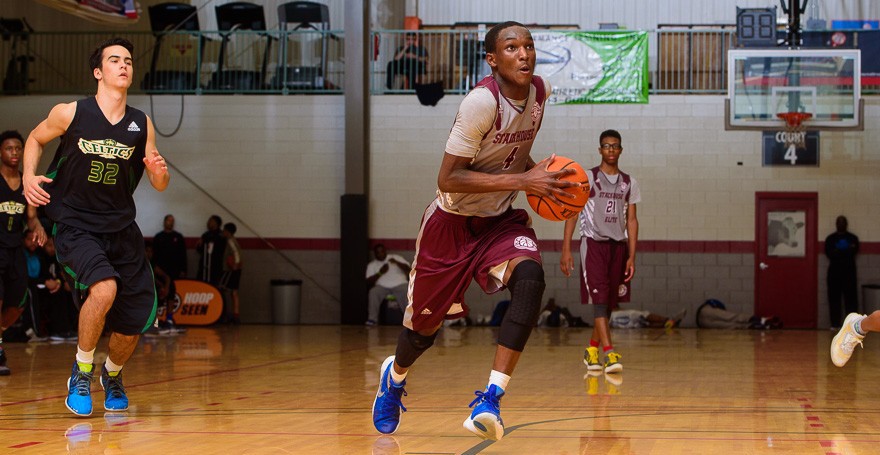 The first name of action is in the books here at the Norman Parker Showcase and I spent the evening catching up on the 16 and under action on Friday night. Here's a peek at the notes from my notebook. 
Want a name to follow in 2019 from Georgia? Put Jamir Chaplin (pictured) on that list. The long and willing defender from Stackhouse Elite 16U was impressive on both ends of the floor in a  cruising wing. He said he's heard from Tulane and Middle Tennessee State. That list will grow after this season. 
I'll be saying this a lot over the next three years - Brandon Boston (2020/Norcross/Georgia Stars) is gonna be really, really good. The long 6-foot-6 mult-postional prospect did a little bit of everything on opening night. He's going to be one of Georgia's best in the 2020 class. 
Gotta love a great game to get started. The 16U Atlanta Lightning vs. Georgia Impact tilt is back-and-forth and ultra competitive. It took an overtime period to finish it and the Lightning pulled out the win. 
Tre Clark of the Atlanta Lightning/Newton was a scoring machine in the win. He pumped in 23 points and was the overtime difference maker. 
Eric Coleman for Vanguard Elite 16U is doing what the King's Ridge 2019 SF does well - knock down the long ball. He finished with 17 points in the opening night win. 
Georgia Stars 15U (playing up) guard Kevon Eskridge was automatic from the wing as a three-point specialist on opening night.