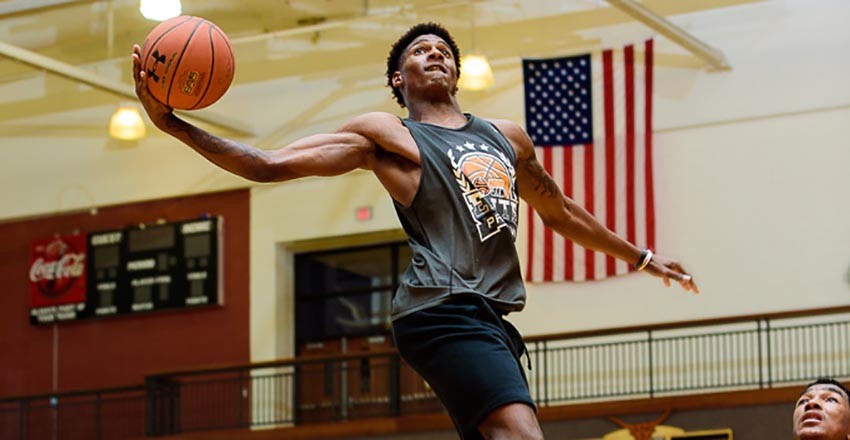 Our annual Elite Preview took place on Saturday at Kell High School and the camp was filled with talent from the  2018, 2019 and 2020 classes. Our staff of coaches and evaluators collectively broke down each player in recaps. We continue our team by team evaluations from the camp today.
There is a ton of explosion packed into this point guard. Barron made the play of the day in the last game, rising up over a much larger forward defender for a poster dunk. The way that he can finish plays above the rim had the gym buzzing as it comes somewhat unexpected for a player his size. His athleticism, speed, and quickness is something that you don't find in every guard and it makes him a player to watch for. - Carter Wilson
One of the highest ceiling prospects in the camp, Boston shined at both guard positions. He's a point guard when it comes to decision-making and passing. He's a scorer when it comes to shooting. He's a playmaker when he has the ball in his hands. Boston just gets better every time I see him. Not bad considering he didn't play this season due to transfer rules. Expect to read his name quite a bit over the next three years. Boston was a top performer from camp.
The Columbia freshman made himself standout from the way he can knock down shots on the perimeter. He shot the ball very well from three as he did all year with Columbia. However, he also excelled passing the ball, showing that he can make plays for others and has potential as a playmaker down the line. Overall, Eskridge helped the notion that Georgia's 2020 class has the makings of a very talented class. - Carter Wilson
Georgia's class of 2018 group of prospects doesn't possess a lot of size, something rare for the Peach State. College coaches from all levels are looking for post players to recruit this spring and summer. So, when a well-built and aggressive 6-foot-7 player like Ezipke comes around, you have to pay attention. The Discovery big man impressed as a top ten performer from camp and should be a widely recruited big man next month. - Justin Young 
In a camp setting, sometimes the best thing to be is consistent. And Howard was exactly that. Known for his scoring punch on the high school level at Alexander, Howard showed off his point guard skills at the camp. And he did that well across all platforms of drills and games. He led his team vocally and by production. Setting up this talented team came easy to him. Low-majors will want to invest some time watching him this spring. - Justin Young 
Taking the skills from the football field to the hardwood, the class of 2019 guard showed off his driving and finishing skills at the camp. The strong-bodied rim-attacker didn't struggle against opposing guards because he was just too strong and fast to contain. As he develops his shot, he's going to be an interesting player down the road. Very good in the drills and accepted coaching throughout the event. - Justin Young 
The Meadowcreek big man is coming into his own physically, looking to be in the best shape of his high school career, which helps him in a number of ways. Kelly stood out in rebounding drills, being able to hit the glass and get finishes with contact. He also showed that he is one of the more skilled big men on the black in Georgia in 2018. He has a number of moves in the post and a couple of counters as well. Overall, he definitely helped his stock at the Elite Preview. - Carter Wilson 
A great athlete, a great defender and a great energy giver, Phillips took to heart the theme of the camp - do the work. Phillips made the effort and shined with hustle plays. Recently picking up an offer from Texas Tech, Phillips should be a popular guy for the mid-level high-major programs this spring. He has the physical tools the big 5 conference schools like to recruit. He was a top performer from camp. - Justin Young