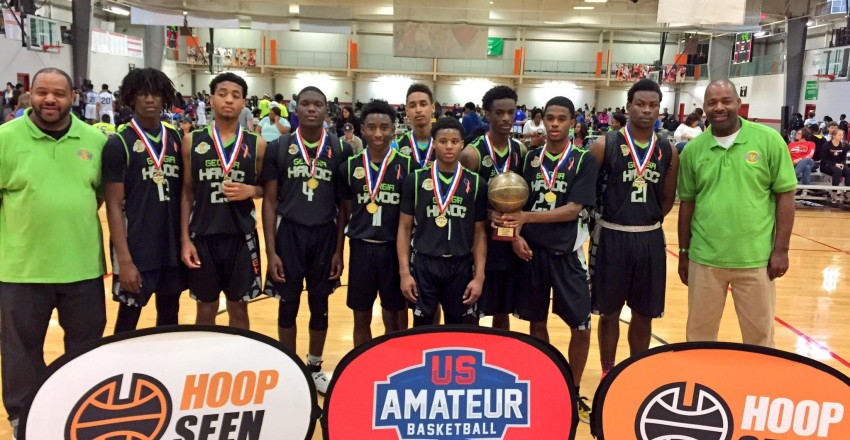 Now that the first installment of the Georgia Cup is complete, there were a few takeaways that I'll have to keep in mind moving forward.
Eastside Boys
It's getting harder and harder to not recognize the Augusta area. While there weren't eye-popping 6-foot-8 behemoths or electric high flying athletes, the boys from out East came to play. In the 17U Division, Sports Academy South coached by the ever-passionate Samuel Lilly IV, took a run to the title game where they fell to Moneyball ATL by four. The engine to SAS' run was Westside-Augusta High School guard Isaiah Bauman. The combo guard that stands 5-foot-11 averaged 10.6 points per game as a junior this season and powered his group this weekend consistently pouring in upwards of 20 points per game. Over in the 16U Division, Georgia Havoc won the title 67-61 over the South Fulton Lions. The Havoc, consisting of mostly JV players from Richmond and Columbia County, received 19 points in the championship game from Richmond Academy forward Jyheem Rollins. Marquavius Allen, who saw sparring minutes behind Bauman during the high school season at Westside, performed at a high clip this weekend. The guard picked his spots and controlled the tempo. In the championship game he tallied 10 points, 3 rebounds, 3 assists and 3 steals.
The Waiting Game
For unsigned seniors, the next coming months are crucial in locking up a future playing at the next level. In our 17U Division, multiple players didn't waste their shot at impressing. Moneyball ATL captured the title in their fluorescent t-shirt jerseys led by Hapeville Charter's Rome Emenalo. After earning First Team All-Region 6-AA honors this year, posting 14 points, 7 rebounds, 4 assists and 4 steals a game, Emenalo brought his A-game to Suwanee. The 6-foot guard was the go-to guy, scoring 14 points in the championship game and being among the division's most reliable scorers this weekend.
The Atlanta Timberwolves' CJ Smith and Chandler Wright brought buckets. Smith, 5-foot-11, poured in 33 points against Team Intensity, knocking down five threes in the process. Smith averaged 19 points per game at Forsyth Central, exploding onto the scene after serving as a role player his junior season. A couple D-III and JUCOs have shown interest. Wright, 6-foot-7, was versatile as always, attacking the rim on dives and stretching the defense out to the three-point line. While he can stand to improve his ability to finish through contact, Wright is an intriguing D-II prospect.