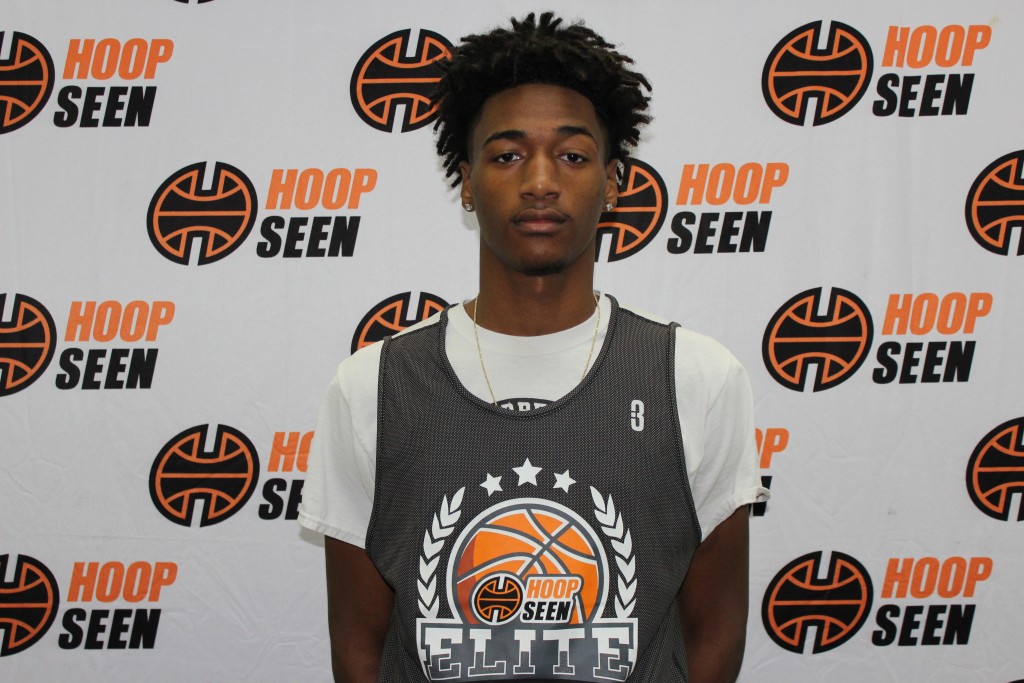 We had a fantastic day of action at the Alabama Elite Preview on Saturday. During drills, game-play, and other sessions, our coaches and staff were closely evaluating each player.
Here is what our coaches and staff had to say about Team 4:
Related: Team 1, Team 2, Team 3
Keonte White, 2020 PF, Sidney Lanier: White was another extremely talented freshman that accepted the challenge and attended the Elite Preview on Saturday. At 6-foot-7, White has all the tools to be a high-level prospect when everything is said and done. He shows glimpses of greatness with his post game, and, the scary thing is, he is still coming along in the trenches. White has a solid frame and rebounds at a high rate. If he figures everything out and puts it all together, White will be an SEC-type 4 man.
Kallen Sharpton, 2019 PF, Good Hope: At 6-foot-6, Sharpton has an endless amount of upside with his ability to shoot the ball from the perimeter. The stretch 4 big man has a nice shooting stroke along with a solid frame. He is perfect in pick-and-pop situations with is ability to shoot off the catch. Sharpton also displayed a high motor and was an efficient rebounder. He will be a prospect for Division-II and NAIA programs to keep an eye on over the next few years.
Ladarius Knight, 2018 SF, Ashford: Knight saved his best performance for last on Saturday, as the 6-foot-5 wing exploded with some impressive scoring performances in his final game of the day. The junior is tough to contain off the bounce and provides matchup problems. At is size, Knight brings production and potential to the table. He rebounds well for his size and has the chance to be an elite defender with his length and versatility on the perimeter. Knight is a prime candidate to watch for as a breakout mid-major prospect this travel season.
Jason King, 2018 CG, Parker: King was voted as one of the top performers in camp by our coaches and staff. Read what we had to say about him here.
Justin Allison, 2018 PG, Pelham: After a phenomenal high school season, Allison came into camp with a target on his back as one of the best guards in attendance. As expected, Allison came in and shot the ball well from the perimeter. The 6-foot guard has become very dangerous with his shooting stroke. Allison handled the ball well and made quality decisions, but he had some turnovers because of over-penetrating and not being on the same page with teammates. Nevertheless, we don't see that being a problem in the future.
Justin Webb, 2019 SG, Hamilton: Webb made his mark at our fall camp with his ability to shoot the ball from the perimeter. Saturday, the 5-foot-10 guard still has shooting going on, but he also showed some sneaky tendencies off the dribble. While he is a smaller guard, Webb is deceivingly quick off the bounce and can get to his spots on the floor. The next step in Webb's game will be to develop a consistent mid-range game to keep the defense honest.
Kevon Summerhill, 2019 PF, Deshler: Upside, upside, upside. Deshler combo forward Kevon Summerhill has plenty of upside to go with his long, lanky 6-foot-6 frame. An elite athlete, the sophomore plays on a pogo stick on defense and has a knack for blocking shots. His hands have improved and he showcased a consistent jumper from 15 feet. With his agility and quickness, Summerhill provides matchup problems for other post prospects. He continues to progress and looks like a prime run-and-jump 4 man at the next level.
Hayden Stutts, 2018 SG, Deshler: Stutts created ways to contribute to his team in a variety of ways on Saturday. The junior has a solid shooting stroke and knocked down several shots throughout drills and game-play. He also was a terrific teammate with his consistent leadership and encouragement. He needs to be tighter with his ball-handling, but, overall, it was a solid day for the Deshler product.
P.J. King, 2020 PG, Hoover: King came into the day as a rather unknown, but it didn't take long for him to surface on our coaches' radars. Despite only being a freshman, King is the ultimate floor general with his leadership and understanding of the game. He did a nice job of directing the offense and getting his teammates in the best positions to succeed. King also proved to be a strong on-ball defender, as he made things difficult for opposing guards.