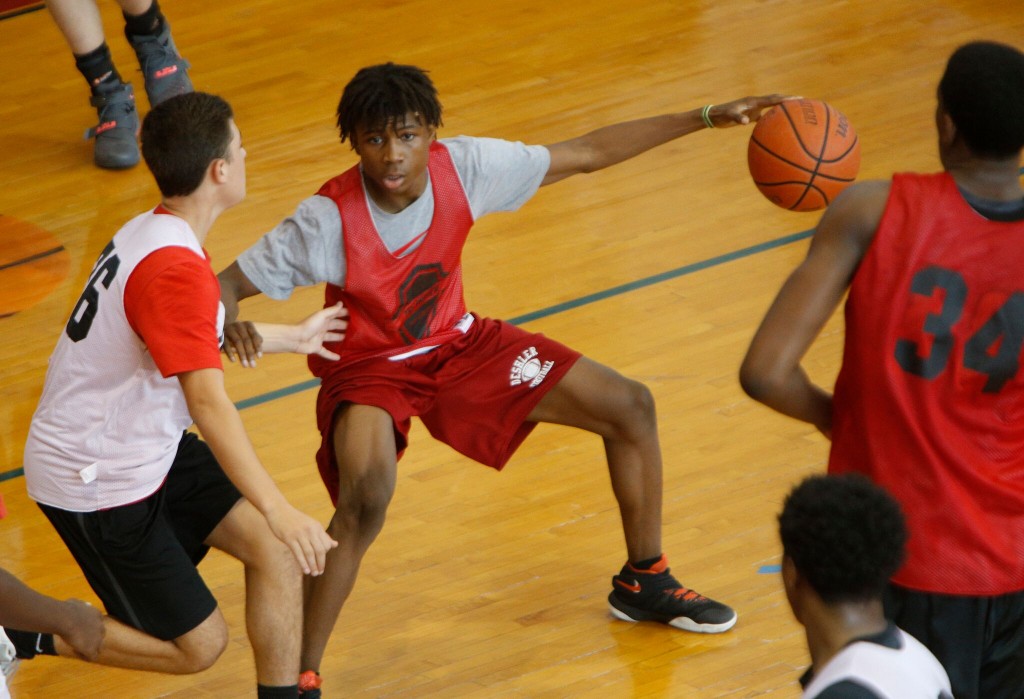 We had a fantastic day of action at the Alabama Elite Preview on Saturday. During drills, game-play, and other sessions, our coaches and staff were closely evaluating each player.
Here is what our coaches and staff had to say about Team 3:
Willie Screws, 2020 SF, Barbour County: Despite only being a freshman, Screws came in and played just like an upperclassmen with his toughness and physicality. The 6-foot-5 forward competed on both ends of the floor and was one of the best rebounders in camp. Screws has a knack for getting loose balls and he showed no problem diving on the floor and going after them. After leading his team to a 2A Final Four appearance, Screws is trending towards a productive spring and summer.
Devin Wilson, 2020 CG, Hoover: Wilson recently made a move in from Texas and this way HoopSeen's first opportunity to get eyes on the youngster. It's safe to say the 6-foot-1 guard made a nice opening impression. A lefty with the ability to score the ball, Wilson is creative with the ball in his hands and can create for himself. He does a lot of damage off the dribble, but he also showed he is capable of knocking down perimeter shots, too. We are excited to see more of this promising young prospect as his high school career begins.
Charlie Champagne: 2019 SG, Florence: Champagne continues to be a coach's dream on the floor with his leadership and basketball IQ. The 6-foot-2 guard consistently makes the winning plays each time he takes the floor. In fact, he was the only player in camp to attempt to take a charge on defense. Champagne brings value to the floor with his toughness as he embraces his role. His shooting continues to get more consistent, too.
Logan Dye, 2018 C, Haleyville: Dye was named as one of the top performers at the Alabama Elite Preview. Read what our staff had to say about his day here.
J.P. Robinson, 2019 PG, Deshler: Robinson (pictured above) continues to prove himself as one of the top young point guards in Alabama. Despite being 5-foot-9, the young floor general has phenomenal court vision and is precise with his passes. He has a solid understanding of the game and knows where the ball needs to be go and when it needs to be there. Robinson is also a gnat on defense with his quickness and on-ball defense. We haven't released our 2019 state rankings quite yet, but Robinson will definitely find himself on the list.
Will Champagne, 2020 SG, Florence: Known as a spot-up shooter, Champagne came into camp on Saturday eager to prove he was more than just a specialist. The 6-foot-2 guard focused on attacking the basket and finding teammates for open shots. The freshman did a solid job of handling the basketball and making good decisions. He did pass up some open shots, but it looks like he is focused on improving other facets of his game.
Darius Nalls, 2018 SG, Fayette County: Nalls ended his high school season with an offensive explosion against Cordova in the 4A Northwest regionals, but it took a little while for him to get in a rhythm at camp. At 6-foot-2, Nalls checks all the boxes from an athletic standpoint. He has great length with the potential to be an elite defender on the perimeter with his versatility. Nalls plays with a swagger about his game, and, when he is on, he can score the ball with some of the best of them. He showed spurts of that throughout drills and game-play.
Jaylen Cole, 2018 CG, Gadsden City: Cole quietly put together a solid day of action with his ability to do just about anything on the floor. The 6-foot-1 combo guard from Gadsden City plays tough and under control at all times. He showed off a consistent shot from the perimeter, but also proved to be a quality two-way player as well. Cole's defense challenged opposing players throughout the day. He is a nice add to our radar for the future.
Terrion Truitt, 2018 PG, Lanett: Truitt is the definition of an 'all gas, no brakes' guy on the floor. The 5-foot-10 jet point guard excels at attacking the basket and scoring for himself. He knows how to get in the lane and create scoring opportunities. At times, Truitt can make some bad decisions and over-penetrate, but the tools are apparent. He showed some signs of being capable of running a team in the half-court, too.