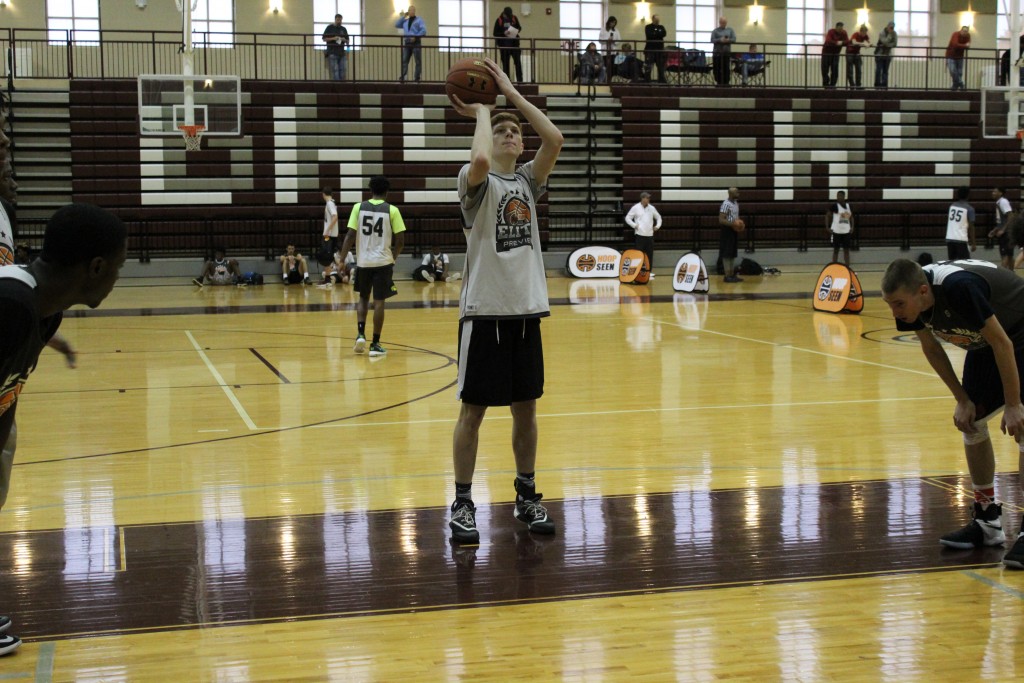 We had a fantastic day of action at the Alabama Elite Preview on Saturday. During drills, game-play, and other sessions, our coaches and staff were closely evaluating each player.
Here is what our coaches and staff had to say about Team 2:
Related: Team 1
Terrell McDonald, 2019 SF, Muscle Shoals: There aren't many more relentless warriors than Muscle Shoals sophomore Terrell McDonald. The 6-foot-3 forward is built like a football player and will probably end up playing in the SEC one day, but don't tell him that. McDonald has a passion for being in the gym and competing on the hardwood, too. He brought his hardhat to camp and competed from start to finish, never letting his foot off the gas. McDonald has no problem rebounding the basketball and his ability to guard four positions make him a coach's dream on the floor.
Mason Ellison, 2019 SF, Lee-Huntsville: Ellison was named one of the top performers from camp, as voted on by our coaches and staff. Read what they had to say about him here. 
Zondrick Garrett, 2020 PF, Oxford: Out of all the players in camp, no one may be more promising of a prospect than Oxford freshman Zondrick Garrett. At 6-foot-7, the young lefty has a solid skill-set for a player his size. He is extremely versatile on the floor with the ability to hit some perimeter shots. Garrett's offense continues to improve at a blistering pace. The next progression for him is to develop a go-to counter move in the post. On the defensive end of the floor, Garrett has the potential to be a game-changer with his length, foot-speed, and shot-blocking ability.
Sean Elmore, 2018 SG, Mountain Brook: Elmore was regarded as one of the top performers from Saturday. Read what his coaches had to say about him here.
Jayce Willingham, 2018 SG, Cordova: Willingham, one of the top snipers in the state, had some trouble finding his shot early in the morning, but that didn't stop him from making an impact on the game. The 6-foot-3 junior focused on rebounding and creating points for himself in unconventional ways. With a knack for making plays, Willingham looks like a guard that could step in and play both guard positions, similar to that of former Alabama-Huntsville and All-Gulf South guard Greg Gardner.
Jeffery Armstrong, 2018 PG, Plainview: Armstrong was one of the best floor generals on display Saturday at the Elite Preview. The Plainview product excited many of those in attendance, including our staff. Read what Carter Wilson had to say about him here.
Grant Perry, 2018 SG, Hazel Green: After a successful high school season, Perry is an extremely confident player and it is beginning to show on the court. The 6-foot-2 junior introduced himself as one of the top shooters in camp with his long-range shooting ability. He is extremely effective at shooting the ball off the catch, where he rattled in multiple shots each game. The next step in his development is to continue to improve his ball-handling and be more comfortable with the ball in his hands.
Jaquarius Williams, 2018 CG, Stanhope Elmore: Williams brought energy and excitement to the game when he stepped on the floor. The 6-foot-1 guard possesses great quickness and end-to-end speed with the ability to get in the lane. Williams over-penetrated at times and make it tough on himself to make plays, but he is definitely a viable threat off the bounce when attacking the basket.