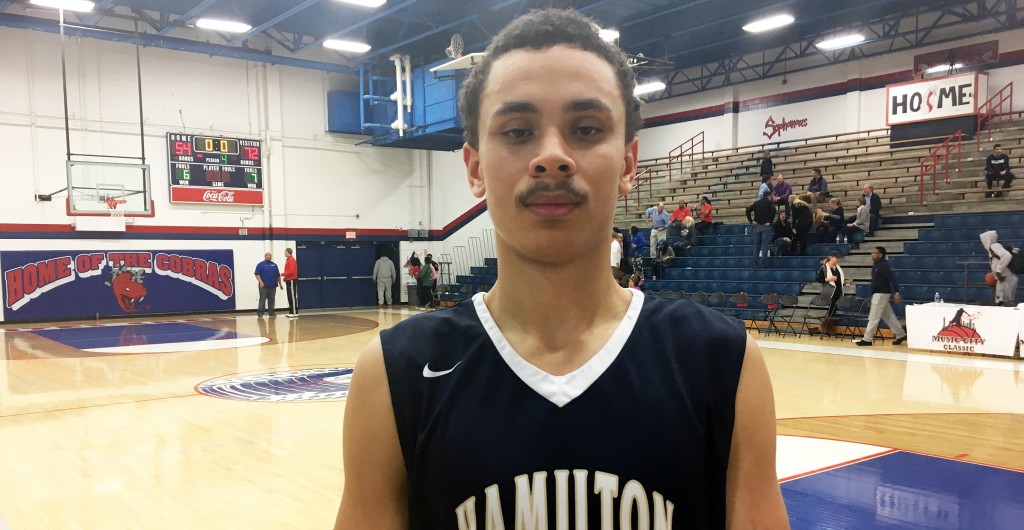 NASHVILLE, TN — It was a slow day on the hardwood here at the Music City Classic but there were still things to find positives from. Here are the things that I liked from the last day of coverage here in the Volunteer State.
How does a team like Middle Tennessee State stay consistently good? Because the Blue Raiders recruit the right kind of players. Therren Shelton-Szmidt (pictured) is the right kind of player for MTSU. The 6-foot-5 guard from Toronto scored 24 points (10-15 FG, 4-8 from 3) in a huge Hamilton Heights (TN) over Providence Day (NC). Shelton-Szmidt had this big game in front of his future head coach Kermit Davis. He's got the tools to become a 1,000-point scorer in college and a go-to guy in the rotation early on. 
22Feet Academy sprinted past Mountain Mission thanks in large part to the play of Winnipeg, Manitoba, Canada native Daniel Sackey. The 5-foot-10 guard was a blur in the game, finishing with an impressive 24 points (9-13 FG, 4-6 from 3), six assists, five rebounds and three steals. He has already collected four offers, securing free rides from Kent State, Stony Brook, Winthrop and Evansville. In a day that needed some production, Sackey did a terrific job of producing. 
Another day, another strong outing from Michael Moreno of Scott County. The sophomore from the Bluegrass State recorded a double-double (18 points and 10 rebounds) and had his strong moments. Moreno was my favorite player that I didn't know about from the time spent here in Nashville. It will be good to see him on the travel circuit at our HoopSeen events this spring and summer. He was the best shooting big man at the Music City Classic. 
Nick Claxton played as well as I've seen from him in a couple of viewings. The 6-foot-10 forward from Legacy Charter (SC) scored 24 points. The future Georgia Bulldog is still far from a finished prospect but college coaches have long hung their hat on his long term potential. And you see why. Claxton is one of the longest prospects there is in the class of 2017 and his ceiling is still quite high. We won't see his best basketball until his upperclassmen years in Athens. A college strength and conditioning program will lay the foundation for his on court transformation.