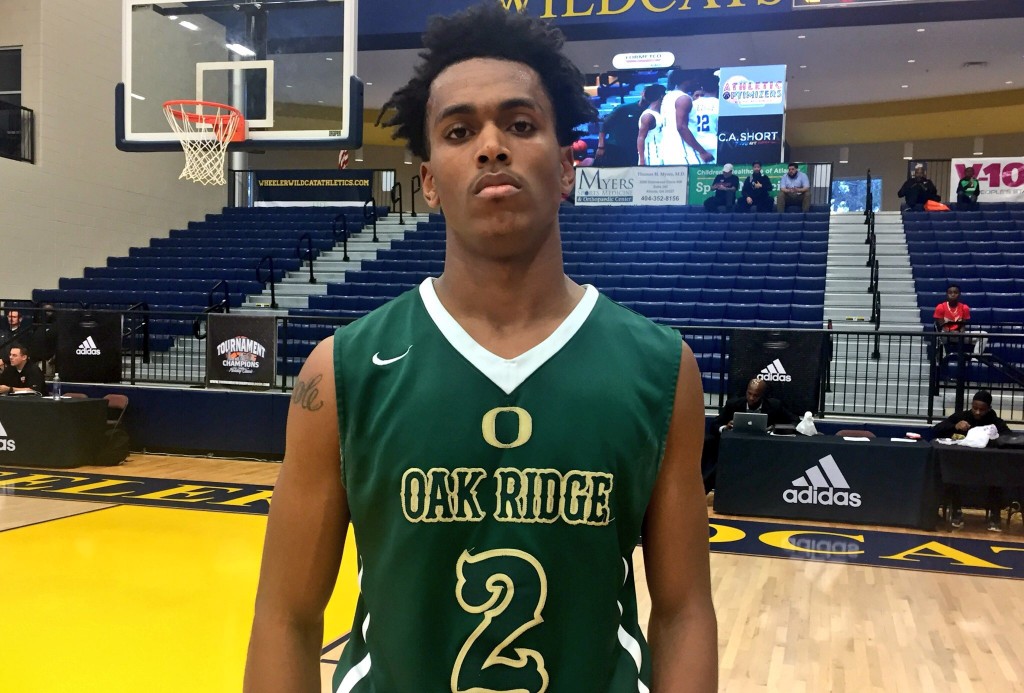 Isaiah Hart Does It Again
Whitefield Academy point guard Isaiah Hart has had a great two days so far at the Tournament of Champions. After leading his squad to a win on Day One with 33 points, he followed up with an even more impressive effort. Playing against Lincoln (NY), and with the attention of the defense focused on him, he poured in 42 points, including getting to the line 28 times. Hart has gained the attention of many Division I programs with his play the last two days and is one of Georgia's better unsigned seniors. 
Niven Glover Emerges
Oak Ridge (FL) is no stranger to talent with the number of Division I players that have played for the Pioneers over the last few years. This squad is no different. With highly regarded juniors Michael Devoe and Antwann Jones, it was a sophomore that stole the show. 2019 guard Niven Glover (pictured) showed a well rounded game, exploding for plays around the rim and knocking down perimeter shots. The 6-foot-3 shooting guard was very impressive and has all the makings of a possible Top-50 guard in the class of 2019. 
Other Top Performers
Dwon Odom, Saint Francis (GA): Odom was a fearless rim attacker and came up big in clutch situations. He has athletic abilities rarely seen from a freshman and they were all of display with a variety of acrobatic finishes at the rim tonight. 
Isaac Okoro, McEachern (GA): While there isn't much that's fancy about Okoro's game, he gets the job done. He consistently attacked the rim today, drawing contact and getting to the line, where he converted. Pair that with his defensive and rebounding abilities and you have a special player in Georgia's 2019 class. 
JaVonte Smart, Scotlandville Magnet (LA): Smart has been a staple in the national conversation in 2018's class. He showed why with hi scoring abilities, but it was his defense and intangibles that shined bright. He guarded 5-star forward Khavon Moore the entire game and showed the leadership and enthusiasm that any coach would love to have in their program. 
Nick Weatherspoon, Velma Jackson (MS): The 5-star Mississippi State signee scored the ball at will this afternoon. Threes, dunks, attacking the paint: you name a way to score, and Weatherspoon probably did it.
Diante Wood, Sacred Heart (AL): Wood played the zone killer for Sacred Heart, getting into the middle of the opposing zone defense and attacking as well as distributing to teammates for open shots.