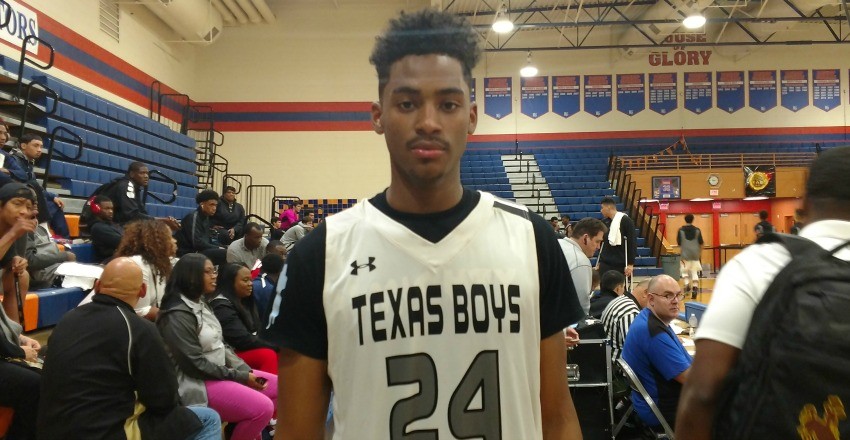 The Tarkanian Classic kicked off on Thursday in Las Vegas as some of the top high school and prep programs throughout the central portions and west coast of the United States hit center stage. While things will hit full steam on Friday with games splattered from morning to night, there was still enough quality outings that left us impressed thanks to a star studded performance out of Jacobi Gordon to kick things off.
JACOBI GORDON SHOWS GO-TO ABILITIES
A pretty well known and lauded name throughout the past few years, Jacobi Gordon came into the Tarkanian Classic wanting to prove his respective ranking and how he has improved within recent months. He did that and much, much more thanks to a 28-point outing, a contest that saw Gordon score the ball in every which way possible within the half-court setting.
Gordon, a member of the 2018 class, looks to have slimmed down some since the summer and because of his more svelte physique, is more athletic and quicker on the drive to the basket. The 6-foot-6 small forward hit on four perimeter jumpers while also attacking poor closeouts with a quality first step. Leading all scorers on Thursday's opening night session, Gordon looks primed to be a go-to scoring option for the high-major rung when the time permits.
Following his contest, Gordon spoke on his past few months and that the road to improvement hasn't always been an easy one. "It has been a tough process. Coming out of the summer, I kind of hit a wall a bit so I have just been getting a better thought of the game," the Texas native stated. "I work out two times every day. I put up at least a thousand shots a day, do ball handling, and hit the weight room."
Thanks to his steady demeanor along with his vast scoring abilities, Gordon has had his fair share of college attention as he listed over 40 scholarship offers. However, there are a few others that have put in more work early on compared to others. "I have been talking a lot with Arizona, Oregon, Oklahoma State, Oklahoma, Baylor, Arkansas, and UCLA," Gordon stated.
Having already visited UCLA, Oklahoma, Oklahoma State and Baylor in recent months, things are still on the uptick with the explosive scorer that is Jacobi Gordon but do expect for the attention placed onto the Lone Star State native to improve even more so in the coming months.
BRUNO FERNANDO SEES THE LIGHT BULB GO ON
Going on two years now, Bruno Fernando entered the United States by way of his native Angola as he showed the national media his chiseled frame and explosiveness around the basket. Despite his overpowering nature, the progressions out of the IMG Academy has concocted with his brute strength, creating for a dynamic interior piece headed to Maryland.
Last month at the National Prep Showcase, Fernando did a few things that we had never seen from him before. He played facing the basket, hit on a catch and shoot jumper, and even put the ball on the floor from off the rip. In Vegas on Thursday, the 6-foot-10 big man did it again as he displayed excellent vision from the low post setting and facing the double team, corralled rebounds with two hands within traffic, and again, showcased a much improved face-up game.
While the commitment of Fernando to Maryland back in the fall wasn't discussed as much as some of his top-100 contemporaries, it is time now to credit the Terps staff for picking up an immediate producer beginning next college basketball season.
Already starting three freshmen at the time being and with the looming losses of Melo Trimble, and more importantly, Damonte Dodd down low, it wouldn't be surprising to see four underclassmen getting the starting nod for Mark Turgeon's bunch by the time conference play begins come the 2017-2018 college basketball season.
OTHERS OF NOTE
Alongside Fernando at IMG Academy is Mason Daniels, a good looking ballplayer and versatile wing that can practically play all three spots on the perimeter. Suiting up with his twin brother Maddox, Mason brings good size to his position, the ability to create for others, make shots from the mid-range on out, and finish at the basket. No offers have been provided just yet, though Hofstra is expected in this week and could lend out the Peach State native's first offer to date.
A native of the nation's capital but suiting up at Balboa Prep in California for his final year of play, Isaiah Camon was an unknown heading into the event but he provided insight into his value at the lead guard spot. Displaying a strong, college body, the southpaw had no issues in getting past the first line of defense before then making the proper pass that led to the easy basket. College interest remains minimal but expect upon greater eyes placed onto him, for his recruitment to heat up.
Sharing time in the frontcourt with Jacobi Gordon at CWA is Jalen King, a long and slender bodied forward out of the Pacific Northwest. The 6-foot-9 big man has a slew of college interest at the time being including the likes of Cal, UCLA, Oregon, Texas, Miami, and DePaul. Upon being evaluated by Arkansas and California on Thursday, King showed good upside as a member of the 2018 class as he ran the floor, defended away from the basket, and finished at the rim.