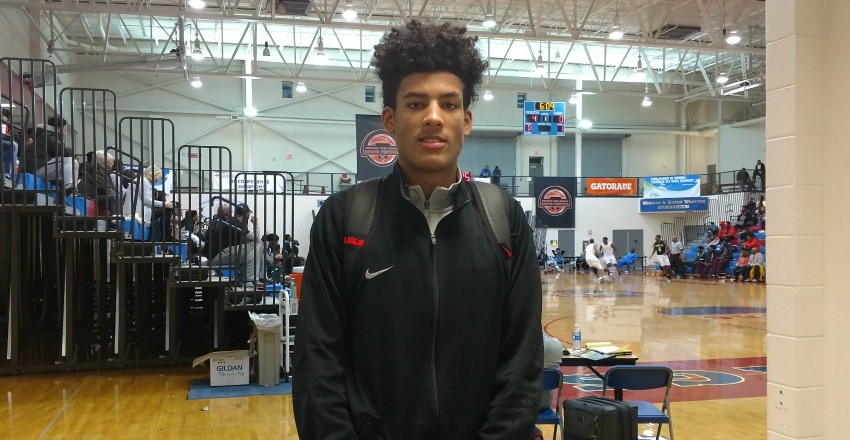 The National Hoops Festival wrapped up on Sunday as some of the best from the northeast hit the floor at the DeMatha Catholic High School gym. While we saw a few performances coming, it was one from an unassuming junior that stole the day which led to an offer from one of the biggest name brand college programs.
JAKE FORRESTER SHOWS SOME GRIT
Heading into the event this weekend, all of the talk surrounding the Westtown basketball program was about five-star big man Mo Bamba, Arizona signee Brandon Randolph, and five-star junior small forward Cameron Reddish. However, it was Jake Forrester, a 6-foot-8 forward out of central Pennsylvania, which took the floor by storm.
More of a face-up oriented power forward that competes with a major chip on his shoulder, it was impressive to see Forrester play so hard on Saturday and then come back and do it all again on Sunday. Despite the fact that he has yet to really fill out into his long and agile body, the Westtown junior doesn't relent at the basket whenever contact is evident. He played nicely out of baseline sets and got to the basket off of fine first step where he would then look to explode for the quick dunk attempt.
Not one to shy away from rebounding the ball from within traffic and a guy that can also protect his basket as a helpside defender, the recruitment of Forrester is just beginning, though three programs have put in some major work with him. "I talk a lot with Penn State, Richmond, and Temple, bit it is still early," Forrester stated. Where all three have already offered, many others are showing further interest but on Sunday, following his second outing of the weekend and after being watched by Tom Crean, Indiana decided it was the time to lend out an offer of their own.
Sporting good grades in the classroom, versatility on both sides of the floor, and some toughness to him, things are just now beginning to take off for the one-time unknown out of the PSA Cardinals program.
PAUL VI BACKCOURT STARS
We are getting to the point now that we may have to think of Brandon Slater, a 6-foot-5 small forward out of the Paul VI basketball program, as a five-star recruit. After finishing with a double-double on Saturday, the long and active junior showed out again on Sunday finishing with 21 points, eight rebounds, and four steals. Slater is the definition of a 3-and-D prospect and is going to be recruited hastily from here on out as head coaches from Pitt, Indiana, and Providence, along with South Carolina, Villanova, Miami, Louisville, and Virginia were in to see him.
Speaking of Pitt, head coach Kevin Stallings made the drive down to see his star lead guard recruit in Aaron Thompson and all that the top-125 commit did was show major progressions at the lead guard spot. Always a lock down defender, it was what the senior did on the offensive end that really impressed. He finished with great body control and toughness at the basket off of a deceptive burst, stepped back and showed off an improved jumper, and as always, ran his team's offense like Tom Brady on a Sunday afternoon. A final stat line of 12 points, four steals, and three assists doesn't tell the whole story with Thompson as he has the gusto to step in and immediately help out in Oakland next year.
Alongside Thompson in the backcourt are two other very promising and talented lead guards out of the underclassmen ranks. The first is sophomore Anthony Harris, a 6-foot-1 sophomore that is exceptionally skilled at this stage of the game who can hit on either handed runners from 10-feet, has some hops at the basket, and can be used as a playmaker within the half-court setting. Next to him is Jeremy Roach, maybe sporting the greatest upside of them all, as the freshman seems to have the 'it' factor to him as he can play on and off the ball, hit with efficiency from deep, and can get up and really defend. Each of these underclassmen will be highly touted and well followed in the years ahead.
OTHERS OF NOTE
Talk of a resurgent Montez Mathis was spot on and despite seeing his team go down in defeat on Sunday, the 6-foot-4 scoring guard hit on a number of tough jumpers as he finished with 22 points and corralled five rebounds. Expect for his recruitment to really pick up seeing that a majority of the Big East and ACC programs were in attendance getting a glimpse of the improving junior out of the John Carroll School.
The day began with a battle between National Christian Academy and Albany Academies, the latter a program that is bolstered by 6-foot-7 forward Hameir Wright. The slender but super skilled and graceful junior finished with 25 points and 10 rebounds and while he did turn it over a bit too much, the upside out of the New Yorker is staggering. After his game, Wright remained on strong ground with staying as a member of the 2018 class and that he would begin to look at his recruitment again in the spring; he plans on heading to Brewster Academy for his final year of prep ball next fall.
Emmitt Williams is the type of dude that brings it every time that he hits the hardwood. This was the case once again in the DMV this weekend as the 6-foot-7 forward ran the floor from rim to rim, finished with violence, and protected his team's basket like he owned it. Ending up with 24 points, five rebounds, and four blocks in the win, the top-30 big man was heavily watched all weekend by Miami, Texas A&M, and Iowa State throughout the two-day event.
Another 2020 to keep an eye on in the coming years is Earl Timberlake. The 6-foot-5 freshman was superb on Sunday evening as he has solidified his handles where he can play on the ball and even facilitate for his team within the half-court setting, but it is his athleticism and toughness at the basket that the Rock Creek star's bread is buttered. A super talented and tangibly graced prospect, Timberlake has the goods to be great.