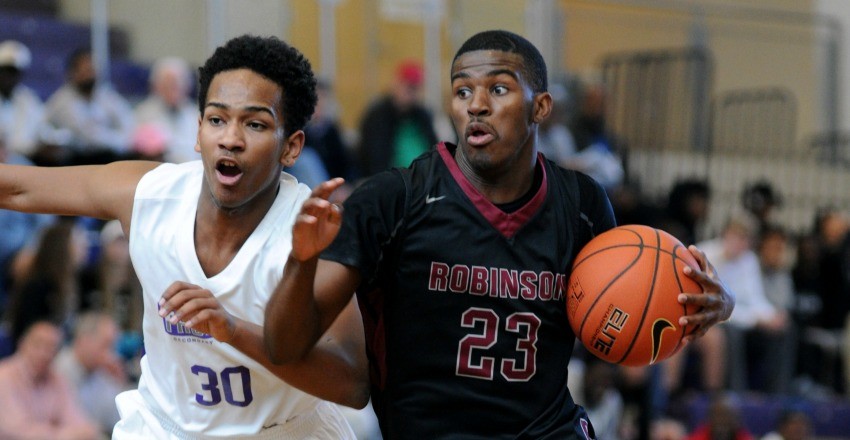 The John Wall Holiday Invitational has become a must-stop for some of the best teams throughout the nation as this year's crop of talent is nothing short of superb. Taking part at Broughton High School, in Raleigh, North Carolina, a bevy of well-thought of recruits laced up their shoes on Wednesday. While it was a few out of towners that impressed, it was two in-state prospects that shined the brightest.
LAVAR BATTS & HIS VALUE
Even the occasional college basketball viewer can tell you that VCU has branded itself on its up and down pace and willingness to get after it on the defensive end. While a new regime change did create a different type of playing style on Broad Street, at the end of the day, the Rams will continue to pride themselves on their ability to speed up the game and get after it on both sides of the floor. In keeping this in mind, it is exactly the reason for why Lavar Batts has all of the tools to be an immediate producer for VCU next year.
The looming losses of Doug Brooks and JeQuan Lewis may sting a bit and the learning curve will be steep, as it always is for most freshmen, yet the competitive edge and consistent production that Batts brings to the court is nothing short of tremendous. While we have him ranked number-71 overall, the fact that the JM Robinson guard found such the ideal playing spot could make Batts someone that out-produces his ranking of him.  
Sure, Batts can be a bit reckless at times but with how fast and electric Batts is, you have to take some of the bad with a lot of the good. He has been nitpicked in the past for his inability to make shots and while it remains a work in progress, the VCU signee converted on two, two-dribble pull-ups which aided his 24 points in all. The cherry on top to it all is the fact that Batts gets to the foul line in heavy amounts and can convert, just as he did on Wednesday, as he made 10 of his 11 foul shot attempts in the first half.
Guys like Darius Theus and Briante Weber were under the radar guards that over performed in college. While VCU has become a name brand program and recruited more highly thought of prospects, Batts is engrained with the same blue-collar DNA as his successful predecessors at the A10 school but with even greater talent reserves to pull from, hence why we believe that his contributions could be felt day one by Wil Wade and his program.
JAIRUS HAMILTON CONTINUES ASCENSION
Not to be outdone by his in-state peer, Jairus Hamilton has continued his ascension into elite level categories as a member of the 2018 class. Last week at the Chick-Fil-A Classic, Hamilton eclipsed 30 points and 12 rebounds in all three of the contests that he participated in. Despite not hitting the same numbers last night, it may have been his best outing yet as he finished it off with a game winning drive and and-1 finish to pull up a giant win.
A supremely well-built junior that can play either forward position, Hamilton is a major nuisance as a mismatch 4-man in smaller ball lineups. Starting the game out in Raleigh, the top-25 prospect hit on a mid-range pull-up and a catch and shoot 3-pointer, displaying improvements with his shot making skills. As the game wore on, Hamilton's shot didn't hit its mark but he understood the time and place to drive to the basket and also showcase his improved playmaking skills.
Many will criticize the Cannon School forward's handles and the consistency on his jumper but the fact that he is developing some alpha abilities, skills that he showed off on Wednesday as he went down the lane and scored on an impressive righty lay-in as he converted the and-1 with three seconds remaining, which led to his team's 3-point win, shows that Hamilton has his game headed in the right direction.
The 6-foot-7 forward broke down his recruitment last week as Arizona, Maryland, Wake Forest, UNC, Maryland, and Duke, among many others, continue to pursue. Hosting Duke assistant Jeff Capel for his game on Wednesday, look for the bluebloods to cave in and make the productive member of the 2018 class a priority as he tracks as one of the more difficult matchup issues in all of the land.
OTHERS OF NOTE
Going down in defeat to the Cannon School was Vernon Carey and his University School brigade. Fighting back through a few questionable calls and a halftime deficit, it was nice to see the five-star sophomore play with passion as he showed some emotions during an impressive seven point spurt of his own. Sporting unbelievable size, length, ball skills, and athleticism for his age, Carey continues to cement his case as a top-five recruit in his class as he recently pulled in an offer from UConn.
DeAndre Ayton, the five-star big man headed to Arizona next year, continues to address his perimeter game by playing further away from the basket and while we struggle to see the Bahamian native doing just that in college next year, the Hillcrest Prep big man still did some damage down low. He ran the floor with a purpose, was an elite rebounder showing off velcro-like hands, and must have tapped into vintage Kevin Love films as he threw accurate outlet passes. Sure, Ayton needs polishing but the talent, size and dominating nature out of the senior big man is staggering.
One of the better finds of the day was Alex Reed, a 6-foot-3 swingman with the Garner High bunch. Now that Thomas Allen, an NC State signee, has transferred out of the school for his final year of play at Brewster Academy, it looks like Reed may become the face of the program during his final year of ball. Bringing good athleticism, shot making, and play making skills to the court, the Carolina native spoke on an offer from Western Carolina with further interest coming from UNC-Wilmington, Radford, Campbell, and North Dakota.