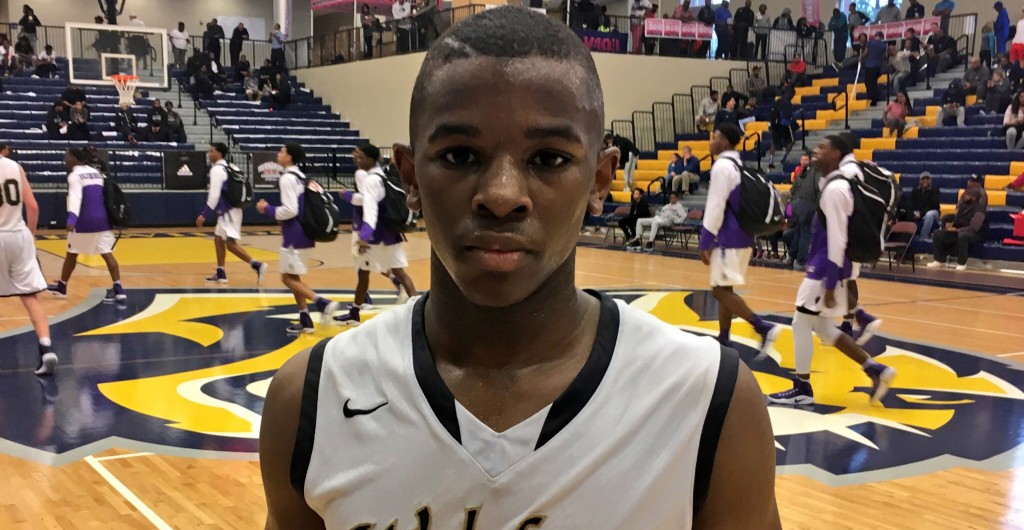 The first day of the first ever Tournament of Champions Holiday Classic is in the books and we look back at the action from the National and Fab Four brackets from Wheeler High School. These were the Fab Five players from the action on Tuesday. 
Isaiah Hart, Whitefield, 2017 (pictured above): The unsigned senior delivered one of the best games of the day, connecting on back-to-back three-pointers in the final minute of the game against Velma Jackson, bringing the Wolfpack back from the brink to the victor's stand. Hart finished with 33 points (11-17 FG, 4-6 from 3). Defensively, he made some terrific plays against one of the toughest players to defend in all of the country in Nik Weatherspoon. Hart is one of the best unsigned players in Georgia's 2017 class. He's a good student and an experienced point guard. Loyola MD and North Greenville were both on hand to see him play. 
Rayshaun Hammonds, Norcross, 2017 (GEORGIA): The strong play of the future Bulldog continues. Hammonds was productive in a tough back-and-forth game against a very talented Miami Christian team. He finished with 27 points (11-15 FG) and 11 rebounds in the win. Hammonds is playing as well as any player in the Peach State right now and his confidence, even against high pressure team like Miami Christian, is booming.
Neftali Alvarez, Miami Christian, 2018: Paired against Norcross, the 6-foot-1 point guard was the catalyst to his team's high energy against a top-level foe. Alvarez finished with 19 points, four rebounds, four steals and played every minute of action of the game. He defended with great purpose and speed, too. According to his travel coach Art Alvarez, the junior has offers from Purdue, South Carolina and South Florida while Virginia and UCLA have shown interest. 
Collin Sexton, Pebblebrook, 2017 (ALABAMA): No surprise here. Sexton did what Sexton does. He played aggressively and passionately in a highly competitive game. When it came down to it, the future Crimson Tide guard bullied his way to the foul line and converted 16 of 20 trips to the charity stripe. No one does it better nationally when it comes to winning games at the 15 foot stripe. His skill is a unique trait and one that helped the Falcons hold off a good John Marshall (VA) team. 
Nik Weatherspoon, Velma Jackson, 2017 (MISSISSIPPI STATE): Weatherspoon finished with 29 points (12-23 FG) and seven rebounds in a heart-breaking loss to Hart and Whitefield Academy. Few players nationally have the athletic ability that Weatherspoon has at the point guard position and there were a few moments in the game action that just left you speechless. He should be a major help in the Mississippi State rotation next season.