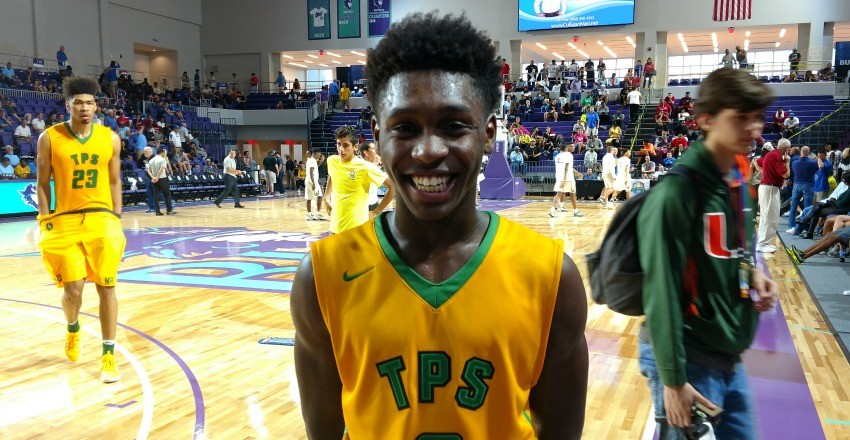 The City of Palms Classic has always been one of the top high school events every year. On Sunday, the primetime event being held in Fort Myers, Florida, boasted three killer matchups between some of the very best prospects from the upcoming classes. While some didn't bring the sizzle that we had hoped, it was the battle between the top New Jersey teams that taught as the most.
JORDAN WALKER BRINGS TWO-WAY ABILITIES
In a contest between The Patrick School and Hudson Catholic High School, a game bringing to the floor over a handful of high-major prospects, it was the more unheralded 2018 guard that was the catalyst for his Patrick School team's win. Jordan Walker, a HoopSeen Top-100 recruit and a tough-nosed one at that, has never been shy of the big stage. On Sunday, he brought it once again and thanks to his abilities on both sides of the floor, was able to keep his team afloat within the championship bracket.
While he doesn't have the ideal size, the 5-foot-11 point guard more than makes up for it with the giant chip on his shoulder and in his ability to change the game in various ways. He has become a much better shooter from off of the bounce, is turning into a lock-down defender, and while it goes underrated, might be the best entry feeder in all of high school basketball, something that is important whenever your teammate is Kentucky commit and five-star center Nick Richards.
Despite finishing with 10 points, five assists, and two steals, Walker is trending in the right direction. A member of the 2017 class that plans on prepping for another year as he is actually seen as a junior at the time being, Walker was heavily watched by Minnesota, Seton Hall, South Florida, and a slew of others on Sunday. Following his team's win, the Jersey native stated that Seton Hall, South Florida, Oklahoma, and Oklahoma State were coming at him the hardest as Georgia became the latest by offering thanks to his solid performance. After more showings like that which he had in Florida on Sunday, expect many more to get involved with tough and active guard that is Jordan Walker.
JAHVON QUINERLY SHOWS PROGRESSIONS
It has been a few months since last seeing Jahvon Quinerly and while I had been a little hesitant at how he would hold up on a physical standpoint at the next level, he put that all to rest thanks to his play on Sunday. While it looks like he has grown another inch or so, it is the added strength and developed burst out of the Hudson Catholic guard that really stood out.
Going down in defeat but in no reason a fault of Quinerly's, the first half of his game in Fort Myers was the kind of 16 minutes that shouted five-star stuff. The super smart and quick junior scored the ball in various ways as he converted over half of his shots from the field in all, of which led to 23 points on the scoreboard. Having the ball in his hands for pretty much every possession for his team throughout its contest, Quinerly coughed up the ball just one time, displaying great maturity and patience running his squad's half-court offense.
It was a phenomenal outing for Quinerly as he drew coaches from Arizona and Villanova, along with many others, as it seems that he has taken his game to the next level and is trending towards becoming a five-star prospect out of the 2018 class.
BAMBA & AYTON GO AT IT
The matchup that we all had been waiting for finally went down in south Florida on Sunday as top-five big men Mo Bamba and DeAndre Ayton went at it. However, things didn't play out the way we had liked as Ayton settled for way too many jump shots and Bamba struggled to produce.
After the dust settled, Westtown came away with a solid win thanks to the well-balanced play of the others stars at Westtown. Sure, the 7-footer did compete down low as he changed nearly every shot in the lane but six points and five rebounds without coming off the floor one time says that there was a lot more that Bamba could have done. Still, his upside is tremendous due to his length, maturity, and mobility as he was heavily watched by head coaches from Shaka Smart and John Beilein on Sunday.
Countering Bamba was DeAndre Ayton, the 7-footer that some have ranked as the top prospect in all of high school ball. To say that Ayton underperformed would be about right. We are never going to nitpick his talent levels as Ayton is tremendously blessed with everything that you would want in a basketball prospect. However, his willingness to shoot the jump shot compared to fight it out around the basket continues to hurt Ayton's case to be seen as the best of the best.
Finishing with 13 points off of 4-of-17 shooting from the field is not going to get it done when Ayton is just so powerful and physical dominant for the high school level. Sure, he did corral 13 rebounds but he also shot eight 3-point jumpers, showing just how much he really did settle in the half-court setting. The Arizona commit is a special one, there is no doubting that, and when he wants to dominate, he can do just that, but the proper coaching and mindset is needed on a consistent basis with the future Wildcat, though Sean Miller should do wonders with the Bahamian native, a premier talent out of the 2017 class.
OTHER OF NOTE
Alexis Yetna continues to produce with efficiency as the Putnam big man got the nod for 22 minutes of action and still walked away with a double-double. Pulling down 13 rebounds and making five of his six shot attempts, the 6-foot-8 big man is tracking as a high-major prospect thanks to his instincts, energy levels, and rebounding skills.
It is going to be difficult to find a better rebounder in the upcoming classes than Charles Bassey. While he also tried to show off more skill than his game inhibits at the current moment, whenever the St. Anthony's star wanted to produce in the paint, he did so with rather ease. He displays an unreal frame with super long arms as the Tristan Thompson-like sophomore came away with 12 rebounds in just 25 minutes of action; toss it in with his 18 points and three blocks and it is easy to see why Bassey is a five-star sophomore recruit.
Despite the lacking production out of Mo Bamba, it was Cameron Reddish that more than held his own in the heavyweight battle. The 6-foot-7 small forward has gained approximately 20 pounds since the travel season as he showed off great aggression getting to and finishing at the basket. Completing a final stat line of 21 points, 10 rebounds and four assists, the five-star displayed premier facilitating skills for a small forward prospect. Following his team's win, Reddish spoke on his recruitment as Villanova, Duke, Syracuse, Arizona and UConn as those standing out currently.