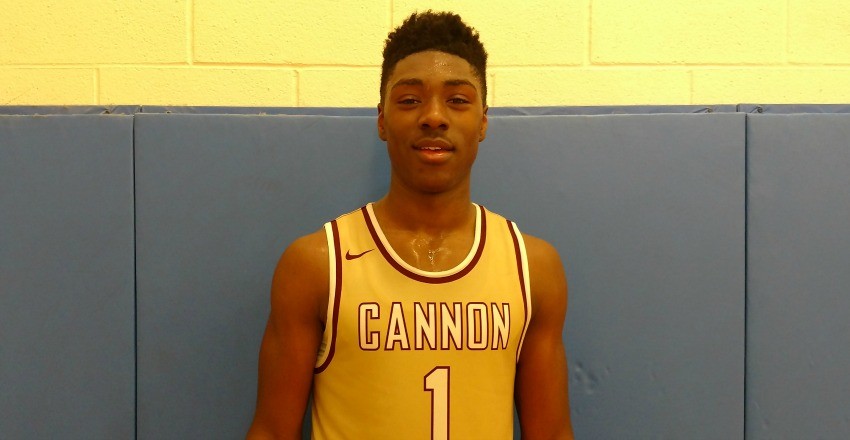 The bracket play of the Chick-Fil-A Classic kicked off on Thursday as some of the top high school teams from the east coast and Midwest hit the floor. While the La Lumiere and Wheeler High squads look to be hitting on all cylinders, it was Jairus Hamilton that began the day with another 30-plus scoring barrage that led to a W for his Cannon School bunch.
JAIRUS HAMILTON BEGINS TO EYE RECRUITMENT
On Wednesday, while his team went down in an ugly defeat, Jairus Hamilton didn't struggle to produce as he finished with 38 points as he made four of his 3-point attempts. Yesterday, all that the Cannon School product did was go out, put his team on his back and score the ball in various ways while also showing much improved playmaking and passing abilities below the arc.
Built like a linebacker but standing over 6-foot-7, Hamilton will never struggle to pass the looks test, regardless of the level of play that he is at. Someone that can be used at either forward position, Hamilton has never struggled as a finisher at the basket thanks to his explosiveness and strength to score through the body. While in Columbia this week, the top-25 junior displayed a better set of handles, a more consistent jumper as he made ten of his 14 field goal attempts on Thursday, and good energy on the glass.
Following his 33 point, 13 rebound, and five assist outing, Hamilton spoke with HoopSeen on how the entire process over the past few months has gone for him. "It has been going really well. It is all humbling to me," Hamilton said. "It am just trying to take it in and being a big time name early on, not trying to worry about it all and just keep competing."
Despite there being some time before a college decision, Hamilton did speak further on the schools standing out and the schedule for cutting things down. "UNC, Kansas, Wake Forest, Maryland, Cal, Arizona, and Duke," the Cannon School star said about those in touch the most often. "I might cut my list down in the summer time during the AAU season."
In the gym on Thursday was an assistant from Maryland along with UNC head coach Roy Williams, the latter being a nearby powerhouse school to Hamilton's. "It is a blessing," Hamilton said. "It's great to be looked at. It's the home state school. I appreciate the love and them coming out and seeing me play."
Look for continued improvements out of the versatile and productive Jairus Hamilton with some of the top programs in all of the land zeroing in on the 6-foot-7 junior this summer.
ZION WILLIAMSON DRAWS A CROWD
I am a bit too young to be around for the travel and high school days of LeBron James, but what I saw Thursday evening at the Chick-Fil-A Classic, I would have to assume it was the same way with the anticipation and mass following that the Cavs superstar had early on. This time last year, not many knew of Zion Williamson. Fast-forward 12 months and the amount of eyes that wanted to see the South Carolina native go out and put on a show was staggering.
At 5PM on Thursday, the doors closed and no more tickets were being sold. Sure, Hamilton Heights, Wheeler, La Lumiere, and a few others still were due to compete but they were really all their for Williamson. The only issue…his game didn't begin until 8:30PM!
Once the game did start, no one was sitting. While the contest didn't go as planned for Williamson and his Spartanburg Day squad as they went down in a three point defeat, the lefty was still able to draw some oohs and awhs thanks to a windmill dunk, 360-two handed jam, and impressive finishes in and around contact.
A 6-foot-7 man of a basketball player, Williamson has drawn various comparisons to the likes of Larry Johnson and Charles Barkley in the past but really, there is just one Zion Williamson. The five-star forward has bettered his handles, though he did force the drive a bit, looks to have added more consistency and bettered his mechanics on his jumper, and is a lethal rebounder on both sides of the glass.
Head coaches from UNC and Memphis, along with assistants from South Carolina, Clemson, Maryland, and Louisville were spotted in the gym for Williamson. Finishing with 19 points and 15 rebounds, things are far from over with the recruitment of the top-five recruit but on Thursday, despite his team's loss, the Spartanburg Day did a bit more in cementing his status as one of the best that there is in all of high school ball while becoming a walking ticket seller in the meantime.
OTHERS OF NOTE
We have been waiting for EJ Montgomery to turn the corner and on Thursday, the junior forward out of the Wheeler High program did just that. Already committed to Auburn, the 6-foot-9 forward ran the floor and finished out on the break, protected his basket with out of area shot blocks, and converted with major efficiency. A final stat line of 26 points, nine rebounds, and four blocks while missing just two of his 14 shots from the field is a telling sign that Montgomery is turning into a real, productive ballplayer in the frontcourt and one of the better upside guys in his class.
His team was missing its star forward in Nate Roberts as the junior forward suffered a concussion last week, yet Montez Mathis continues to step out and break out as a scorer from the John Carroll School. He has no issues creating his own offense and in scoring the ball at all three levels on the floor. The 6-foot-4 junior had it all on display in his team's win where he finished with 22 points and 13 rebounds; Rutgers seems to have done the most and best work with the Baltimore native up until this point.
The La Lumiere basketball program has always been one of the most talented ones in any given year and this season's squad is nothing outside of the norm. In Columbia, Brian Bowen, Jordan Poole, and Tyger Campbell have been superb but it is Jaren Jackson that has impressed the most. The 6-foot-10 power forward that boasts a 7-foot-5 wingspan, Jackson has been dominant for two days now. He can protect his basket when on and off the basketball, run the floor and finish the break, step out and shoot the perimeter jumper, and also score with either hand in the lane. Posting 23 points and 12 rebounds in the win, Jackson, who is headed to Michigan State next year, could finish with one of the top-five best NBA playing careers before things are said and done with from the loaded class of 2017.
Going down in defeat to La Lumiere was Hamilton Heights, a program hosting the talents of Shai Alexander. The 6-foot-4 guard struggled for the second day in a row around the basket as he made just seven of his 23 shot attempts as his lacking strength can be an issue on scoring through contact at the basket. However, the Kentucky commit did display an elite feel and passing abilities along with a nose for the ball. Finishing with 20 points, it was the 10 rebounds that stood out as the top-50 guard needs some polishing with his game but the fact that he is willing to go in and fight for the rebound chance shows that toughness is not lacking.