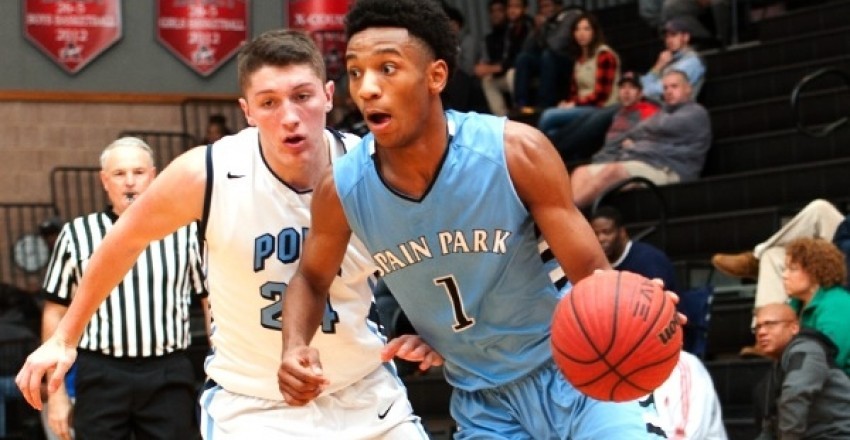 HUNTSVILLE, AL – The Von Braun Center was the place for avid basketball fans on Monday night, with a doubleheader featuring four of Alabama's best teams in action: Spain Park vs. Lee-Huntsville and Sacred Heart vs. Mae Jemison.
As expected, both games were neck-and-neck and came down to the wire. Here are the storylines from both respective games.
DEVONTE LANIER PUTS MAE JEMISON OVER THE TOP
For the most part, it was a quiet game for 2017 Huntsville (AL) Mae Jemison power forward Devonte Lanier. He struggled finishing at the rim for most of the first half, but the senior came up big when his team needed him the most against Sacred Heart, helping the Jaguars capture a 57-53 win Monday evening.
With just over a minute remaining in the game, the 6-foot-7 forward was able to drain a mid-range jumper from just beyond the free-throw line, tying Sacred Heart at 53. Earlier in the quarter, Jemison trailed by as much as six points. Lanier capped off Mae Jemison's victory with two big dunks off turnovers down the stretch to ice the win. He finished with 17 points.
With his future assistant coach, Antoine Pettway, sitting courtside, Alabama signee John Petty showed Huntsville basketball fans exactly why the Crimson Tide is ecstatic to have him on-board in their 2017 recruiting class. The 6-foot-6 wing led Jemison with 19 points, all of them coming in a variety of ways. He also added 14 rebounds.
Despite the loss, the most impressive player on the floor in the second game was Sacred Heart point guard D.J. Heath. Heath, a 5-foot-11 senior, opened up the game with three 3-pointers to give the Cardinals a jump out of the gate. He controlled the game from start to finish and was a nuisance for opposing guards in the backcourt. Heath also showed his versatility with his ability to guard Petty, too. Heath led all scorers with 23 points in the contest. Samford signee Kevion Nolan added 12.
JAMAL JOHNSON LEADS SPAIN PARK TO VICTORY IN HOMECOMING
Three years ago, 2017 guard Jamal Johnson made his high school basketball debut with the Sparkman Senators in Huntsville. Monday evening, the Memphis signee returned to the Rocket City for a homecoming in the city that raised him.
It's safe to say Johnson's return to Huntsville treated him well. The 6-foot-4 guard scored 30 points en route to a 59-52 Spain Park win over Lee-Huntsville.
"Ever since I moved to Birmingham I've been wanting to come back and play in Huntsville because it's familiar to me and where I grew up. It was a great time getting to play here again," Johnson told HoopSeen.com following the Jaguars' victory.
Johnson, a valuable utility guard, racked up 20 rebounds and a handful of assists to go along with his 30 points. Despite trouble finding his shot early in the game, he nailed three 3-point opportunities. Johnson was also able to seal the game with six free-throws during the last minute of the game.
"I think I performed well. Our team fought hard against a good Lee-Huntsville team and we came out with the victory. That's all that matters," noted Johnson.
2019 forward Kobe Brown led the way for Lee-Huntsville with 18 points. The Generals (like the three other teams) struggled to shoot from the perimeter. Malik Burnett, who flipped his commitment to Troy from Longwood, added 10 points for Lee.