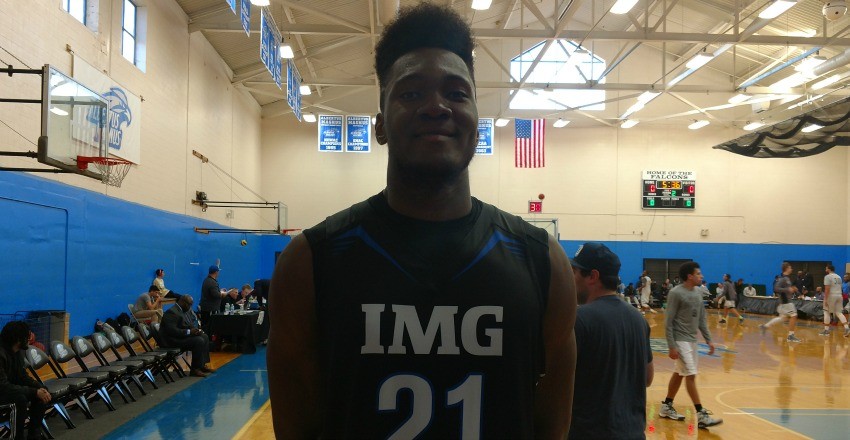 It was the official start to the high school on Friday as the National Prep Showcase kicked off in New Haven, Connecticut. Some of the top prep programs hit the floor at Albertus Magnus College while a bevy of college scouts and even a handful from the NBA rung were in attendance for the day. A couple of already signed seniors produced with efficiency displaying immediate impact abilities for next college season while a handful of others showed progressions from the upcoming ranks.
HAMIDOU DIALLO, SG, PUTNAM SCIENCE ACADEMY, 2017 – RANKING: 5
There was a litany of college coaches in attendance on Friday evening. The reason why? There has been some debate as to whether Hamidou Diallo will opt to head to the professional platform at the end of the prep year or take his talents to the college level. See, he has already graduated from high school and would be one year removed and the proper age to enter into the NBA Draft. To cap the evening off, the New Yorker had some good and some bad but the upside is staggering with the Putnam guard. At first, he settled for contested jumpers and seemed to force a bit on the offensive end. However, his abilities out in the open floor, the swagger and motor that he possesses, and finishing skills at the basket are second to none. There is some DeMar DeRozan to him and with all of the intangibles in the world to offer, scouts had to walk away intrigued following Diallo's 19 point and seven rebound performance.
BRUNO FERNANDO, C, IMG ACADEMY, 2017 – MARYLAND COMMIT – RANKING: 70
What a day it was for Bruno Fernando. The one-time SMU commit and now Maryland signee was sensational where he showed off a much broader skillset, a game that has extended itself out to beyond the arc. He hit on a smooth and elevated perimeter jumper off of the stagger, put the ball on the floor a tad off of his right hand, threw the proper pass prior the double team in the post, and as usual, finished with authority at the basket. Half of the two-man class headed to the Big 10 program next year, Fernando is more than college ready and should be leaned upon for his rim protecting skills but also half-court offensive prowess as the top-75 recruit had a fine day in New England in his team's win.
KELLAN GRADY, PG, NORTHFIELD MOUNT HERMON, 2017 – DAVIDSON COMMIT – RANKING: 44
We are very high on Kellan Grady here at HoopSeen and on Friday, the Davidson commit made us look like geniuses for our high ranking of him. The 6-foot-4 guard is going to receive a ton of Steph Curry comparisons due to his physical looks, playing style, and of course, where he will be playing his college ball at. Say what you want, Grady did come out looking like a Splash Brother as he hit on two deep perimeter jumpers off the left wing just a minute into the game which set the tone for the rest of his team's blowout victory. A capable lead guard and playmaker with great size out on the perimeter, the IQ, maturity, skillset, and feel for the game is off the charts with Grady. Finishing the game with 17 points off of seven-of-nine shooting from the field, to go along with four steals and four boards is enough for us in stating that the NMH product will be a star one day soon under Bob McKillop's watch.
BRANDON KNAPPER, PG, HARGRAVE MILITARY ACADEMY, 2017 – WEST VIRGINIA COMMIT
At a point in time, there wasn't much said or known about Brandon Knapper. Originally a member of the 2016 class and a long-time commit for WVU, the 6-foot lead guard came out with a purpose in his team's win on Friday. He is built in the mold of your past successful guard types under Bob Huggins watch in Morgantown. What might that be? Well, Knapper is a tenacious competitor, one that doesn't back away from physicality on the playing floor, can score the ball in heavy amounts, proof being his 31 on the scoreboard off of just 18 shot attempts, and at the same time, his defense remaining more than up to par. Together, the Mountaineers have an excellent guard recruit ready to contribute next year.
SIMI SHITTU, PF, VERMONT ACADEMY, 2018 – RANKING: 13
Entering his first year at Vermont Academy this fall after transferring in from Montverde Academy in Florida, there aren't many more talented prospects from the 2018 class than Simi Shittu. The 6-foot-8 forward was seen in the past as a 15-foot and in weapon but on Friday, the Canadian looked like Paul George out on the court. He led the break, was used as a playmaker within the half-court offense, and scored at the basket off of hard, straight line drive attacks. While he didn't shoot it a ton from outside of 10-feet, there was a reason why Kentucky, Texas, and Louisville were keeping an eye on him here in Connecticut. Shittu finished with 23 points, 11 rebounds, and five blocks where he has all of the makings of a five-star, priority recruit.
OTHERS OF NOTE
If there was one break out guy from the day in the gym, it would have to be Bobby Planutis. The 6-foot-7, mix and match forward, was an unknown heading into the event but due to his deep jumper conversion skills and deceptive toughness and feel for the game, look for the Pennsylvania native's stock to really pick up. At the time being, the Bridgton star holds offers from Mount St. Mary's, Niagara, Fairleigh Dickinson, Maine and High Point with higher level interest beginning to trickle in.
Another available late pick-up is DJ Jones, a 6-foot combo guard out of Louisiana. Running with Ryan Hurd's Notre Dame Prep bunch, the sharpshooting standout went for 31 points off of 18 shot attempts. He noted interest from Texas Tech, UMass, Houston, MTSU, Arkansas State, and Texas State following his opening game in Connecticut.
Dues have to be made to Marcus Santos-Silva as the 6-foot-7 center is never going to be the most explosive of big men but man, does this dude rebound the basketball! The pending loss of Mo Alie-Cox is going to be felt next year at VCU but the Vermont Academy star is more than ready to help on the glass. He corralled a number of traffic boards on Friday finishing with nine in all, five coming on the offensive end, added in to his 20 points; efficient and productive is the name of the game with Santos-Silva.
COLLEGES IN ATTENDANCE
It was a strong day in the gym on the college front with many more expected in on Saturday as we saw Northwestern, Texas State, Vermont, Grand Canyon, Texas, Colorado, Iowa State, Arkansas State, Wofford, Maine, Stony Brook, Kentucky, Louisville, Cincinnati, UMass, Western Kentucky, Central Connecticut State, NJIT, and Boston College throughout the event.