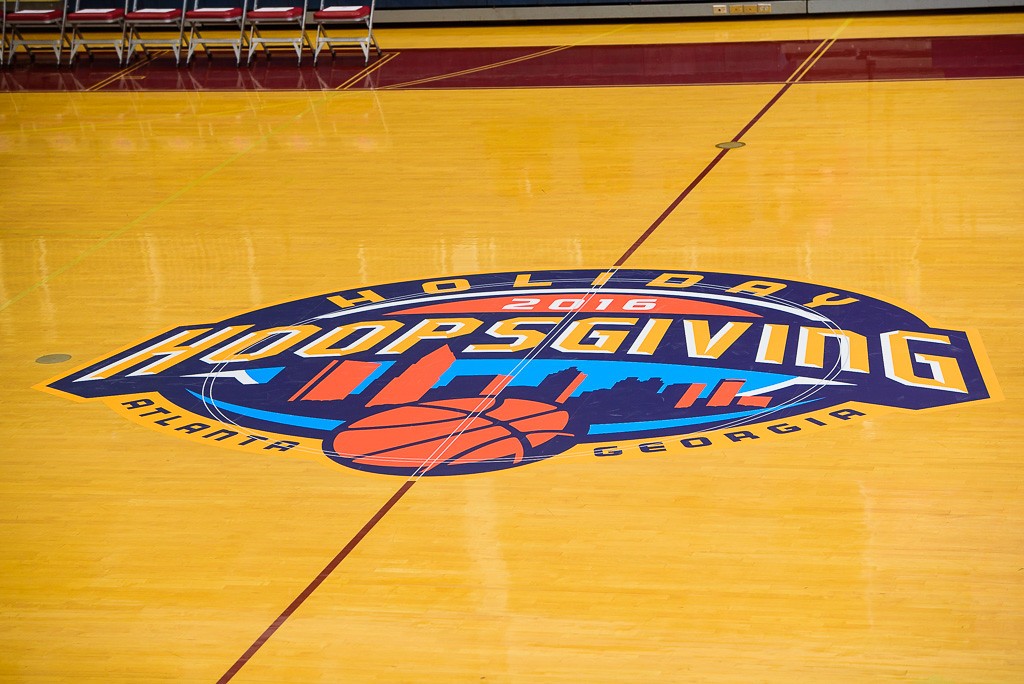 ATLANTA, GA -- After a stellar Friday at the Holiday Hoopsgiving event at Holy Innocents', many wondered if Saturday could live up to such excitement from opening day of the event. It most certainly did with one of the best high school basketball games we'll see all season.
VASHON STANDS TALL AGAINST WHEELER
The Holiday Hoopsgiving event was sure to have the dramatics, given the high-level teams and players in the field. It was billed as one of the top dozen events of the high school season. The hype was real coming into it.
With teams like Wheeler, a consensus top five team in the nation, in the field expectations for elite level basketball was high. St. Louis's Vashon High School knew it, too. The Midwestern powerhouse wasn't going to come to Atlanta as a team that would lay down to a starting five of Division I players.
Not a chance.
Vashon not only stepped to the line with the Wildcats of Holt Road but threw jabs, left hooks and uppercuts every round. Vashon, and it's incredible travelling fan base, went into the game with a plan - stay true to what has put state championship banners in the rafters 12 times.
It was a back and forth affair throughout the game and one worthy of such national attention.
Sophomore guard and senior guard Mario McKinney and "Peanut" Farris delivered with plays worthy of March's most magical madness. The two combined for 32 of their 39 points in the second half and made play after play.
Neither guy was intimidated by the stage or being 550 miles away from home. Their spirit trickled down the entire Vashon roster. The team's win was a big one and fun to watch.
Wheeler will undoubtedly be a force to be reckoned with. They are, after all, one of the best teams in the country despite the loss. No one will doubt that. As the team learns more about each other on the hardwood, the Wildcats will be a tough out. The team saw high-energy from Auburn-bound junior big man E.J. Montgomery. He was a monster in the paint all game long.
NOTES FROM THE NOTEPAD
Over the course of two days, Liberty County (GA) junior combo guard Will Richardson built his resume with craftiness from the backcourt.

Future Xavier big man Kentrevious Jones was outstanding for Westside Macon in a tough loss to Norcross.

Kyle Sturdivant made a couple of plays in the fourth quarter that helped break the Blue Devils open and past a pesky Westside Macon team that wouldn't go away.  

Very good game from Oldsmar Christian's DJ Mitchell against Covenant Christian. The 6-foot-5 guard is a good-looking low-major/mid-major guard. Had 23 points and knocked in four three-pointers against Covenant Christian.

Chris Agbo will have to go to a junior college after he finishes up at Covenant Christian in Marietta, Georgia. After his two years at the JUCO level he's going to be a high-major big. Why? Because he rips down boards. He had 21 against Oldsmar Christian. He's one of the toughest dudes around.

Name to remember: Benedictine Prep (VA) freshman wing Henry Coleman. As he continues to develop, he could be a guy you hear a lot from.

Tae Hardy of Miller Grove should be recruited more. He's a point-producer and one tough dude. The senior is battle-tested and trustworthy on the hardwood.

Ikey Obiagu was back to his old self, blocking shots at a turbo-button pace, playing aggressively on both ends of the floor and challenged Westlake's continuous drives to the iron.

Chuma Okeke put up a brilliant game in front of his future college coach Bruce Pearl. The 6-foot-8 forward for Atlanta Westlake was an absolute monster on the glass.

Speaking of Pearl, he was at the Holiday Hoopsgiving from start to finish on both days of action.