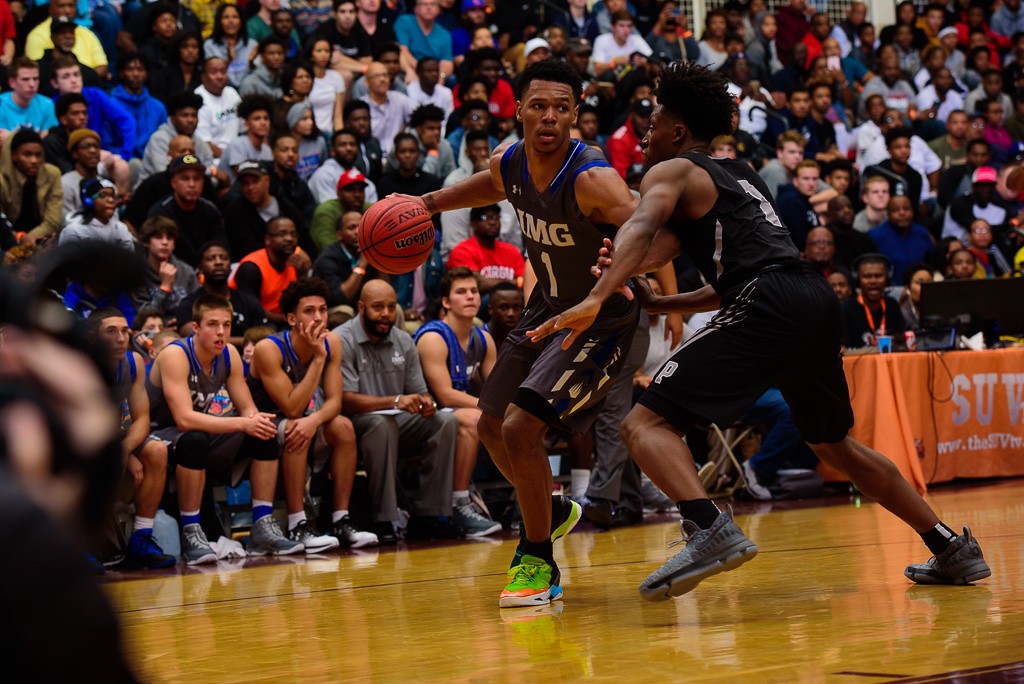 The annual Holiday Hoopsgiving event is under way at Holy Innocents' and this year's field is the best yet of the three-year run.
FRIDAY'S STORYLINES
All-American guard battle didn't disappoint

Star power delivered throughout the day

Javon Greene owns the stage

Newton is a AAAAAAA team to respect...again

Norcross picks up big national win vs. state foe
They lined up wherever there was open space in the atmosphere to see this one. Any why not? The two best point guards in the land were going at it. The people wanted to be entertained. And they were.
Trevon Duval and his IMG Academy held off run after run from Collin Sexton and Pebblebrook for a hard-fought 99-94 win in front of a standing-room only gym at Holy Innocents' gym at the Holiday Hoopsgiving event.
The game capped off a terrific day of basketball where the stars delivered like Grandma did on Thanksgiving.
Duval finished with 24 points on 10-20 shooting from the floor, six assists and five steals. He played all 32 minutes. When it came time to make a play, he made a play. That's what the top point guard in the country is supposed to do. Duval delivered a win on the road and in front of a pro-Sexton crowd.
Sexton scored 39 points on 11-18 shooting, 5-9 from three and 12-13 from the foul line. It was a classic Sexton effort; all energy all the time. The future Alabama guard gave the people a show and that's what they came for.
Emmitt Williams was an absolute force in the middle for IMG. The athletic freak of a forward scored 21 points and grabbed nine rebounds in the game. He also blocked five shots in violent fashion. His intimidation around the rim was noteworthy and had shades of former prep super freak Bill Walker.
GREENE SAVED ROOM FOR DESSERT
George Mason bound guard Javon Greene saved a little room for the good stuff on the day after Thanksgiving
Greene put on an absolute offensive clinic, scoring all over the floor. He finished with 57 points and drilled seven three-pointers in the process. Sure, his scoring output was outstanding. Down right awesome. But the way he did it and the manner in which he put his team on his back was something to behold. Greene, our No. 18 player in the class of 2017,
Henry County was down to Langston Hughes for a good part of the day and battled back thanks to Greene's toughness down the stretch. He wanted the ball in his hands. There was no denying that. And he wouldn't be denied the shot to put the dagger into the heart of Langston Hughes.
Greene was brilliant in the effort and one of the best games we'll certainly see this high school season.
"I've never had a game like. I've never scored 50," Greene said with a grin going from ear to ear. "When they jumped out the lead like that, I knew I had to take the ball and step up. I wanted the ball to get to me so I could get to my teammates going. I think our attitude changed in the second half."
NEWTON IS EVEN BETTER THAN LAST YEAR
Newton finished the season last year in the Final Four and made the Atlanta basketball community take notice. The Rams return nine players back from that team last year. And they are younger, faster, quicker and scarier than last season. Their 104-71 trouncing of Liberty County was impressive. And deafening.
"We're going to be able to get out in transition more and play more explosive than were last year," Newton head coach Rick Rassmussen said.
That's a scary thought. Have fun guarding that, Georgia.
Isaiah Miller, one of the best athletes in the South, played with his trademark athleticism. The sub 6-footer is entertainment the minute he steps onto the floor. He finished with 31 points, 31 loud  points. On 15-21 shooting from the floor.
Sophomore guard Ashton Hagans had a lot to do with that success. He finished with 32 points on 11-18 shooting from the floor and hit four three-pointers in the win.
HEY, DON'T FORGET ABOUT ME
In a day of outstanding individual efforts, Oldsmar Christian guard Elijah Weaver wasn't going to be left out of the conversation. The jet quick junior from Florida scored 37 points in 63-61 Oldsmar Christian (FL) win over Cannon School (NC).
His change of pace and ability to score on good shots was outstanding. He was 12-18 from the floor, 4-7 from 3 and 9-11 from the foul line. He also had six rebounds, five assists and four steals on the day.
Weaver said he has taken visits to Louisville and Villanova in the fall while UConn, Florida, Wake Forest, Notre Dame, Florida State and Miami are involved in various levels.
HI, MY NAME IS…
Donovan Gregory, Carmel Christian, 2019, SF: Talk about a big-time first impression. The 6-foot-4 wing is as explosive as they come and used his bounce and aggressiveness to play well at the rim as a scorer, rim-bender and offensive rebounder. He played above the rim throughout the game against Holy Innocents' and made his mark throughout the contest. Gregory said he holds offers from Appalachian State and Winthrop while Wofford, Davidson, Charlotte and Tennessee have shown interest.
Landers Nolley, SF, Langston Hughes, 2018, SF: Nolley is bound to blow up on the recruiting scene. The 6-foot-7 wing from Fairburn (GA) Langston Hughes has started his junior season off strong and put on an offensive show against Henry County. Nolley drilled three-pointers, scored in the midrange and knocked down moves in the post. He finished with 30 points in a tough loss but he's quickly becoming one of the most intriguing players in the South's 2018 class. We have him as the No. 7 overall junior in Georgia and that's just too low. Nolley is a no-brainer high-major prospect.
NOTES FROM THE NOTEPAD
Balance. That's what Norcross leaned on to beat Greenforest 57-46 in a physical game where defense shined through.

DeAndre Osuigwe played very well for IMG in victory. He scored 16 points and hit four three-pointers. He was an unsung hero in IMG's nightcap victory.

A pair of unsigned guards played well for their respective teams in the Norcross-Greenforest tilt. Jordan Goldwire made some big plays in the clutch for NHS while David Quimby is finding his way for Greenforest. Both should garner more Division I attention this HS season.

Cannon School (NC) forward Jarius Hamilton didn't have the most efficient night from the floor (6-16) but he did get to the foul line (10-15) and showed why so many think highly of him in the 2018 class. The 6-foot-7 outside-inside forward finished with 23 points.

Dallas Baptist has a good one in Cannon School (NC) wing Phillip McKenzie.