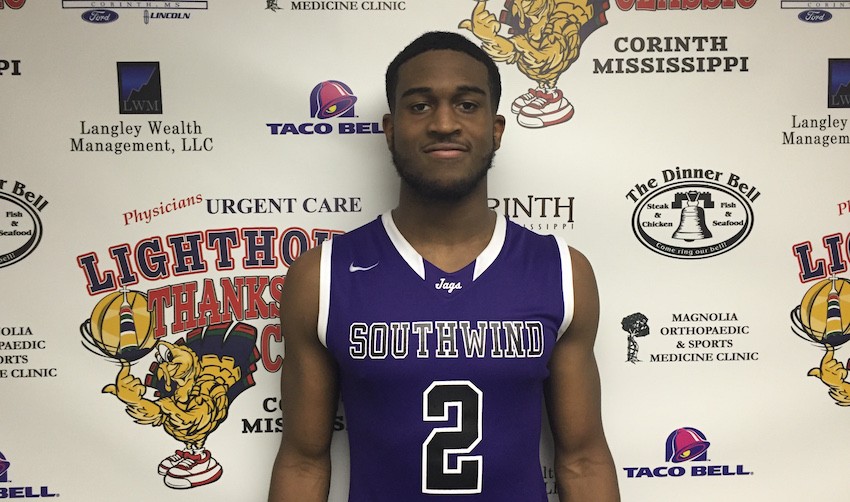 The opening day of the 2016 Lighthouse Classic delivered a tremendous day of hoops on Friday. With some of the South's top prospects in attendance, intriguing matchups and games were on-hand.
Here are the biggest storylines from Friday's action …
SOUTHWIND BACKCOURT LIGHTS UP THE SCOREBOARD
It didn't take long for Memphis (TN) Southwind to get the Corinth High School gymnasium on its feet with the play from its upbeat tempo and tremendous backcourt. Carlos Marshall (pictured above) started out the game hot from behind the arch, as he stretched the floor with his shot-making ability. In the second half, the UT-Martin signee showed his full offensive arsenal by hitting gaps and attacking the rim as a slasher. Marshall finished with 34 points on 13-23 from the field.
While Marshall was very good, his teammate, 2018 point guard Mark Freeman, may have been more impressive. At 5-foot-10, the quick playmaker was a spark on the floor from start to finish. He helped create open shots for Marshall and others, while also creating opportunities for himself, too. He finished with 17 points (6-9 form the field) and six assists.
TYLER HARRIS STEALS THE SHOW
The most impressive performance of the day came from 2018 Cordova (TN) point guard Tyler Harris. Much like Freeman with Southwind, Harris is the energy guy for his talented Cordova squad.
Harris, at 5-foot-8, came out blazing from behind the arch. Nearly impossible to stay in front of, the junior warranted plenty of space from Mae Jemison (AL) defenders. Because of that, Harris didn't need much of a cushion to get his shot off. Harris rattled in nine 3's on 13 attempts and finished with 29 points.
Harris put on the most impressive offensive show of the opening day. He was in a zone and got in a rhythm early, leading to a big day offensively. 2018 forward Rodgerick Brown added 27 points and eight rebounds.
Despite the loss, 2019 shooting guard Brandon Nicholas had a nice outing for Jemison. With Alabama signee John Petty forced to more passing, Nicholas proved to be a capable offensive threat with 20 points on 7-10 from the floor, including five 3's.
NEW HOPE (MS) OUTLASTS CHALMETTE (LA) & MITCHELL ROBINSON IN THRILLER
In one of the best games of the day, New Hope (MS) was able to hold on to defeat Chalmette (LA) and five-star big man Mitchell Robinson.
2017 guard Terryonte Thomas played very well in the first half, as he hit four 3's. The 6-foot-2 guard has a strong body and showed the ability to change paces well throughout the game. He finished with a team-high 22 points.
Coming into the event, the New Hope-Chalmette game was headlined by two 7-footers, 2018 big man Andrew Junkin and Robinson, the Western Kentucky commit. However, an unexpected player from New Hope stole the stage.
2018 forward Tyler Stevenson burst onto the scene for New Hope with 15 points and nine rebounds. The 6-foot-6 forward emerged at the Alabama Fall Preview in October and has picked up where he left off. With good size and long arms, Stevenson is an intriguing player for low-major programs with his ability to hit shots. He is worth a look during the high school season.
New Hope's zone defense gave Chalmette fits early on, but Robinson got things going in the second half. The 7-foot senior made a couple of step-back 3's that impressed the crowd, as well as some blocks at the rim. He finished with 24 points and 17 rebounds, a new Lighthouse Classic record.
OTHER STANDOUTS
Jamal Johnson, 2017 CG, Spain Park (AL): Johnson put together a terrific first half of action on Friday against Velma Jackson (MS) and Mississippi State signee Nick Weatherspoon. Johnson, a 6-foot-4 guard, shot the ball very well in rhythm, knocking down several treys to go along with some tough finishes at the rim. He finished with 31 points and 14 rebounds.
Therren Shelton-Szmidt, 2017 SG, Hamilton Heights: Shelton-Szmidt has come a long way in the past year. Now one of the elite shooting specialists in the country, the Middle Tennessee State signee knocked down some shots on Friday, but was most impressive about his performance was his all-around game. The senior had a huge dunk on Matur Maker, but he also defended and assumed the role of primary scorer in the first half due to foul trouble from Nickeil Alexander-Walker.
Alfred Hollins, 2017 SF, Hillcrest Prep (AZ): Hollins proved to be another all-around utility player with his ability to score, rebound, and defend. The 6-foot-6 wing was a relentless attacker to the rim and finished at a high rate. He also rebounded the ball well with his length and size. Still very open in the recruiting process, Hollins is a high-value wing that mid-major plus and some high-major programs will want to consider.