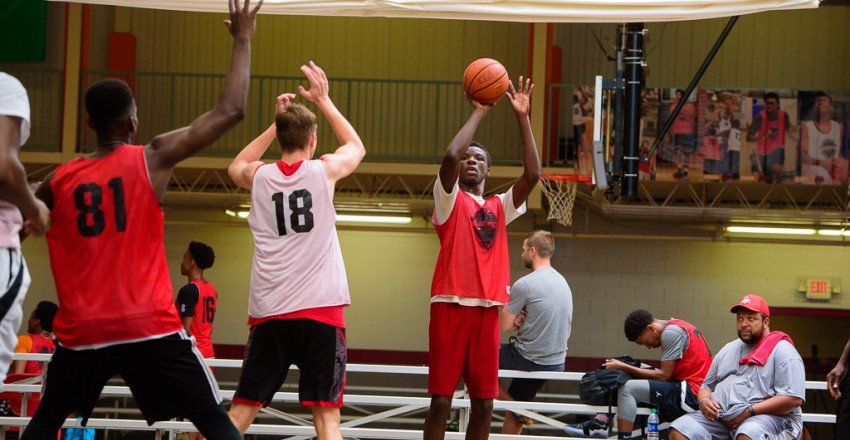 Our annual Georgia Fall Preview camp was packed with talent across all 16 teams that competed. We roll out our player reports with help from our team coaches and staff of evaluators. We continue with Team 12.
Travis Anderson, PG, Grayson, 2018: His best skill is passing and we saw that come through in this camp setting. The experienced guard did a nice job of working the ball around to his teammates. He's strong with the ball and doesn't allow defenders to get into his rhythm and protects the ball. He has huge potential as a vocal leader, too. 
AmenRa Bey, PG, Miller Grove, 2018: "Incredible IQ" was his coach's note after the camp and what a compliment that is. Sometimes in a camp setting, it is hard to fully show a player's feel in a short amount of time but Bey did just that. He's a speedy guard from end to end and has a great burst to the iron. 
Marcellious Lockett, SG, Carrollton, 2020: A nice scorer with inside and outside capabilities, Lockett showed his offensive versatility in the camp. He was consistent with his outside shot and his defensive IQ was strong.
Miles Long, G, Mountain View, 2018: The solid shooter was best when he was set up for a clean look. When he caught the pass, he was ready for the shot. Adding some more creation to his half court game with his ball-handling will open things up on the offensive end of the floor. Long didn't shy away from defensive match-ups either. 
Sammy Mike, PF, Northside Warner Robins, 2019: This was our first time to really see Mike in action against comparable size and talent and the impression was good. Middle Georgia has produced quite a few Division I caliber post players over the years and Mike has the tools to be next in line. Defensively, he's much further advanced than he is offensively. He's quite strong on the low blocks. Turning up his motor will only help his overall development.
Chris Parks, PF, Collins Hill, 2018: An ankle injury slowed down his day but we liked his shooting touch in our drills. 
Christian Ramsey, PG, Kennesaw Mountain, 2019: We appreciated his effort levels in drill work and in the game setting. He accepted coaching and limited his turnovers. 
Patrick Thomas, Forsyth Central, 2017: Owning a strong build, Thomas was very tough to move off the block. That said, he's solid around the rim. The farther from the rim, his efficiency dropped. As he works on a go to move and a counter move, Thomas can be a reliable weapon on the low blocks.