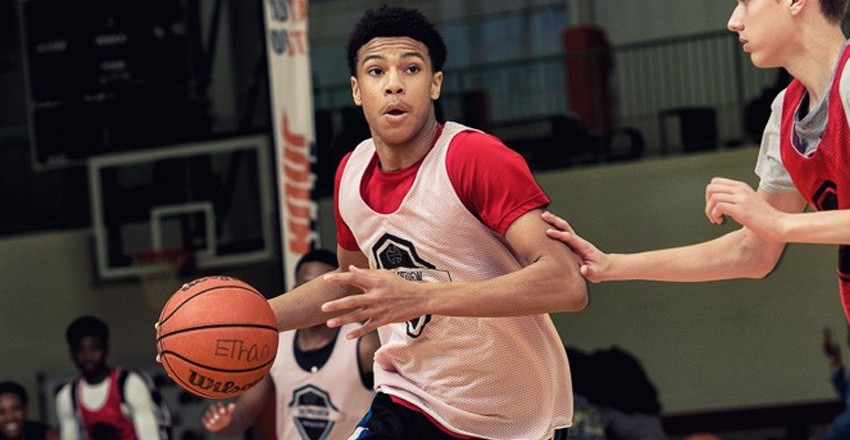 The inaugural Elite Fall Preview was a stage for the class of 2019 and 2020 to compete against their peers in an invite-only setting. The camp was intense throughout the day and a chance for our staff and hoop heads in the South to get a peek at who has next. We compiled our notes from the coaching staff and our evaluators. Today we look at Team 8 from the Elite Fall Preview. 
Caleb Byrd, Heritage, SG, 2020: The freshman guard played well, at times, on the defensive end of the floor. An improved motor can help change the entire flow of his game. 
Deivon Smith, PG, Grayson, 2020: The 5-foot-6 guard needs the ball in his hands to be effective at this stage of the game. He has the quickness though to be a threat in transition and is improving his overall feel to be a good half court player. With all of the guard talent at Grayson, Smith is set up to learn from good players and good coaches this season.
Devon Barnes, SG, Cedar Grove, 2019: A strong bodied guard that used his physical skills to shine as a defender. A solid shooter from the wing. The 6-foot-3 guard made a good impression for our first good, long look at him on the hardwood. 
Dwon Odom, SG, St. Francis, 2020: One of the best athletes at the camp, Odom had a number of highlight plays at the rim. His game has a lot of similarities to former Alabama/Wilkinson County guard Senario Hillman. When he applies his motor, he's tough to stop. His shot has improved and developing a floater will help add weapons to his powerful offensive game. 
Isaac Martin, SG, McEachern, 2019: The 6-foot-5 guard has the length and strength to be a terrific prospect down the line. That said, he must take advantage of his unique positional size. He can shoot the three ball well and with improvement as a ball-handler, his pull-up game can become a deadly asset. 
Kevon Eskridge, G, Columbia, 2020: Eskridge wanted to prove himself as a perimeter threat and was often found spotting up behind the three-point line as a catch-and-shoot weapon. Needs to improve his overall defensive presence and improve his ball-handling to allow for more offensive diversity. 
Kylan Curry, PG, Gainesville Johnson, 2020: The limited PG skills, low motor With the help from his high school coach Tim Slater, Curry will need to ramp up his motor and improve his overall feel for the position. 
Shawn Ohuabunwa, PF, Greater Atlanta Christian, 2019: The 6-foot-5 forward showed that he can, and will, rebound against bigger players. He found his role and ran with it. 
TJ Bickerstaff, SF, Sandy Creek, 2019 (pictured above): He gets bigger and stronger every year and with that improved size, the intrigue grows even higher.  The 6-foot-7 forward is pretty versatile and part of his development is improving his overall versatility. Bickerstaff can become a major mismatch because of his inside-outside ability. The development of his ball-handling and overall quickness will be a good gauge to his long-term value. We saw the flashes of good things to come at the camp and we are excited to see his role increase this high school season. 
Jacorrei Turner, SF, Heritage, 2020: The 6-foot-3 wing is an athletic wing with length and plenty of room to grow. As he plays for the talent-rich Heritage program, he'll have a chance to improve upon his basketball iQ and fundamentals.