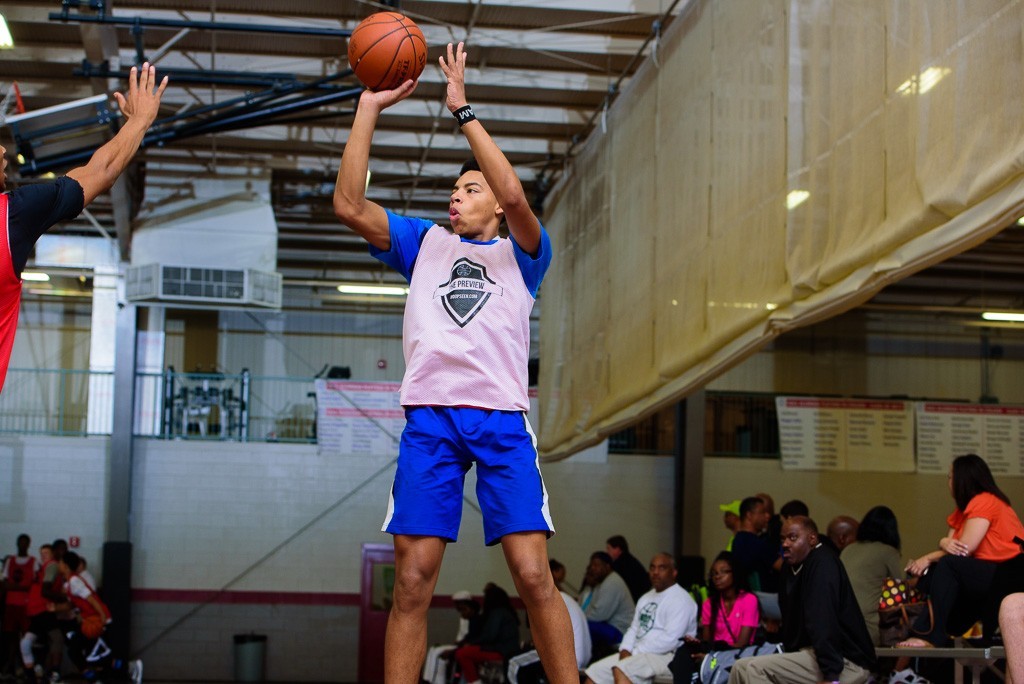 The inaugural Elite Fall Preview was a stage for the class of 2019 and 2020 to compete against their peers in an invite-only setting. The camp was intense throughout the day and a chance for our staff and hoop heads in the South to get a peek at who has next. We compiled our notes from the coaching staff and our evaluators. Today we look at Team 6 from the Elite Fall Preview. 
David Banks, F, Cambridge, 2019: A long wing with a nice wingspan, Banks can cover a lot of ground at his position. With more aggressiveness, his game should open up on both sides of the ball. 
Brandon Barron, PG, Alpharetta, 2019: An athletic guard that can mix scoring with passing very well, Barron did a nice job of setting the pace throughout the day. A jet into the paint, Barron did a nice job of getting into the paint and using his dribble to develop space as a shooter. He's more wired to score at this stage but can because he's so effective in that regard. 
Eric Coleman, F, King's Ridge, 2019 (pictured above): A solid as a rock forward, Coleman showed flashes of inter-changing ability at both forward positions. He's a capable shooter to make big men think twice of letting him slide out to the wing and strong enough to power around smaller guards that have to cover him because of a switch. 
Chase Ellis, SF, St. Francis, 2020: The big bodied wing guard is a bully with the ball and liked to challenge defenders to stop his route to the rim. His game is founded upon me vs. you toughness and as he works on his quickness, Ellis should see is overall versatility grow. He should play a big role for St. Francis this season. 
Terrance Morton, PG, Mays, 2019: A developing point guard with good length and athletic enough to challenge defenders. 
Jalen Mason, SG, Miller Grove, 2019: One of the strongest combo guards at the camp. He proved himself as someone who knows how to score at all levels. I thought he was one of the top overall players at the camp. He did a great job of getting to any spot that he wanted with the dribble and knew how and when to score. He was very efficient throughout the camp. 
Cameron Rowland, PG, North Gwinnett, 2019: The 6-foot point guard made crisp passes and worked well within the flow of the offense. With further development of his quickness, his overall skill set at the lead guard position should improve. 
Chris Pearson, PG, McIntosh, 2020: A quick point guard that will need to work on his ball-handling and develop his vocal leadership skills. 
Grant Van Beveren, PF, Chattahoochee, 2019: The stretch four man had a very solid day's work at the Elite Fall Preview. He showed off his basketball smarts and worked well for his crafty guards as a pick and pop big man and a sturdy figure to clear space with effective high ball screens.