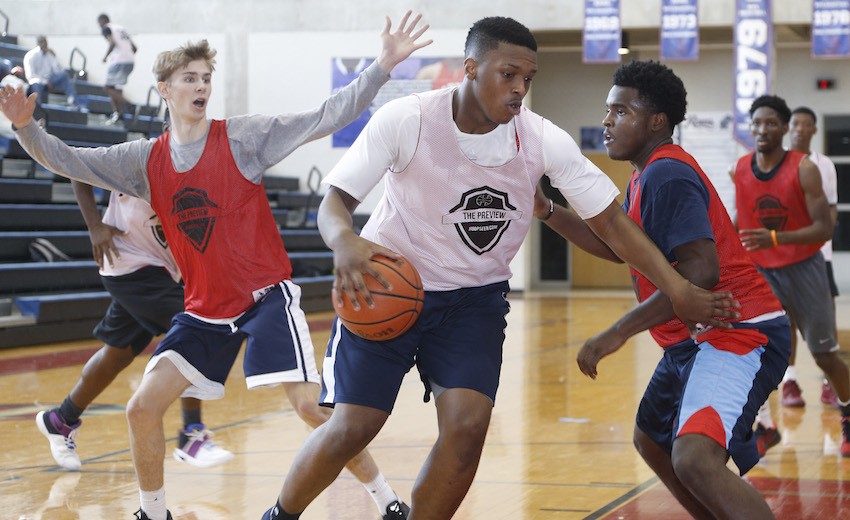 We had a fantastic day of action at the Alabama Fall Preview on Saturday. During drills, game-play, and other sessions, our coaches and staff were closely evaluating each player.
Here is what our coaches and staff had to say about Team 6:
Related: Team 1; Team 2; Team 3; Team 4; Team 5
Braxton Holland, 2019 PG, Austin: There weren't many point guards that were flashier and shiftier than Holland. The quick Austin High floor general handles the ball well and changes speed and direction with the best of them. He proved to be a nice creator for himself and his teammates throughout the day.
Chase Fiddler, 2018 SG, Bob Jones: Fiddler displayed his athleticism and ability to play above the rim at the Alabama Fall Preview. The 6-foot-4 wing has great length and size with the ability to finish at the rim. While he is more of a slasher, Fiddler also kept defenses honest with his ability to shoot the ball from 3.
Jermaine Marshall, 2018 PF, Hueytown: No one played with a higher motor than Marshall. The 6-foot-5 forward is undersized for a 4 man, but he still gets things done on the floor. He rebounds well and can battle around the rim. He uses his strength and size to finish at the goal, too. Marshall lived on the floor diving for loose balls and providing sparks for his teammates.
Diante Wood, 2018 SF, Sacred Heart: Wood was named as one of our top performers from the Alabama Fall Preview. See what our staff had to say about him here.
Roderick Smith, 2018 PF, Crystal Springs (MS): Smith (pictured) was hard to handle on the block with his wide body. The 6-foot-6 big man understands how to use his size and positions himself in easy scoring opportunities. Smith scored with his back to the basket, but he also showed the ability to knock down the 15-foot jumper consistently, too.
John Cole Norris, 2019 PG, Huntsville: Norris was sidelined with a toe injury to end his day early, but, before that, the sophomore had a good showing. The 6-foot-1 guard shoots it well from 3, as he showed on Saturday. His ball-handling is improving and he seems to be more confident with the ball in his hands. Norris plays with a high IQ and understands where the ball needs to be each time down the floor.
Khalil Watkins, 2019 CG, Sacred Heart: Watkins handled the ball nicely and was a solid floor general for his team. The 6-foot-2 guard changes speeds and challenges defenders with his quickness and ability to get to the rim. He was able to create plays for his teammates and get them open shots.
Malik Henry, 2018 SG, New Hope (MS): Henry proved to be a valuable sniper from 3 for his team. The Mississippi product made the trip over and made the most of his day, nailing a handful of 3's each game. The lefty shoots the ball well. Henry needs to continue to work on his ball-handling, but his shooting opens up things for himself.
Logan Bonds, 2019 SG, Guntersville: Bonds showed a nice looking shoot from 3 throughout the day and converted on several attempts from behind the arc. The sophomore is skilled and fundamental and has good size for his position. He was used mainly as a catch-and-shoot guy from the perimeter, so we will be watching for his ability to create his own shot during the high school season.