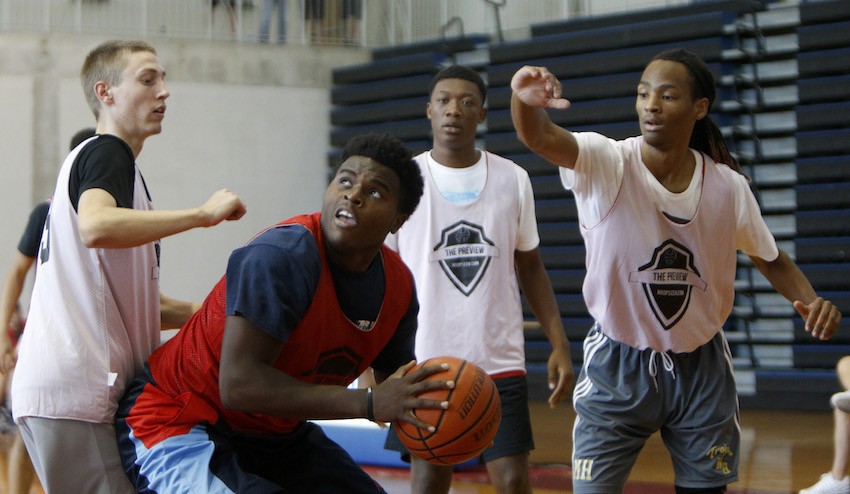 We had a fantastic day of action at the Alabama Fall Preview on Saturday. During drills, game-play, and other sessions, our coaches and staff were closely evaluating each player.
Here is what our coaches and staff had to say about Team 5:
Related: Team 1; Team 2; Team 3; Team 4
Eugene Leonard, 2019 PG, Oxford: Leonard is a tough point guard that constantly lives in the lane. He stays in attack mode and can get to the rim with the best of them in the state. He did a nice job of driving and finishing, as well as dumping passes off to teammates for easy buckets.
Colby Jones, 2020 SG, Pinson Valley: Jones is another youngster that will be highly regarded in Alabama's 2020 class. The long, wiry freshman is smooth with the ball in his hands and flourishes when attacking the rim. He's a good athlete, allowing him to make acrobatic finishes at the rim. He's a promising young guy that brought some production to the table on Saturday.
Michael Crutcher, 2018 SF, Westminster Christian: Crutcher has all the makings of a talented player in the future. At 6-foot-6, he has good size and a solid frame. He utilized his length and athleticism to attack the rim and make plays toward the basket. Crutcher recently transferred to Westminster Christian with coaching legend Ronnie Stapler. Crutcher's ball skills and IQ should continue to grow over the next two years.
Josh Strozier, 2018 SF/PF, Holt: Strozier was voted a top performer at the Alabama Fall Preview by our coaches and staff. View his evaluation here.
Dakota Myers, 2018 PF, Sacred Heart: Myers is an extremely unique big man with his size and skill level. At 6-foot-7, Myers has terrific hands, good feet, and a back-to-the-basket game. However, what separates him right now is his versatility and ability to move around the floor. He is skilled enough to handle the ball and shoot it on the perimeter. Myers will be a terror in 1A with Sacred Heart.
Charlie Champagne, 2019 SG, Florence: Champagne was noted as a top performer on Saturday. See what our staff and coaches had to say about him here.
Will Champagne, 2020 SG, Florence: The younger Champagne brother started off timid to begin the day, but after letting the game come to him for little bit, he caught on and fit right in. The freshman is skilled for his age and very fundamental. He showed a good shot technique and the ability to shoot the ball well from the mid-range.
Malik Tyson, 2019 SF, Sparkman: Position-less basketball players are becoming more in more popular in the basketball world, especially with the likes of Draymond Green's rise to stardom. In a way, Tyson (pictured above) brings some of the same qualities to the floor that Green does. The 6-foot-4 forward is a great all-around player, as he can shoot, score, pass, and rebound. There isn't much he doesn't do. He showed all of that and his competitiveness at the Alabama Fall Preview, and he will be an intriguing guy to watch as the high school season gets underway.
Maurice Anderson, 2017 CG, Sparkman: Anderson took advantage of camp right out of the gates Saturday morning, as he impressed Carter Wilson with his steady nature. The talented combo guard controls the game, knocks down shots, and has no problem defending. He came in with a handful of interest from some Division II and NAIA programs. It's safe to say that list will continue to grow.
Kewasaki Jackson, 2020 CG, Pinson Valley: Jackson shot the ball very well from deep on Saturday. The young, 5-foot-10 guard still has some developing to do physically, but his shooting touch is already evident. He also handled the ball well and found his teammates in transition for shots.