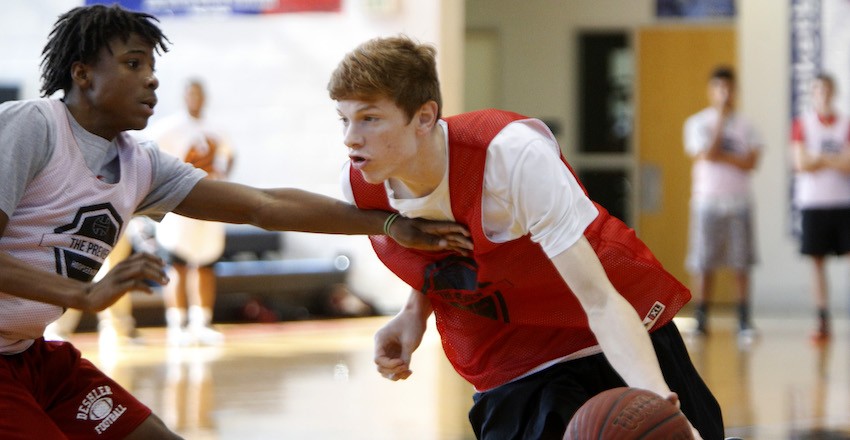 We had a fantastic day of action at the Alabama Fall Preview on Saturday. During drills, game-play, and other sessions, our coaches and staff were closely evaluating each player.
Here is what our coaches and staff had to say about Team 4:
Related: Team 1; Team 2; Team 3
Jayce Willingham, 2018 SG, Cordova: Willingham (pictured above) had a solid outing on Saturday, as he shot the ball extremely well from behind the arc. The 6-foot-4 guard is still nursing a nagging ankle injury, but he showed flashes of his improved athleticism and burst. Willingham can't be designated as just a shooter anymore. He has done a nice job of expanding his game over the past six months. The junior also made the correct plays and showed good leadership on the court. 
Jamel Cleveland, 2017 C, Huntsville: Cleveland came out of the gates a blazing Saturday morning, as he set the tone for his down in the post. A true post player, the 6-foot-7 big man can play with his back to the basket and carve out space. He has a high motor and rebounds well on both ends of the floor. Cleveland needs to get in better shape, but he's a guy JUCO programs will want to see during the high school season.
Trey Johnson, 2019 SG, Spain Park: Johnson provided some sparks at both ends of the court on Saturday. The 6-foot-2 guard plays hard and competes on both ends of the floor. He was able to get several deflections on defense, leading to easy buckets on the other end. Johnson has a crafty game and likes to finish with euro-steps at the rim.
Devin Collins, 2021 CG, Echols Middle School: Collins came into camp as the only 8th grader in attendance. However, he didn't lack the size or physical nature to compete with the older players. At 6-foot-1, Collins has a sturdy frame and can play either guard spot. He has a high IQ and the ability to defend, too. Collins had an uncharacteristic day shooting the ball, but he has shown he can shoot it efficiently.
Tyler Stallworth, 2018 SG, Monroe County: Stallworth was one of our top performers from the Alabama Fall Preview. Read about his performance here.
Chris Freeman, 2017 SF, Huntsville: Freeman took advantage of his day at the Alabama Fall Preview. At 6-foot-5 and strong as an ox, the senior was able to overpower players going to the rim. Freeman's athleticism and bully-attitude allowed him to get easy baskets at the rim, especially in transition. He's still a little rough around the edges, but Freeman is a guy that Division II, NAIA, and JUCO coaches will want to make sure they see soon.
Grant Perry, 2018 SG, Hazel Green: Perry made his claim as one of the top shooters in camp early. The 6-foot-3 guard has a nice stroke from deep, and he is capable of shooting it from well-beyond the three-point line. He needs to work on getting it off a little quicker, but there's a lot to like here.
Caleb Moore, 2018 CG, Cornerstone: A long, wiry guard, Moore competed on both ends of the floor. However, he exerted a lot of his energy on defense. He used his length and arms to cause problem, and opposing players had trouble getting by him with his foot-speed. Moore offensive game showed promise, but he is an impact guy on defense right now.
Izaak Parker, 2018 PG, Guntersville: Parker was a pleasant surprise on the day. Despite only being 5-foot-8, the guard was one of the most impressive leapers and dunkers in camp. Parker owns a 40-inch vertical, and he showed it off with some plays above the rim. We want to see more of his offensive arsenal during the high school season, but there's no doubt, he was one of the most athletic players at the Alabama Fall Preview.
Orion Morris, 2018 PG, Pinson Valley: There wasn't a tougher point guard on display than Morris. The 5-foot-11 guard plays like a bowling ball with no problems bouncing off opposing players and finishing at the rim. He is physical and has a nice frame for his size that will allow him to be productive in the paint. Morris has also improved his shooting technique over the past six months. His improvements and gains haven't gone unnoticed.