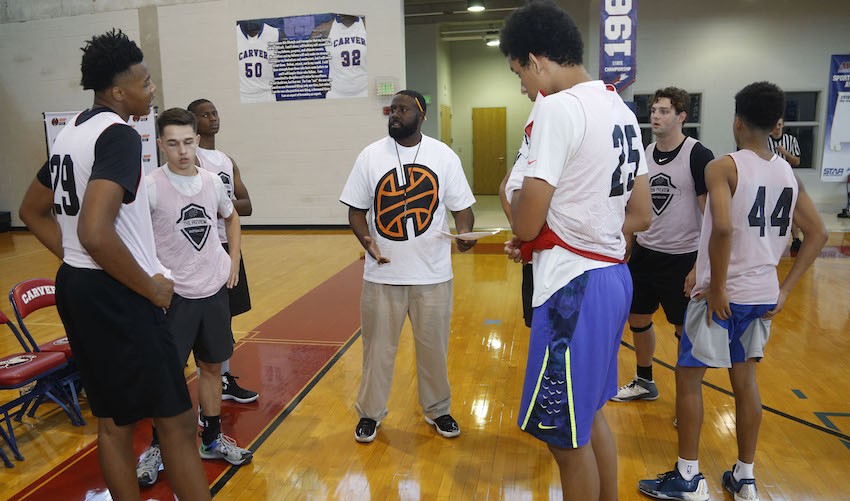 We had a fantastic day of action at the Alabama Fall Preview on Saturday. During drills, game-play, and other sessions, our coaches and staff were closely evaluating each player.
Here is what our coaches and staff had to say about Team 3:
Evan Carter, 2020 PG, Brew Tech: Despite being a youngster compared to everyone, Carter showed he belonged with the competition from the beginning. The 5-foot-11 point guard is wise beyond his years, as he showed great poise and presence throughout the day. Carter understands how to get his teammates involved, but he also has the shooting ability, change of pace, and savviness to get his own shot, too.
Ladarius Knight, 2018 SG, Ashford: There isn't a lot out there about Knight, as he resides in a small town in south Alabama. Nevertheless, he came out to prove his point on Saturday. The 6-foot-4 wing shot the ball extremely well from deep and he attacked the rim ruthlessly. Knight is a talented athlete that has no problem finishing at the rim with contact. He's a legitimate sleeper to look out for down South.
Lynn Kid, 2020 PF, Spain Park: It wouldn't be surprising to see Kid as one of the state's top prospects in the 2020 class in a few years. The 6-foot-7 big man has the genes with his father playing overseas for years. Kid is still growing into his body and getting out of the awkward stage, but he moves and runs the floor well, shows nice reactions, and good hands. Buy stock in the young freshman now!
Matt Cofer, 2017 SG, Good Hope: Cofer began Saturday putting together a nice day in a quiet fashion. However, by the end of the day, everyone in the gym was impressed by the Good Hope product. The senior was a fearless rim attacker and used his strength and size to his advantage. He made some shots from the perimeter, too, but the main attraction was Cofer's ability to make everyone around him better. Cofer came into the Alabama Fall Preview as an unknown, but he left as a known commodity to everyone in attendance.
Anthony Mason, 2017 PF, Austin: Mason was named one of our top performers from the Alabama Fall Preview. Read more about his performance here.
Keenan Boman, 2018 SG, Winfield: Boman has nice size for a guard on the perimeter and uses it to his advantage. The 6-foot-2 shooting guard can hit shots from 3, but he makes impacts on both ends of the floor with his motor and activity. Boman showed a high IQ and ability to involved his teamamtes, too.
Skylar Lara, 2018 PG, Corner: Lara played very effectively on the perimeter with his ball-handling and shooting ability. Very rarely did the 5-foot-11 guard get rattled by the defense and force things. Instead, the stout Lara played strong with the ball, involved is teammates, and picked some spots to attack the rim. He does a great job of getting into the lane and creating opportunities for his teammates.
Justin McGuire, 2018 SF, Meadowview Christian: There weren't many more physical specimens than McGuire at the Alabama Fall Preview. The 6-foot-4, 185-pound forward is no stranger to the trenches, as he battled in the paint on both ends of the floor. McGuire is a tough warrior and made plays with his motor. He's a nice, physical athlete to watch out of the Selma area this season.
Tykeal White, 2017 CG, Laurel Hill (FL): White brought some swag to his team throughout the day. The 6-foot guard can handle the basketball as a primary ball-handler, but he also showed the ability to shoot the ball from deep, too. The senior had no problem getting down and defending his man either.
Dakota Bly, 2017 SG, Laurel Hill (FL): Bly was another guy that shot the ball well from deep. The 6-foot-1 sharpshooter is extremely skilled and knows how to come off screens for open shots. He needs to get tighter with his ball-handling, but Bly made his case as a nice role shooter.