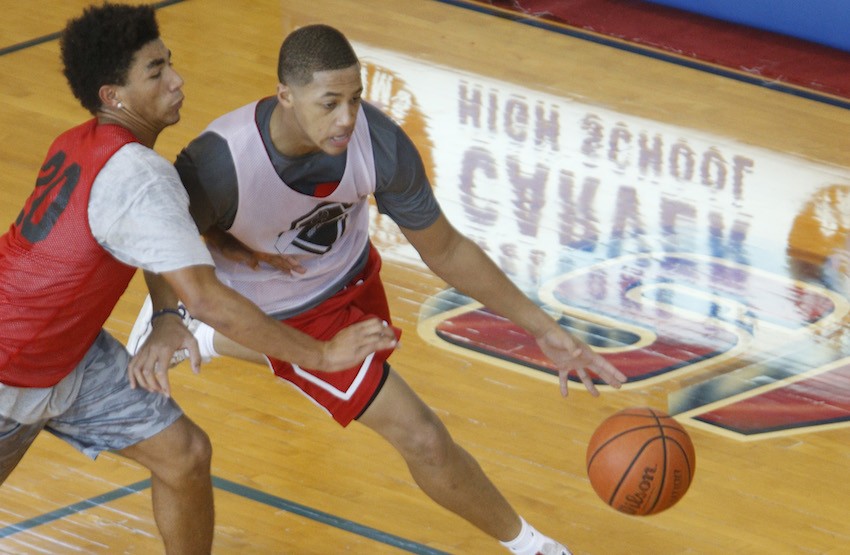 We had a fantastic day of action at the Alabama Fall Preview on Saturday. During drills, game-play, and other sessions, our coaches and staff were closely evaluating each player.
Here is what our coaches and staff had to say about Team 2:
Related: Team 1
Dee Pearson, 2019 CG, Gadsden City: Pearson did a great job of acting as a combo guard during the Alabama Fall Preview. The 6-foot guard did a nice job of getting to his spots on the floor and getting his teammates involved. Pearson can play at an up-tempo pace or slow things down in the half-court. He did a good job of doing both on Saturday.
Kailex Stephens, 2018 SF, Paul Bryant: Stephens was one of our top performers from the event. Read about him here.
Mason Cooper, 2020 SF, Laurel Hill (FL): While he was one of the youngest players in attendance for camp, don't be surprised in a few years when we are talking about Cooper. The 6-foot-5 wing has all the makings of a high-level prospect. He is fluid with the ball in his hands, as he showed the ability to score from virtually anywhere. Cooper rebounds well and showed he has an early head start on many of his peers in the Southeast's 2020 class.
Logan Dye, 2018 C, Haleyville: Dye was one of our top performers from Saturday. Read about how the skilled post man fared at the Alabama Fall Preview here.
Dylan Finch, 2018 PF, Cullman: Finch has a nice skill-level at 6-foot-5. He will be one of the tallest players for Cullman this season, but the junior showed a nice variety to his game. He is skilled and versatile, as he filled several different needs on Saturday at the Fall Preview. He competed the entire time while also showing off a nice shooting stroke. Finch had a solid all-around day.
Justin Webb, 2019 SG, Hamilton: Sniper alert! Webb made his presence known from the get-go with his shooting ability, but he also closed things out just as well as anyone. The 5-foot-10 sharpshooter nailed nine 3's in his last game, as he showed the ability to come off screens and get open shots in transition. He also showed a high basketball IQ and didn't force any shots throughout the day.
Shy Cunningham, 2017 SG, Midfield: Cunningham was one of our top performers from the Alabama Fall Preview. Read about the senior here.
Kalon Williams, 2017 SF, Midfield: Williams (pictured above) proved to be quite the complement to high school teammate Shy Cunningham throughout the day. The physical, 6-foot-4 wing constantly stayed in attack mode and used his bigger frame to overpower guards to the basket. He has soft hands, allowing him to catch tough passes in traffic and finish at the rim with contact. Both Williams and Cunningham could have big years for Midfield this season.
Michael Lockhart, 2019 SF, Huffman: Lockhart had no problem fitting in with the upperclassmen with his size at 6-foot-4. The hard-playing forward rebounded effectively on both ends and played with a purpose. He did a nice job of attacking the rim and using his strong frame to finish at the rim.
Malachi Moore, 2020 CG, Hewitt-Trussville: Moore played both guard spots well on Saturday. The 6-foot guard shot the ball well and was able to find some shots, but he also played under control and got his teammates involved, too. He showed a high IQ and made the correct play more often than not. Moore is another young prospect to watch during the high school season.