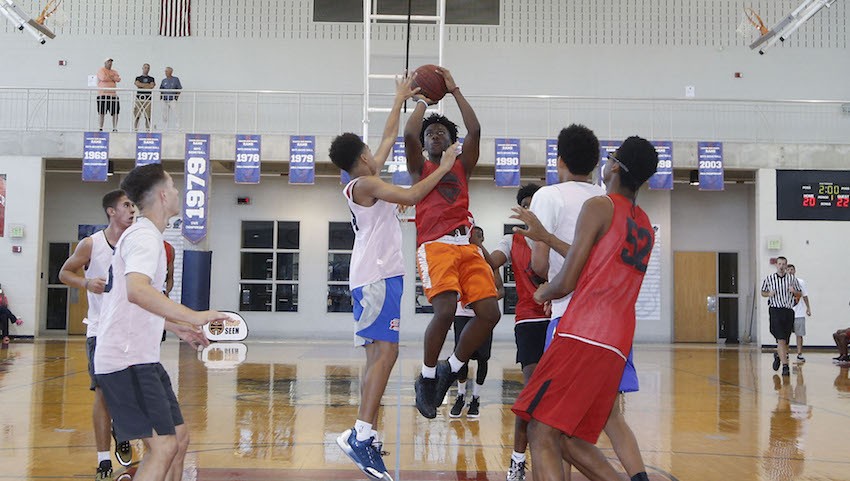 We had a fantastic day of action at the Alabama Fall Preview on Saturday. During drills, game-play, and other sessions, our coaches and staff were closely evaluating each player.
Here is what our coaches and staff had to say about Team 1:
J.P. Robinson, 2019 PG, Deshler: Robinson is a talented pass-first point guard and he showed that on Saturday. The 5-foot-9 floor general handles the ball extremely well and has excellent floor vision. He also displayed a reliable mid-range shot, too.
D.J. Collins, 2018 PF, Tuscaloosa County: Collins competed and rebounded on both ends of the floor throughout the day. The lefty has a nice stroke and can shoot it from the perimeter. He didn't play much around the goal, but that is something we look forward to seeing during the high school season with his size and athleticism.
Dalton Dodd, 2018 PF/SF, Alexandria: There weren't many more skilled big guys than Dodd. Capable of playing both forward spots, Dodd showed he can score at all 3 levels with ease. He has a nice looking shot and stretches the floor with his skill and shooting ability. Dodd also presented a high basketball IQ, as he consistently made the correct play.
Chris Rollins, 2017 PF/SF, Hale County: Rollins was one of our top performers of the event. See what our staff had to say about him here.
Levi Kelley, 2019 SG, A.P. Brewer: Kelley had a solid day of action, proving to be a two-way player with his competitive nature on both ends of the floor. He has great range on his shot and can stretch the defense with his shooting. Kelley also rebounded efficiently and did his part on defense.
Fabian Bell, 2018 CG, Austin: Bell (pictured above) showcased a thorough feel for the game and an even better pull-up mid-range shot. The stout guard constantly attack the rim and lived in the lane. Bell had some trouble finishing at the rim, but there is no doubt that he has the ability to get there and make the right play.
Kaden Rosencrance, 2019 SG, Decatur: Rosencrance is a fundamentally sound player and he showed that on Saturday. His ball-handling needs some improving, but, nevertheless, he showed he can shoot the ball from 3. He has a nice frame for a young prospect and competes on both ends of the floor.
Trey Jemison, 2018 C, Homewood: Jemison participated in the morning session of camp and showed why he is the top prospect in Alabama's 2018 class. At 6-foot-9, he has filled out his frame and is a legitimate high-major post prospect. Jamison plays with intensity on both ends of the floor and rebounds outside of his area. He was one of the most vocal players in camp, too. 
Samuel Durm, 2018 CG, Laurel Hill (FL): Durm proved to be a reliable defender with his lateral movement. He challenged opposing players with his on-ball defense. The Florida product also showed a nice shot technique, leading to some makes from the perimeter.
Chris Lewis, 2017 PF, Pinson Valley: Lewis used his athleticism to his advantage Saturday. He ran the floor well and finished around the rim with ease. The majority of his damage was done in transition with easy buckets, but he showed some toughness around the basket, too. Lewis has a smooth game and had a productive day overall.
Mykell Woods, 2018 PF, Gadsden City: There's so much potential that comes with Woods and once the light comes on, it's going to be scary. The 6-foot-6 power forward is an active rebounder and plays hard. He has soft hands and finished around the rim efficiently. Woods is a guy to keep an eye on going forward.