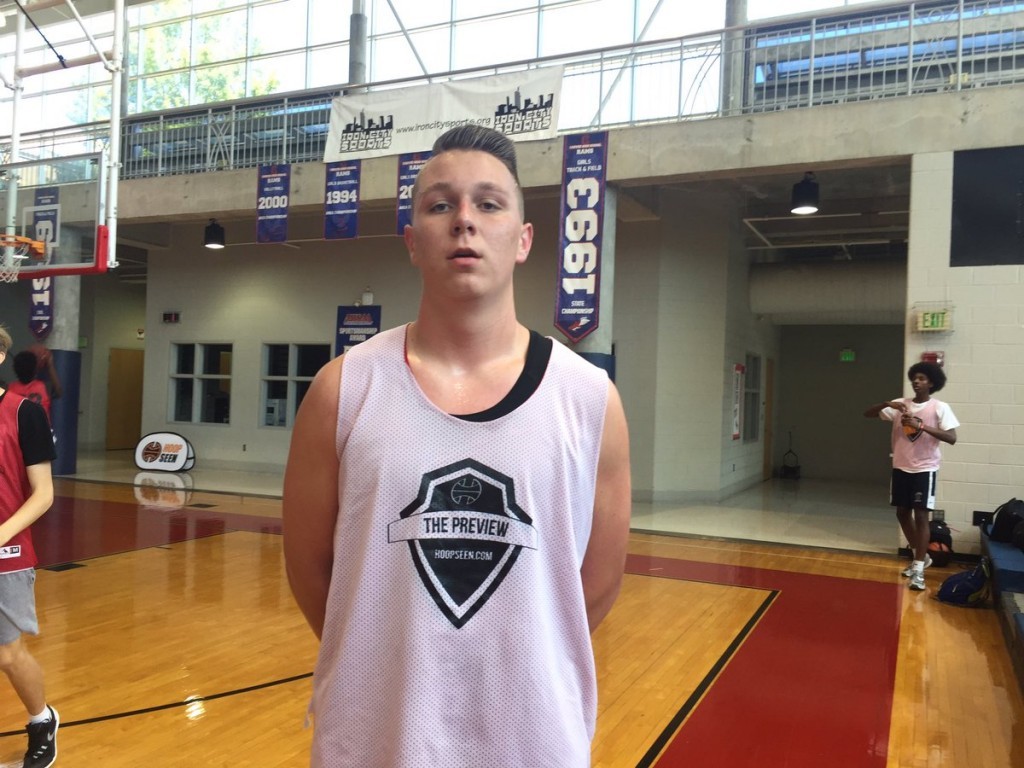 It's the time of year again for the HoopSeen Fall Preview camps, and the Alabama edition of the camp took place in Birmingham this weekend. The camp was filled with good talent from all over the states of Alabama and Mississippi and there was a lot of good basketball to be seen. Here are a few notes from the Alabama Fall Preview:
Standout Bigs
There were a few post players who made their mark on Saturday, all standing at different levels as far as recruitment is going. Homewood 2018 big man Trey Jemison was one of the marquis players coming into the event, and from what we saw of him, he didn't disappoint. Jemison is ready to step onto a college floor right now and contribute with a strong frame that can hold down the paint as well as a solid offensive skill set. It was quite apparent why he is considered to be one of the top big men nationally in 2018. 
At the Alabama Elite Preview in March, there weren't a lot of players who turned heads more than Haleyville 2018 big man Logan Dye (pictured). Since then, Dye has added an offer from Samford and a lot of interest from schools as high as SEC level universities. Dye showed again why there is so much interest attached to him. He was a bully on the block and has a great set of offensive skills that will translate well to the next level. 
Austin HS post Anthony Mason was one of the more dominant players on the day at the Preview. The 2017 paint controller was hard to handle for most opposing defenders as he plays with a strong build at 6-foot-7 and the ability to finish around the rim with authority. Mason will be one to watch for this year in Alabama in his senior season, and JuCo coaches should be all over this one. 
Enforcers on the Wing
Some of the most highly talked about players at The Preview were big, strong guards that caused matchup problems all day and are some of the best players in Alabama's 2018 and 2019 classes respectively. Sacred Heart guard Diante Wood showed why he is a highly sought after players in the south in 2018. With multiple SEC offers on the table, Wood has elite level size and strength that allow him to absorb contact while attacking the rim. He made his living attacking the basket and looked very good doing so. 
Huntsville Lee 2019 shooting guard/wing Mason Ellison did some of the same. Ellison was one of the top scorers on the day, showing the ability to create for himself and score the ball from all three levels, particularly on the attack and in the midrange. With his size and skill set at a young age, Ellison has proven that he will be a very recruitable player in Alabama's sophomore class. 
Holt 2018 shooting guard/wing Josh Strozier was hard to handle with his combination of athleticism and size. The lefty wing made plays on both ends of the floor and always brings an infectious energy that you cannot help but notice. Strozier was a standout in March at Alabama's Elite Preview, and he brought more of the same at the Fall Preview as well. 
There were not many players at The Preview that are as physically gifted as 2017 wing Chris Rollins. Rollins is a strong bodied wing that loves to make plays at the rim, where he shines as a high level finisher. Rollins left a couple of the college coaches in attendance buzzing his name, as with his size and athleticism he is a college ready player today. 
Who is that guy?
This is a phrase that was said in the gym on a number of occasions as there were quite a few relatively unknown players who made their mark at The Preview. New Hope (MS) wing Tyler Stephenson was one of those guys. The 6-foot-7 lengthy 2018 wing had his foot on the gas all day, creating a lot of plays with his effort. Stephenson is still getting used to his size, but the workings are there for a very good player in the making. Sparkman 2017 PG Maurice Anderson was one of the most sound guards at The Preview. Anderson showed that he defends hard, has good athleticism, makes the right plays, and can knock down shots. With his dad, North Alabama head coach Bobby Champagne in the crowd, Florence 2019 guard Charlie Champagne showed that he has the moxie and savvy to be a notable player. Champagne makes great reads to make the right plays and can be effective off the dribble. Lastly, perhaps the best young standout was 2020 PG Evan Carter. Carter plays with a fluidity and smoothness to his game that is beyond his years. He has the makings of a special player in Alabama's 2020 class, which has the potential to be a very good class.