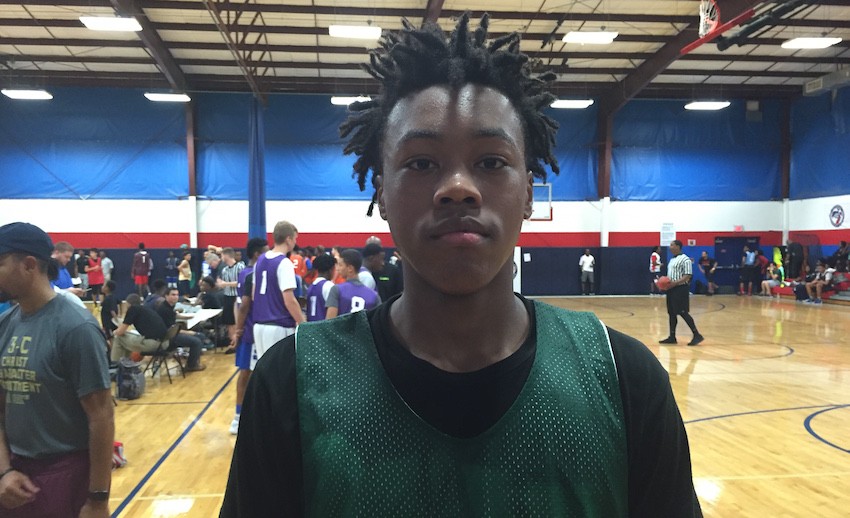 Over the weekend, some of the top young prospects in Florida converged at Lake Brantley Fieldhouse in Orlando for the annual Best of the Best Florida Showcase. Several underclassmen made the most of their opportunities on Saturday and Sunday.
Here are the biggest storylines following the event...
THE BEST PROSPECT I SAW THIS WEEKEND WAS…
This was an easy question for me to answer, and, frankly, it wasn't even close. Despite only being a freshman, 2020 Cardinal Newman (FL) forward Scottie Barnes (pictured above) was the best pure prospect in attendance at the Best of the Best Florida Showcase.
Standing 6-foot-7, Barnes oozes upside and potential. However, he still brings skill and production to the table. Capable of playing both forward spots, Barnes is smooth with the ball in his hands and fluid with his motions. He can put the ball on the floor and challenge big men at the rim, as well as consistently knock down the 15-foot jumper from the elbow. He constantly got to his spots on the floor and competed form start to finish. While he still has some development and some work to do with his game, Barnes' game brings about reminiscence of a young Brandon Ingram. Scottie Barnes has just begun his high school career, he's a potential top dog candidate to watch out for in the 2020 class – and he's only going to get better.
POINT GUARDS RULE THE ROOST
Best of the Best Florida did an outstanding job of getting some of the top young point guard prospects in the state under one roof this weekend. A couple of household names continued their stories, while a handful of new names began their march to the top.
2018 top-50 point guard Elijah Weaver came into the event as the top prospect in attendance and he didn't disappoint. The 6-foot-5, 185-pound point guard is as physical as they come at the 1 and he displayed his dominance over the other guards in camp. With no problem finishing at the rim, Weaver constantly finds his way in the lane, where he can score for himself or create opportunities for other teammates. The lefty also has a consistent shooting touch from the perimeter, as he showed the ability to knock down shots with ease.
Last weekend, Weaver took an unofficial visit to Villanova, a place he considers his dream school. Louisville, Florida, Florida State, and a handful of other Power 5 programs are also hot on his trail.
While Weaver was extremely productive on Saturday, an unexpected freshman lacked no confidence in going head-up with him in competitive game play. 2020 Jacksonville (FL) First Coast point guard Naseem Khaalid relished the opportunity to go against Weaver and he didn't waste the opportunity.
Khaalid, a 6-foot-1 point guard, is as tough as they come. Built like a bulldog, the young pup made it a priority to keep players in front of him with his elite on-ball defense. His strength and upper-body strength made it easy for him to attack and score at the rim. Khaalid was one of the best competitors in the gym throughout the weekend and stated his case as one of the top young prospects in the Sunshine state.
2017 Cardinal Newman (FL) point guard K.J. Fitzgerald has been a hot name in the state of Florida for a few years now, but the biggest knock on him was his inability to shoot the basketball. Well, it's safe to say he settled that problem over the weekend.
Fitzgerald, a flashy 6-foot point guard, showcased an improved shooting stroke from deep, as he knocked down several perimeter shots during gameplay. The lefty was a nightmare for defenses with his elite ball-handling, quickness, and savvy play. Fitzgerald's improved three-point shot forced defenders to guard him closely, thus opening up driving lanes for his playmaking ability. There weren't many guys that got downhill better than Fitzgerald and he was the most impressive prospect from Saturday.
YOUNG FORWARDS SHOW PROMISE
2019 Orlando (FL) Christian Prep combo forward C.J. Walker hit the headlines last week after receiving a scholarship offer from Louisville. After showing some potential in the spring and summer, the young sophomore has figured things out and has taken his game to the next level.
A long, wiry forward with the ability to play both the 3 and 4, Walker showed improved ball-handling and playmaking with his ability to put the ball on the floor. From the start of camp, Walker put his foot on the gas and didn't let up. He has ideal instincts on both ends of the floor. He has no problem running the floor, blocking shots, or getting to the rim. Despite his recent explosion, Walker didn't try to do too much. Instead, he showed his high basketball IQ and ability to make the right play.
With offers in from Louisville, Iowa State, UCF, and Georgia Southern, Wallker has begun his ascent to the top – and those scholarship offers won't stop coming in anytime soon.
2020 Weston (FL) Westminister wing Dudley Blackwell has been a hot name in the middle school ranks recently and he didn't disappoint over the weekend at the Best of the Best Florida Showcase. At 6-foot-5, Blackwell dominated throughout the day with his athleticism and size. The wing excelled at getting in the lane and slashing to the rim. Blackwell could score at the rim anytime he wanted; however, he also showed he has an unselfish part of his game, too. Blackwell had great touch on his passes and showed he was more the capable of getting his teammates involved. After drawing defenders on his drive, Blackwell racked up several assists by dumping the ball off to open teammates for easy baskets. Blackwell is an intriguing guy to watch out for in the next few years.
OTHER STANDOUTS
Cade Long, 2018 CG, Boca Raton Community (FL): At first glance, Long doesn't necessarily look like a basketball player. Nevertheless, the 6-foot-2 combo guard proved to be a good find with his craftiness and high IQ. In a different environment, Long showed the ability to make plays for his teammates with his vision and passing ability. He is extremely skilled and plays with a calm demeanor on the floor. Long is a guy for low-majors and Division II schools to have on their watch-lists.
Rifen Miguel, 2018 C, West Oaks (FL): A native of Angola, Miguel showed great promise without much basketball experience. The 6-foot-8 big man has been stateside for a year and continues to improve. Miguel is a space eater in the paint with his size and body. He has a great set of hands and feet and can easily get to his post positioning spots on the floor. While he is still learning the game, Miguel works hard and is a name to know going into the high school season. He holds a handful of mid-major offers, along with interest from Minnesota and Louisville.
A.J. Cajuste, 2019 PG, Oxbridge Academy: Cajuste came into camp as a rather unknown name, but as he left Sunday afternoon, everyone in the gym knew his name following an impressive day of camp. A strong, athletic point guard, Cajuste continually attacked the rim and carved up the defense in the lane. He gets downhill in a hurry with his quick first step and can finish at the rim with contact. Coming in with a chip on his shoulder, Cajuste proved to be a worthy mid-major option at the next level.