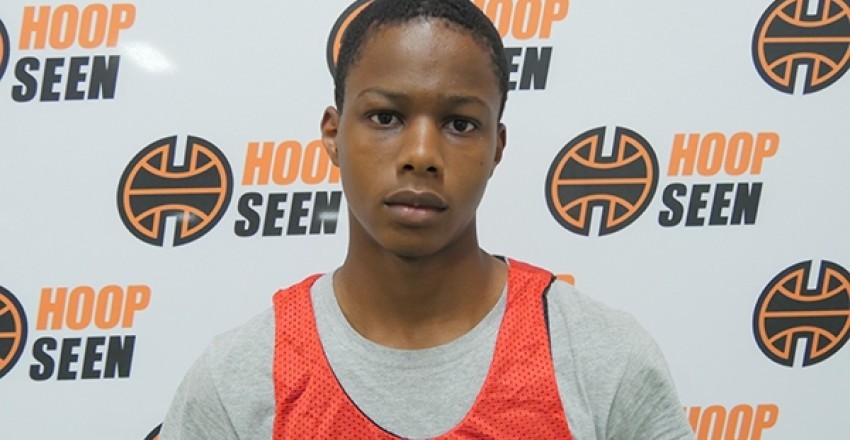 In prep for the season starting in October, All Metro Hoops puts on their Elite 100 showcase for some of the top players in the state to make a statement as well as up-and-comers to make a name for themselves. This year's showcase was no different with a lot of well established players playing well and some young guys making an impression. Here are the day's top performers:
Trae Broadnax, Islands, 2019: The young Savannah product has made an impression on our staff playing on the 17U Georgia Cup Circuit as well as other events. He continued to show what he can do this weekend. A true point guard with great size, Broadnax showed a savvy that comes with being a playmaker. He also shot the ball well from three, which makes his game well rounded. He continued to cement himself among Georgia's top 2019 prospects. 
Isaac Okoro, McEachern, 2019 (pictured): While Okoro was on the floor, I watched closely and continuously asked myself, "What is he?". And I think I got my answer. He's a ball player. He can make statement plays with his offensive abilities and athleticism. However, a lot of what Okoro does goes unnoticed. He makes a lot of plays that win games, making good reads, getting the ball to the right places, and deflecting balls left and right on defense. There isn't a lot that he doesn't do, and all of these things make for a winner. 
Jojo Toppin, Norcross, 2018: Toppin was one of the more under the radar transfers during the offseason, but the now Norcross wing could prove to be an important addition. Since his emergence last fall, Toppin has become known as an elite athlete who excels at slashing to the rim. However, he has added a consistent jumper from the perimeter to his game, making him a big offensive threat. He also brings a lot of versatility to the table due in large part to his toughness and high motor. 
Tyson Jackson, Creekside, 2018: One of the most improved players since last season, Jackson clearly made the most of his offseason. He has always had the size that makes him a high potential player, and he has begun to tap into that potential. The most glaring improvement comes in the mid range, where he has stretched his range to outwards of 17 feet. He has also added to his toughness on the block, becoming a more capable rebounder and shot blocker. 
Anthony Edwards, Therrell, 2019: A guard that is wired to score, Edwards did just that at the Elite 100 Showcase. He has a well rounded offensive game that is packaged with great size and strength from the shooting guard position. These tools can make him an elite level guard in Georgia's 2019 class. He is one of the most gifted offensive underclassmen in the state. 
Sharife Cooper, McEachern, 2020: McEachern has a good stable of young guards, and Cooper is certainly one of them. Not the biggest point guard out of the bunch, but Cooper packs a big punch and made a statement at Elite 100. He is very quick off the dribble and has the craftiness to find space where there seemingly is none to create for himself and teammates. He changes speeds very well and has a knack for making tough shots. With him, Okoro, Alyn Breed, Quintin McElroy, and Babatunde Akingbola, McEachern will be a fun young team this season.