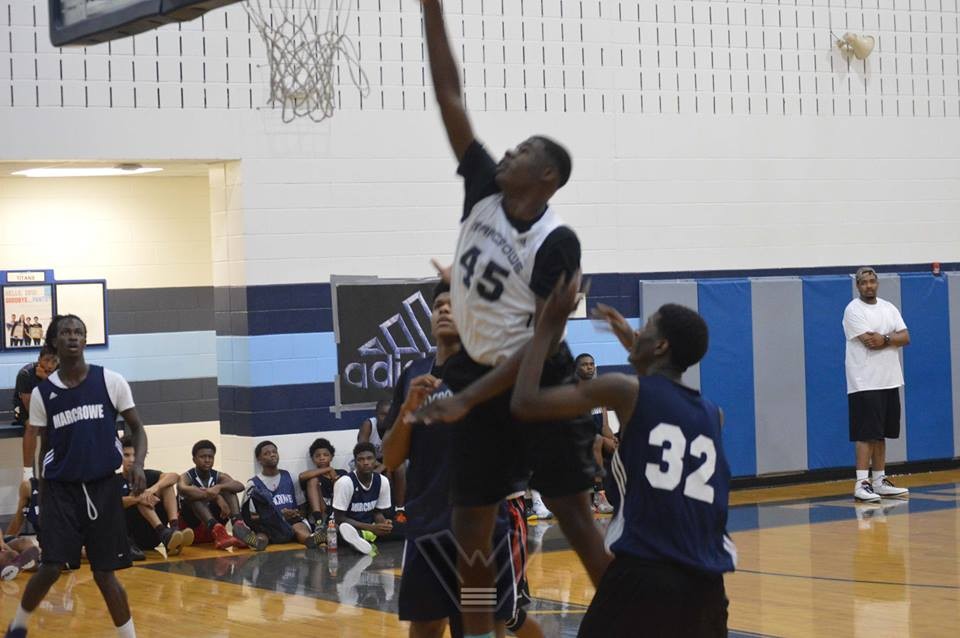 By Lavel Johnson

The 2016 edition of the Adidas Crossroads of the South Elite Exposure Camp was held this past Saturday at Ridgeland H.S. in Ridgeland, MS. This year's camp was the eight edition and year after year the best of the Magnolia State continue to show up to display their abilities. That was never more evident than this year as the headliners really dominated play. Let's take a look at the top standouts from this weekend's camp.
Robert Woodard, 6-7, WF, 2018, Columbus HS: Quite simply the best player at camp. Played with a SWAG and showed the different parts of his game. He stuck pull-up J's, finish with athletic dunks in transition, pulled down offensive boards for put-backs, had s number of blocked shots, played defense against guards and bigs and threw a few nice dimes for good measure. It's scary how good he can be.
Javeon Fleming, 6-8, Post, 2018, Canton HS: Fleming is quite possibly the best post-up player in the state. When he gets it on the block, it's money, and the best thing about him is that, that's where he wants it, on the block. You don't see him roaming the perimeter trying to be a wing. He's also a very good rebounder who grabs many above the rim, and showed a nice outlet pass to boot.
Ladarius Marshall, 6-6, Forward, 2018, Jackson Forest Hill HS: This very bouncy, he had the highest vertical in camp testing with a 33.9 inch vertical leap, face-up four man probably had the most dunks in camp, as he scored primarily at the rim off of dishes and offensive boards, he stepped out and stuck a few jumpers to show his stroke and continued to show his hops with a number of blocked shots. Had a solid day on the boards but can improve his effort on the defensive boards.
Brandon Mills, 6-9, Post, 2017, Mendenhall HS: This active big man is somewhat under the radar but is steadily rising up the rankings. He had a very good day showing his ability to get up and down the court and finish strong at the rim. He worked hard on the boards and did a good job protecting the rim and for good measure he stuck a couple of mid-range jumpers and displayed the ability to take the ball coast to coast in transition.
Michael Barber, 6-8, Forward, 2018, Jackson Academy: Barber had a productive day using his versatile skill set to score the ball. Was very good getting to the rim off the dribble and when defenders sagged to play the drive he showed a solid stroke to keep them honest. A little bulkier now than in the past he used that bulk to make an impact on the boards including quite a few offensive boards for scores.
Roderick Smith, 6-7, Post, 2018, Crystal Springs HS: "Big Baby" came to play Saturday and was more than a hand full to deal with, as he used his big body to constantly clear out space around the rim, on both post-ups and rebounds, for scores. Moved up and down the floor quite well and displayed a bit more spring than I've seen before on a number of power dunks at the rim.
Austin Crowley, 6-4, Guard, 2019, West Point HS: This long limbed combo guard showed a lot of ability on the day. When handling the ball he showed the ability to make good decisions and the ability to get to the rim. His jumper was very solid for much of the day showing the ability to hit the pull-up "J" and range out to the three point line. He also had a number of dunks in transition showing his athleticism.
Jaylon Forbes, 6-3, Wing, 2019, Florence HS: This slightly under the radar wing had a strong showing on Saturday. After feeling his way thru the first game he really turned it up in games 2 & 3. He got his jumper going, stroking a few deep three's, then when the defenders begin playing up he showed his mid-range pull up game. Solidly built and with good length he also had a solid day on the offensive boards and showed he could finish thru contact in traffic.