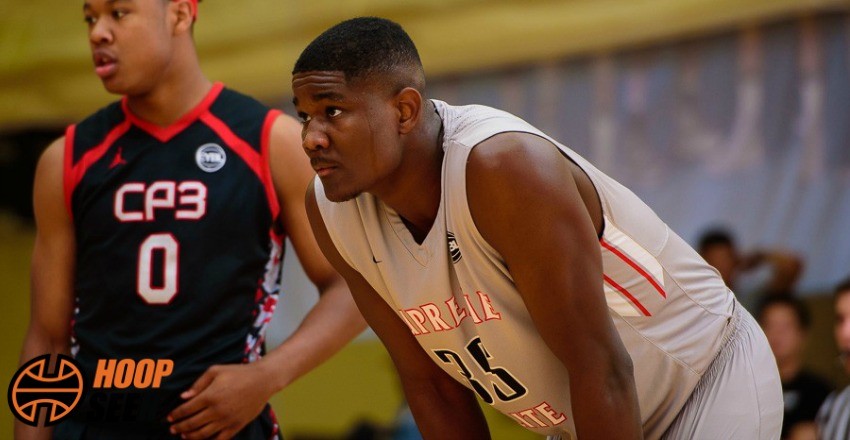 It was the first complete day of basketball at the Nike Peach Jam as some of the more talked about recruits hit the floor and their future head coaches were in attendance to catch  glimpses at their strengths and weaknesses. The competitive juices got flowing early on as the 16-under programs hit the floor in North Augusta before the older groups closed things out in perfect form. No one stood out more than DeAndre Ayton, Kyle Young, and Hameir Wright, three prospects that each hold their own priority recruitments.
DEANDRE AYTON, PF, CAL SUPREME, 2017
There has been much talk about whether DeAndre Ayton will ever play an ounce of college basketball next fall. He did his best to clarify things following his win on Thursday evening in stating that he will definitely head to college next year as Arizona, Kentucky, and Kansas have each put in some major work with him. Before solidifying his status for next year, Ayton dominated his opponent that showcased top ranked 2018 big man Marvin Bagley. The 6-foot-11 big man played the hardest that we had ever seen him as he remained vocal as a secondary line defender, threw shots away from the basket, and ran the floor with an added purpose. Guys the size of the Bahamian native along with his young age shouldn't be able to move the way that Ayton can. Finishing with 23 points, 18 rebounds, and five blocks in the win, the Cal Supreme start displayed it all, from knocking down the 18-footer, to finishing at the basket, to remaining engaged throughout, all of which equates to being a future top pick in the NBA Draft.
HAMEIR WRIGHT, SF, ALBANY CITY ROCKS, 2017
Hameir Wright can oftentimes be a tantalizing prospect. He is graced with great size standing over 6-foot-7, along with quality ball skills and is a graceful finisher at the basket. However, he sometimes doesn't always produce on the final stat sheet and leaves you wanting more. On Thursday, the New York native definitely gave us our money's worth as he showed improved toughness around the basket on either handed finishes, hit on a few step back jumpers, and was active and engaged on the glass. Finding and creating his own shot isn't much of an issue as the City Rocks product has range out to 20-feet and is beginning to show some grit around the cup. In the comeback win over the St. Louis Eagles crew, Wright went for a solid 20 points and eight boards and while he rattled off a long list of schools, whispers are that it is a heated battle between Syracuse and Villanova for the talented 3-man.
KYLE YOUNG, PF, KING JAMES SHOOTING STARS, 2017
Is Kyle Young a sexy ballplayer? I think not. He doesn't wow you with supreme athleticism or have the razzle dazzle handles that will break someone's ankles, yet what he does have is uber levels of toughness and a giant nose for the ball, all of which equates to major production on the hardwood. More of a face-up 4-man, Young is an excellent rebounder of the ball where he grasps balls from in and out of his area and within traffic with both hands. On Thursday evening, the Buckeye State native had all it all clicking as he hit on four 3-point jumpers, finished at the basket and through contact, and was the catalyst for his bunch's blowout victory. A total of 24 points and eight boards doesn't justify just how good the King James star was as he was followed heavily by head coaches from Purdue, Butler, Clemson, Michigan State, and Michigan.
MICHAEL HUEITT, SG, TEAM CP3, 2017
While his squad went down in defeat to get the day started as they welcomed back top dog Wendell Carter to its lineup, the CP3 crew wouldn't go down in defeat to end the night as Michael Hueitt stepped up and lit the nets on the fire. Far from a college ready body in tow, Michael Hueitt makes up for his slender physique by way of his competitive fire on the floor along with his penchant for makings long distance jumpers. He hit on seven perimeter shots in all and even nailed an and-1 conversion from 22-feet. Confidence never lacks in the CP3 product and while we would like to see how well he handles it against ball pressure and if he can score at the basket, there is no denying the 23 points that Hueitt threw up on the scoreboard in what seemed like a relatively easy manner.
BRANDON SLATER, SF, TEAM TAKEOVER, 2018
A relatively well-known name throughout the east coast and especially out of the DMV, Brandon Slater is the next man up for the loaded Team Takeover program. The lefty has sometimes relied too heavily on the outside jumper but like on Thursday, when he is picking his spots appropriately, the 6-foot-5 is quite the special prospect. Sporting a more filled out frame that he used in slicing his way to the basket and in also showing off some vision and passing skills on the drive and dish, Slater was a very difficult guard down the stretch. He still is most comfortable on the catch and shoot attempt as the southpaw spots up well off the ball and gets his release off in a millisecond just as he hit on the overtime clinching perimeter jumper with time expiring. A bevy of the top programs on the east coast have fallen in love with Slater and rightfully so as the majority of the ACC along with others such as Maryland, Providence, and Georgetown were in attendance for his standout performance.
WENDELL MOORE, SF, TEAM CP3, 2019
The sign of a great ballplayer? Whenever you thoroughly evaluate him for a good 32 minutes and think he had an okay outing and you like at the final stat sheet and he nearly finished with a triple double. This is exactly the case for Wendell Moore, a top prospect within the 2019 ranks. Not having turned 15 years old just yet but graced with an excellent physique and a great feel for the game, the talented small forward is a mix bag of tricks and someone that can fill it up on the playing floor. He isn't much of a go-getter on the scoreboard but he can facilitate for others as he has great vision and passing skills from off the deck, is capable of defending practically every spot on the floor outside of the center position, and is a major producer on the final stat sheet. Coaches from UNC, Clemson, Wake Forest, Virginia Tech, Virginia, and many others watched the Cox Mill High product go for a cool 13 points, 10 rebounds, and seven assists in his team's solid W to get the week off to a solid start.