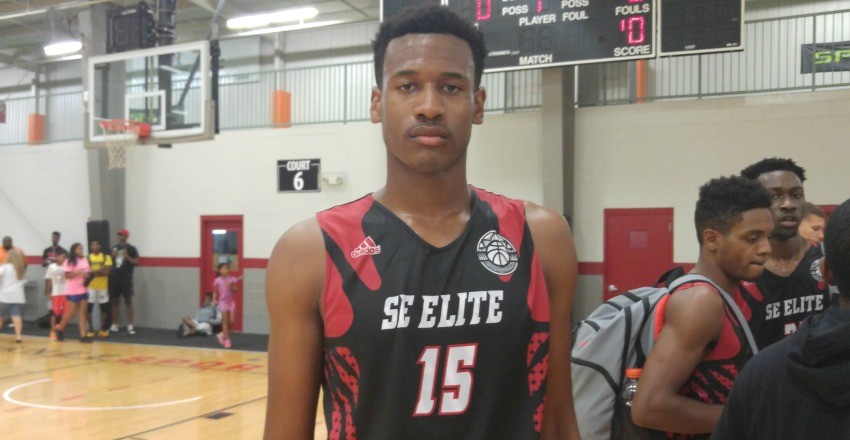 The second evaluation period kicked off on Wednesday evening as boatloads of college coaches hit the road in pursuit of finding their next top dog. Setting up shop at the Live Summer Festival, an event bringing in some of the top programs from the southeast to the confines of the Suwanee Sports Academy, a few Florida born products made a push within their own respective recruitments. Tyler Polley and Dwight Wilson made a statement at the end of the evening but it was Malik William that was cool as can be.
MALIK WILLIAM…THE BEST PASSING FORWARD IN HIGH SCHOOL BALL
I wasn't old enough to properly evaluate Kevin Love during his days on the travel circuit. I more than respect his passing prowess and abilities during his team at UCLA and now in the NBA, yet outside of Ben Simmons, and I am not too sure if we can even qualify him as a true forward, Malik William might just be the best passing forward that I have ever evaluated at the high school level.
Playing in a showcase game for his CP25 SE Elite squad out of Florida, the 6-foot-8 power forward was phenomenal in throwing two-handed, 70-foot outlet passes that found his teammates in perfect stride that led to easy lay-ins out on the break. He has great awareness, accuracy, and precision on each throw and in the half-court, uses the swing pass appropriately in offsetting the opposing defense and in finding the open teammate spotting up for the 3-point jumper.
Very unique yet a bit undersized at the power forward spot, William isn't an elite athlete but he does have length and solid timing as a rim protector, can step out and hit the outside jumper, and has the hands that gobble up every rebound from within his area.
Clemson head coach Brad Brownell was in attendance for the Sunshine State native as it seems to be a two horse race at this point for William. "Clemson and West Virginia are the main two I talk to the most. I am going to visit each in August or September," the elite distributor said.
"I like everything about them," William state about Clemson. "Everything they send me in the mail is great. If I go there, I can start as a freshman since their starting power forward is a senior this year."
The other program in pursuit is WVU and its head coach is someone that intrigues the rising senior. "Bob Huggins is a really good coach," he stated. "I like the way he coaches and plays at a fast pace. But I can be the guy that slows things down for him, too."
Look for an early signing in November and a very unique and quality pull for whichever school that William chooses, though the Tigers and Mountaineers look to be in a good spot for him.
TYLER POLLEY SHOWS MASSIVE PROGRESSIONS
Heading into the spring evaluation periods, there was a lot of interest for Tyler Polley. The 6-foot-8 forward had grown another inch but also incorporates a mixture of ball skills, passing abilities, and a smooth stroke that leads to a very difficult matchup out on the perimeter. However, the past few months haven't been all that great but things have gotten back in the right gear for the E1T1 product.
While he still does have to get stronger in handling contact better around the basket along with developing a low-post game in creating more difficult matchup issues, there is a lot of upside and potential with the Sagemont School product. On Wednesday, the slender bodied forward showed off improved play making skills out on the break as he took the ball off of the defensive glass, didn't get sped up whenever his defender picked him up, and made the proper dish near the lid.
Within the half-court setting, Polley can really go to work off of the wings of the floor. He has a deadly mid-range pull-up jumper that he hits with confidence and balance to go along with quality composure as he never forces the drive to the basket. More of a face-up power forward than a 3-man, Polley would be great within a dribble-drive, open floor based offense that he is surrounded next to go a bunch of tough and aggressive guards that like to drive and attack the gaps of the defense.
On the recruiting front, schools are beginning to get back on board with E1T1 product. "UAB, Tennessee, Xavier, UCF, and Dayton are just some of the schools that I talk to a lot," he told HoopSeen. "Everyone is about the same right now, though."
UAB head coach Rob Ehsan and Clemson head coach Brad Brownell, along with assistants from TCU, Dayton, Boston College, ECU, and Florida State all took in the improving senior where it looks as if Tyler Polley is on the cusp of another break out as an excellent space 4-man at the next level.
DWIGHT WILSON BATTLES
The Showtime Hoops gang will suit up in the UAA Finals this weekend but before doing so, the Sunshine State based 17-under bunch hit the floor at the SSA. A very tough and gritty squad that is pleasing to the eyes, it was Dwight Wilson, a 6-foot-7, hard-nosed and productive big man, that showed out to end the evening.
A bit on the smaller side when speaking on his standing stature, Wilson more than makes up for things with his endless energy reserves, physical mentality from 15-feet and in, and his well-oiled motor that allows for him to produces regardless of whether the game has sped up or is played more within the half-court.
Excellent out of the high-post, Wilson has a very efficient mid-range game as he converted on three 15-foot jumpers off of the high entry catch and rip. He is deceptively athletic off of his left foot going to the basket and while he isn't too explosive off of two feet from the standstill position, his physical tenacity and willingness to stay in pursuit of the 50-50 ball enables for the rising senior to produce against the bigger bodies down low.
What should be a mid-major priority, things are just picking up steam with the Tallahassee native. "I have offers from Florida Gulf Coast, James Madison, North Florida, and Stetson," the Showtime Hoops big man stated. "I will probably take my five official visits to FGCU, JMU, UNF, Jacksonville, and Loyola later on in the summer."
Whoever is capable of landing the services of Dwight Wilson, they should be more than excited in grabbing a quality four-year piece down low that will set the tone from day one and produce accordingly.
OTHERS OF NOTE
Clemson head coach Brad Brownell was at both of AJ Oliver's game on Wednesday evening. Receiving a pledge already from the 6-foot-5 wing, Oliver is a tremendous grab for the ACC bunch. The top-100 recruit hit on several perimeter and mid-range jumpers, defended multiple spots, and looks to be a foundation piece for the Tigers program moving ahead.
The offers haven't come in as they should have for Tariq Simmons but that should all change this week after being watched by a plethora of east coast programs on Wednesday night. The 6-foot-1 guard is a major speedster with the basketball in his hands and is unrelenting in defending the basketball. A great kid off the floor with a major chip on his shoulder on it, all that Simmons does is compete and win.
UAB head coach Rob Ehsan was in attendance for Jacksonville Magic guard Scootie Bryant where the rising senior out of Florida would be an impressive haul for the CUSA program. Sporting a college ready body, boatloads of toughness, a polished set of handles, and good energy levels, Bryant gets to the basket with ease, plays hard on each possession, and looks to be a four year winner at the point guard position in college.
CROWD WATCHING
The sidelines were filled with college coaches from across the south and east coast as head coaches from UTC, UAB, La Salle, and Clemson, along with assistants from Presbyterian, William & Mary, Campbell, Jacksonville State, Wichita State, TCU, Boston College, Ball State, FGCU, WCU, and Florida State were among just the few that were spotted throughout the opening night of play at the Suwanee Sports Academy.