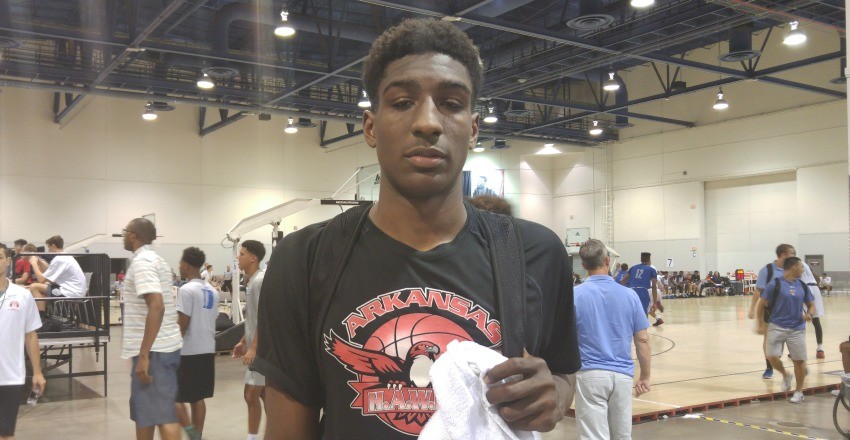 It was a full day of action in Las Vegas as the steamy temperatures rose and the competition in the gym was even more intense. With a plethora of big time events taking place from every corner of the region, there was no shortage of big time performances from some of the very best prospects known nationally. However, it was the play of Reggie Perry that intrigued the most as what could be for the junior forward.
REGGIE PERRY MAKES A STATEMENT
Heading into July, for the talent level and abilities out of Reggie Perry, nationally, he has not received the proper dues that he rightfully deserves. We here at HoopSeen were fortunate to have included him within out top-20 of our 2018 rankings but even that might not be high enough.
Blessed with great size and the body that should absolutely blow up as he physically matures, the 6-foot-9 power forward has a very impressive feel for the game. He didn't start off things on a great note but it was his dominating stretch of plays that led his squad to a comeback win over a feisty and gritty New England Playaz bunch.
Excellent out of the high post setting, Perry is a tremendous passer of the ball but he also has the ball skills in taking the rock off of the defensive glass, leading the break, and making the proper read and dish within the numbers game near the basket. He finishes through contact at the rim, has a good looking 15-foot jumper, and shows off solid instincts within traffic in coming up with his fair share of 50-50 rebounds.
On Thursday morning, Mike Anderson and two of his Arkansas assistants, Ole Miss, Kentucky, Tulsa, and Florida State watched the big time talent. "I am talking a lot to Arkansas, Missouri, Florida State, and Tulsa," Perry said. However, it seems that two schools have put in more work than others. "I just have visited Florida State and Arkansas."
Perry spoke further on each of the two programs.
Arkansas
"I am comfortable with the coaching staff. I like it down there. They also have really nice facilities."
Florida State
"They also have really nice facilities and are building new ones. I have known Coach Hamilton and Coach Jones for a while now. My dad used to coach with both of them."
While Arkansas and FSU may be in there deep with the five-star prospect, could things be coming to an end sooner rather than later? "I might take a few visits in August but I could also make an early commitment, too."
Expect for heated attention from here on out for the impressive power forward that has the body, ball skills, and play making abilities to be a well-known name for the years ahead.
VICTOR BAILEY SHOWS A MEAN SIDE
Athleticism has never been an issue, or a lack thereof, for Victor Bailey. The 6-foot-4 lefty guard is as bouncy as they come at the basket where he concocts a lethal first step and improving toughness in getting to the rack and then attempting high flying dunks within the bigger bodies. On Thursday, the RM5 product tried to do just that before he was blindsided by an opposing big man that led to some ruffled feathers and a flagrant foul. It was Bailey's response that impressed the most.
Instead of sulking and looking to figure out what exactly his opponent was trying to do, all Bailey did was get back up, make his foul shots, and then look to pulverize his opponents on the scoreboard. The southpaw has a killer two-dribble pull-up and improved ball skills when placed on the ball. Due to his size, quickness, and added consistency with his jumper, Bailey is a major matchup issue for any type of guard that he has to face.
While he has been a relatively well-known name throughout the state of Texas, Bailey is entering his senior year and has a good feel for what he is going to do when it comes to a commitment. "After Vegas, I will probably cut my list down to a group of ten," the premier athlete stated. "My parents and I haven't really talked about it yet but we will probably play the process out. Coaches transfer more than the players do."
An intellectual kid off the floor, Bailey has his fair share of schools tracking him. "Right now I would say I talk a lot to Texas A&M, Oklahoma State, Oregon, Tulsa, Arkansas, Illinois, and Missouri," Bailey told HoopSeen. "I have taken unofficial visits to A&M, Tulsa, and OK State."
While Bailey may be in a holding pattern until the spring, expect for those that remain in pursuit of the 6-foot-4 lefty guard to remain fully attentive to every move of the high flying Victor Bailey.
JAMAL BIENIEMY COMES UP BIG
Against a very scrappy and hard playing Mac Irvin Fire bunch to end the evening, the Texas Boys Athletic Club hit the floor with a major purpose in mind. They wanted to make a statement that they could play with the big boys and beat some of the better shoe sponsored programs from all across the nation. They matched this goal and showed even more promise with their super talented but young 17-under bunch as it was Jamal Bieniemy that was the catalyst in their win to end the night.
Bringing great size to the floor but still just 16 years of age, the member of the 2018 class has a great first step, a long frame, and developing ball skills that allow for him to get wherever he wants with the basketball in his hands. He can shoot it, play make, and defend various spots, all of which he did in the back gym at Spring Valley High School.
A bit underrated nationally out of the Houston suburbs, Bieniemy won't be for much longer. His upside is very, very promising and so is the way that he goes about playing the game of basketball. Texas A&M, Houston, Tulsa, and Wyoming are just a few of the programs that have offered the native of New Orleans where it would seem that plenty of others from across the land will jump in on the top-100 type of talent.
In speaking with Bieniemy's father, Troy, there are three programs that have been a bit more vocal compared to others with the intriguing talent. "UCLA, Oklahoma State, and Michigan probably speak with us the most," he stated. While no offers have been given just yet from the trio of schools, that should all change as the junior guard continues to work on his game and prove the doubters wrong about what he is capable of doing on the basketball playing floor.
OTHERS OF NOTE
Get to know the name of Terry Armstrong within the class of 2019.  The 6-foot-5 high flying athlete has the goods to be a highly tracked prospect in the coming years. A prospect out of Flint, Michigan, Armstrong currently holds an offer from UNLV and could take an unofficial visit to the MWC program prior to leaving Las Vegas later this week.
Princeton got a really good one with Jerome Desrosiers. The New England Playaz were missing its stud guard and Davidson commit in Kellan Grady due to a hip injury but the senior forward stepped up his game as he finished at the basket, play maked some, and hit open jumpers. He should be a fine, four-year producer for the Tigers within the Ivy League.
Prentiss Hubb? Yeah, he is pretty good. The 6-foot-2 guard from the DC Premier program had his best on tap on Thursday afternoon as the lefty went head-to-toe with top-30 senior Paul Scruggs and seemingly won the matchup. He hit pretty much every shot that he threw up at the basket, dished out excellent pocket passes off of the high ball screen, and was the catalyst for his team's big time victory at the Fab 48.
Finishing off the night, despite missing some of its key parts, Brandon Williams did his very best to lead his Cal Supreme crew to a victory. They went down in defeat but it was the junior guard's spunk, energy levels, and toughness that remain a constant with him as the likes of Tony Bennett, UConn, Villanova, UCLA, and Arizona were in the house for the five-star guard.