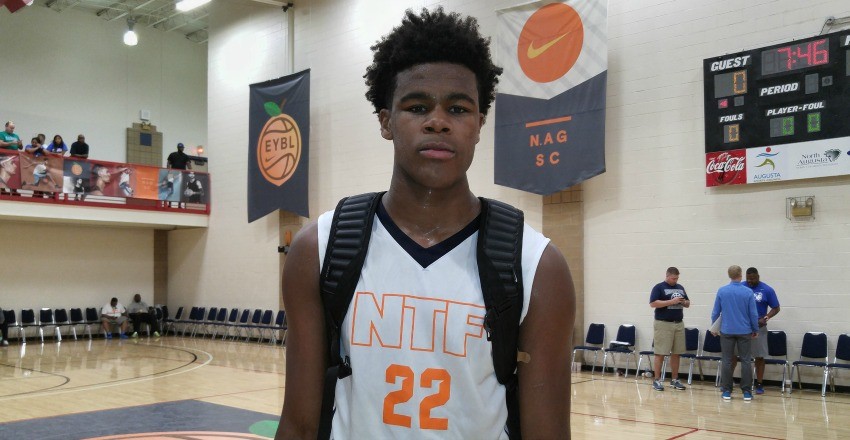 Once again, the temperatures soared in Las Vegas at day three of the third and final evaluation period. The last few games of pool play commenced before bracket play got kicked off at some events and the competition in the local gyms really heated up. It has become the final contests for the members of the 2017 class but it was a star piece of the 2019 class that set the floor on fire with his performance on Friday afternoon at an off-site gym at Liberty High School.
VERNON CAREY GOES TO WORK
The 2019 class looks pretty damn good. There is size at each spot along with ball skills already in place. You can pick and choose who is the best and while the final say won't come down for a few more years, what Vernon Carey did on Friday showed that the Sunshine State native more than has the goods to be in contention for top dog status.
A 6-foot-9 power forward sporting a 7-foot wingspan and just entering his sophomore year of play? Yes, the Nike Team Florida star definitely has the physical tangibles down pat already. He is more than mobile in getting up and down the floor whenever the game speeds up yet has the ball skills in facing up and breaking his man down from off the bounce. He can oftentimes go through the motions and play too often on the perimeter but it was far from it during his big time outing in Vegas.
Finishing with 25 points, Carey did it every which way possible. He led the break, finished at the basket with authority, hit mid-range jumpers, and was definitely not afraid of showing some emotions whenever he had things clicking. He also won't see the hack-a-Shaq type of deal where he converted on seven of his eight foul shot attempts and was able to get to the line six times within a matter of three minutes.
Miami head coach Jim Larranaga and two assistants watched once again and while there is still some time to go in the big man's recruitment, you have to like the ACC program's chances with the five star recruit due to his locale and bloodlines that lead back to the U.
Put it any way you want it, Vernon Carey, when he is playing just like he was on Friday, has more than enough to be called the best that there is in the 2019 class.
ANTHONY POLITE SEES THE LIGHT AT THE END OF THE TUNNEL
There is talent, size, explosiveness, and an improving jumper all in tow with Anthony Polite. A 6-foot-6 guard with a college ready body and the athleticism to boot, there is more than one way to use the Swiss native on the playing floor.
On Friday at Bishop Gorman High in Vegas, the Florida Vipers guard went to work as he showed that he could run a team at the lead guard spot, but was also more than capable in being used off of the ball as he displayed an improving jumper from off the catch but the same old explosiveness at the basket on the downhill drive to the rim.
Entering his final few days of travel ball, Polite gave insight on his recruitment. "I am probably going to cut my list down to five after we get back home from Vegas," the versatile guard noted. "I am hearing a lot from Miami, Florida State, Pitt, Memphis, VCU, and Texas Tech."
Having previously visited Miami and Florida State earlier this summer, many had thought that it may have been a done deal for the Seminoles due to his bloodlines that lead back to the ACC program where his father once suited up at. "I like them. My dad went there but it's not a major impact since I grew up in Switzerland," Polite said before speaking further on FSU. "They want to build something special and they want to continue to have a big time program and get back to the top of the ACC."
Expect for a more cut and dry college list in the coming days as Anthony Polite continues to prove the doubters wrong in rounding out his skillset and further producing on the playing floor.
CAMERON KRUTWIG OWNS THE BLOCK
Everyone wants the high flying athlete or the giant rim protector at the center position. However, Cameron Krutwig more than deserves his dues as the 6-foot-8 center is more of a below the rim type but his skills and feel for the game more than suffice.
A lefty with a mean drop step but with counter moves galore, Krutwig might not pass the immediate looks test of a big time college basketball prospect. He has yet to receive much high-level attention and though things could be speeding up with his recruitment, now would be the time for the bigger programs to jump on board as he had it all clicking at Bishop Gorman on Friday.
Not many can put the ball through the basket more efficiently and with such skill as the Young Legends center. He set the tone from the tip at the Fab 48 in hitting elbow jumpers and then went to work further inside as he carved out his space, used the lefty hook to score over length, and when the defense decided to get physical with him, he just answered right back by digging in and showing off up-fake and step through moves prior to the lay-in score.
Not a tremendous athlete and more of a thicker, wider build, Krutwig does have great feet and quickness near the basket and out on the break which has led boatload of 19 offers in hand. Though he isn't officially down to a specific list, there are a few that stand out. "I am sort of down to Loyola, Northern Iowa, Belmont, ECU, Duquesne, and a few others," he said,
Sporting solid grades in the classroom, Krutwig has been able to get on the road for a visit or two and plans on taking a few more in the not so distant future. "I already took an official visit to Belmont and I went on an unofficial visit to Loyola but my brother couldn't go so I will probably go back on August 1 with him," Krutwig stated. "I might take an official visit to Northern Iowa and I am thinking about going to ECU, too."
Bringing great strength, size, and a hold no bargains mentality, Cameron Krutwig has the makings of that guy that none of the big dogs want to face during the madness that is the month of March as he displayed just that against his opposing bunch in Vegas on Friday.
OTHERS OF NOTE
Jermaine Samuels was a bad dude on Friday night. The 6-foot-7 wing-forward sports ideal size for his spot on the floor along with a major chip that he competes with each time out. While he does have to better his handles, Samuels is a premier perimeter shot blocker from the small forward position, a big time athlete, and can shoot the outside jumper with major elevation. The likes of Villanova, Syracuse, Kentucky, Arizona, UNC, UConn, Providence and many others took in the Expressions product's outing.
There definitely is a lot of talent on the table for Ethan Henderson as the 6-foot-9, mobile and decently skilled big man with the Arkansas Hawks 16-under bunch, has gone to work here in Vegas. A lot more bouncy than previously before, Henderson has continued to dominate around the basket on two-handed dunk conversions while also showing off improved toughness in the lane. Head coaches from Arkansas and Auburn, along with assistants from Ole Miss, Florida State, LSU, Alabama and a few others watched his early morning contest.
It wasn't the best from Romeo Langford to end the night but luckily he received some help from a teammate of his on a made jumper at the buzzer that kept his EG10 team alive in bracket play at the adidas Summer Championship. The 6-foot-6 wing did go for a 40 and 10 game earlier in the day and while he does need to be a bit more urgent on a consistent basis, Langford can go and get you 20 without breaking a sweat. A smooth and fluid three level scorer of the basketball, John Calipari and Steve Alford, along with assistants from Kansas and Louisville watched the five-star junior to finish off the day.
With a brother entering his first year of play at Marquette, Joey Hauser may have a dilemma on his hands as to where he might head off to college in two years. Options are never a bad thing and after being seen by head coaches from UNI and Iowa, along with assistants from Duke, Wisconsin, Marquette, and a slew of others, the 6-foot-8 combo forward type went out and displayed a much improved perimeter jumper to go along with his tremendous passing skills. One of the best forwards in the 2018 class, the Iowa Barnstormers product continues to prove that he is a top of the line skilled guy nationally.