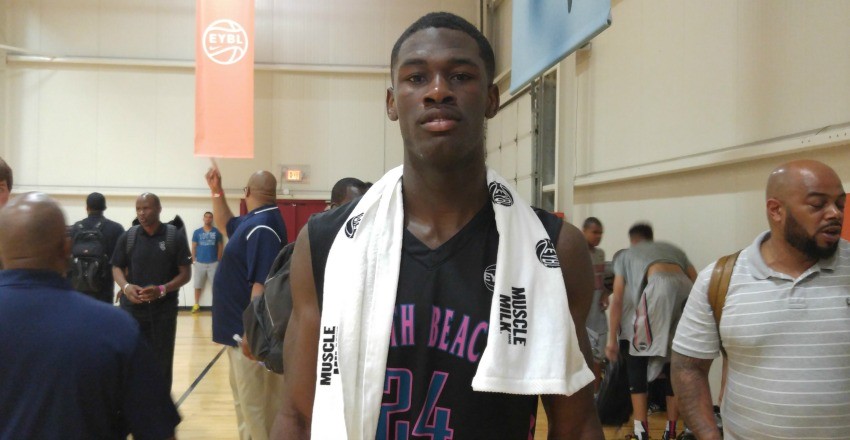 Wednesday kicked off the final month of play for the class of 2017 on the travel circuit. Here at the famed and prestigious Nike Peach Jam in North Augusta, South Carolina, 24 of the very best programs nationwide descended upon the Riverview Park Activities Center to compete for the title. A few budding stars and already known commodities showed out in front of a throng of heavy college coach watchers. We take a look at what we spotted throughout the abbreviated day that was on Wednesday evening.
CHAUNDEE BROWN….THE NEXT FIVE-STAR RECRUIT
We spoke heavily on Chaundee Brown, a 6-foot-4, chiseled and physically developed wing, a few weeks back at the EYBL session held in Suwanee. After breaking out to a tune of 37 points off of 16-of-23 shooting in May, the Sunshine State native was up to it again as he converted on four first half 3s, along with a few other hard drive and finishes at the basket. The Nike South Beach star was the catalyst for his bunch in securing a first half lead over the more talented PSA Cardinals squad. While his team went down in defeated, it wasn't because of Brown's lack of play. The First Academy star showed off an elite burst on the downhill drive, the ability to defend the 2-through-4 on the floor due to his size and strength, a knockdown perimeter jumper, and a nose for the ball on the glass. In all, Brown finished with 24 points and nine rebounds and is inches away from being labeled as a five star recruit.
MO BAMBA…THE NEXT TO SHAKE ADAM SILVER'S HAND
Now back on the court for the first time since April after nursing an injury for the past few months, the time off definitely didn't hurt Mo Bamba's case as an elite, blueblood recruit, nor did it affect his ability to produce on both sides of the floor. The near 7-footer that sports a 7-foot-9 wingspan, is as good of a perimeter shot blocker from out of a frontcourt position that we have seen for some time now. While he really needs to improve his face-up jumper and shot at the foul line, Bamba's motor has made a total 180 since this time last year as he ran the floor with a purpose, eradicated any hope that an opponent thought he had at making shots within the half-court with him nearby, and was excellent in holding his ground down low and in either scoring on quick seal and drop steps, or in making the kick out pass prior to the second defender coming down upon him. Finishing up with 21 points, 14 rebounds, and six blocks, Harvard head coach Tommy Amaker and two assistants, Kentucky head coach John Calipari and an assistant,  Syracuse head coach Jim Boeheim and an assistant, along with assistants from Duke, Kansas, and several others were in the gym to see the five-star big man.
BRANDON RANDOLPH…THE NEXT VALUED 3-AND-D PROSPECT
Heading into this week, we gave a quick rundown on a few of the most watched prospects this month. Randolph found his name on the list and rightfully so as the 6-foot-5 wing backed up his lofty status as a break out prospect this past spring where he had his best on tap on Wednesday evening. As he continues to round out his game, the New York native will see his production skyrocket. He brings loads of toughness and length to the floor where he displayed the ability to sit down and defend different spots on the floor and the grit and instincts on the glass that enabled for a handful of rebound snatches. Still though, the PSA product lays his hat on his offensive output where he is capable of creating his own shot for himself as he converted on hard attack and finishes off of his left foot, upfake and one-dribble step over jumpers from 22-feet, and runners along the baseline region. His 24 points led his squad in securing its first win of the weekend in front of a load of coaches that continue to pursue the Westtown star hastily.
KEVIN KNOX…THE NEXT KENTUCKY, DUKE, UNC + MORE WANTED MAN
Every year, Duke and Kentucky, along with a few others, dance off in a battle for the best that there is throughout the land. In the 2017 class, Kevin Knox fits the bill as the 6-foot-8, long and bouncy athlete, has used the travel circuit nicely over the past two years playing up for the E1T1 17-under bunch in securing his status as an elite, top-10 recruit. On Wednesday, in front of head coaches from Kentucky, UNC, and Syracuse, along with three assistants from Duke and a few others from Kansas and Florida State, Knox put on a show down the stretch. He hit on two mid-range pull-ups off of the left elbow, two spot up 3s from off the catch, and was his acrobatic, high-flying self at the basket. He is Shawn Marion like on the second and third jump on the glass and is just as good as a rim protector. While his team went down in defeat, Knox still showed out to a final box score total of 28 points, 13 rebounds, and three blocks.
LAVAR BATTS…THE MOST COMPETITIVE THERE IS IN 2017
Missing their star down low as Wendell Carter, HoopSeen's top ranked 2017 prospect, was giving himself a night off after coming over from Spain following his dominant play with the USA U17 bunch, his Team CP3 squad still didn't miss a beat. Why is that? Well, primarily it is because of the hefty tone setting and vocal nature of Lavar Batts. The 6-foot-1 guard has been inspected in and out and picked apart for his lacking jumper. However, even with making a smooth perimeter jumper during the latter session of his outing, the Carolina native displayed an all-around game at the lead guard spot that should make college coaches droll. He has an elite burst as he can score through contact with either hand at the basket, is a leader on the floor for his bunch, and has the chance to be as good of an on-ball defender that there is. VCU head Will Wade and Butler head Christ Holtmann were just two of the many head bosses and assistants in the house for the CP3 blowout win, a victory lead by Batts' 18 points, five steals, and four assists.
MATT MAYER…THE NEXT CHANDLER PARSONS?
There weren't a lot of bright spots for the Houston Hoops bunch that was already playing without one of its stars in Jarred Vanderbilt and ended up losing its five-star forward in Billy Preston due to injury throughout the opening night contest. The one standout for the Texas based bunch was Matthew Mayer, a 6-foot-7 combo forward type with a pristine jumper from deep. The bouncy and lively bodied 2018 forward needs to develop his handles further in primarily being seen as a small forward but it is his shot making skills from off the deck and off the catch, along with his bouncy conversions at the basket that really stood out. Finishing with 17 points and seven rebounds in all, Mayer's upside is pretty dang good and if he can round out his game and add strength, the rising junior shows great promise as the next national level recruit out of the Lone Star State.
OTHERS OF NOTE:
There isn't a more professional minded guard in the high school ranks than Quade Green. He treats every game like it is his last where he runs his team like a savvy vet, makes all of the right plays, and is a feisty on-ball defender; he is good for a double digit points and assists pretty much every time out.
While he isn't a phenomenal athlete, Paul Atkinson still gets the job done where he has a great IQ and feel for the game around the basket, can convert with either hand in traffic, and has fine hands on the glass where he totaled 14 points and nine rebounds during his first outing on Wednesday evening.
Hamidou Diallo and Jordan Tucker get most of the pub for the New Rens bunch but it was Samson George that laid down the tone within the paint in aiding his squad for the comeback W. He is more of an undersized power forward but he can make plays from in and out of his area on the glass and as a shot blocker and is due to become a priority, mid-major recruit this summer and fall.
When given time and space, Isiah Jasey can be a major asset down low. The 6-foot-9 center has a nice hook shot over either shoulder in the paint along with solid hands on the glass. He totaled 10 points and 10 boards in his team's loss with a bevy of Big 12 and SEC schools in attendance.
COACH WATCH
There was a plethora of high-major head coaches and assistants in the house on Wednesday as we expect a full house on Thursday. The head coaches spotted throughout the day include those from Marquette, Stony Brook, St. Louis, La Salle, Kentucky, Northwestern, Syracuse, Harvard, Washington, Texas, DePaul, Georgetown, New Mexico, Georgia, Georgia Tech, UConn, UNC, VCU, Butler, and Indiana. On the assistant from, you name the school and they were more than likely in the house.