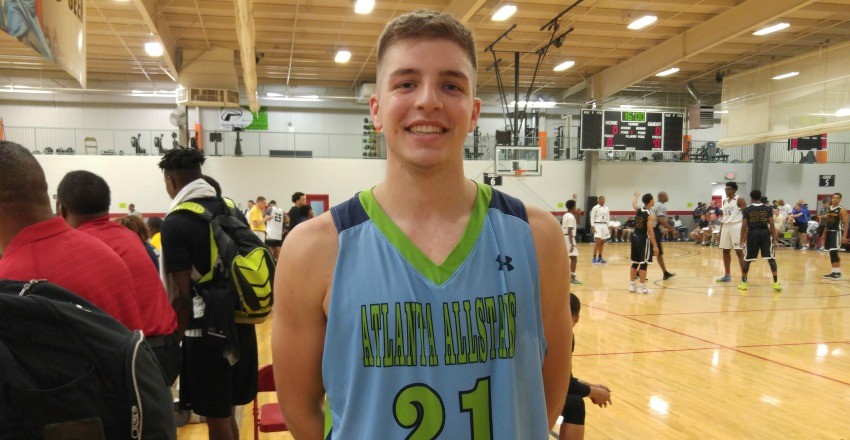 It was a full day of action at the Best of the South and while things got heated as the day wore on and pool played finished up, nothing set the day better than what a product of the Atlanta All-Stars 17-under bunch did in the morning session. While Evan Cole has created a giant following, it was Colby Leifson that nearly made the HoopSeen team call the fire department for the net torching that ensued on court six around 10am.
COLBY LEIFSON GOES STRAIGHT FLAMETHROWER MODE
Sure, there is a quality crop of shoe sponsored programs here at the Best of the South that have put themselves in nice position for bracket play that will ensue this weekend. However, it has been the Atlanta All-Stars 17-under unit that has impressed nearly everyone in attendance. On Thursday, it was Evan Cole that enhanced his resume but no one did this exact thing better than Colby Leifson on Friday.
A 6-foot-4 guard with a solid basketball body and build, Leifson wasn't all that great in his opening night game as he struggled to find his mark from downtown. Consider that is an anomaly as he started off his morning contest with a bang and before it even got to the two minute mark in the first half, Leifson had tallied nine 3-point makes within a matter of 10 minutes.
Confidence and the ability to get open within the half-court setting is never an issue for Leifson. He moves extremely well off of the basketball and can even look like JJ Redick during his golden days at Duke with how he maneuvers off of pin downs and stagger screens that allow for the All-Stars wing to get just a quick look at the basket before hoisting up a jump shot that is as consistent as can be.
While he does have to better his handles and implement a more broad range of scoring moves from off of the bounce, guys like Leifson are such a premium in today's game. He nearly creates a double team for himself that allows for another teammate to be left wide open and due to the presence that the he exerts on the perimeter, it more than allows for ample driving lanes for his guards from out top.
What makes Leifson unique is that he won't even be in the United States in a few months. "I am leaving in early October for a mission trip," the 6-foot-4 guard stated. Heading to Santos, Brazil, the absolute dart thrower from downtown has seen his stock soar in recent weeks. "Tennessee Tech offered in May and Gardner-Webb and BYU just offered last week."
Now with a BYU offer in hand and the WCC program in attendance for each of his games this week thus far, Liefson discussed the west coast squad further. "They shoot a whole lot of 3s," he told HoopSeen. "That's their system. They have had a lot of success having kids come back from their LDS mission so it's definitely a good spot."
Expect for a commitment before his departure prior to leaving for Brazil but for the fire marshal to continue to be on stand-by as Leifson looks to be one of the best outside marksman that the nation has to offer within the high school ranks.
EMMITT WILLIAMS LOOKS TO DOMINATE
We can nitpick all we want with Emmitt Williams. Sure, he isn't extremely polished within his basketball skillset and he doesn't sport the ideal height that you would want out of a power forward. However, when it comes to absolutely dominating the paint, no one does it better than the E1T1 product.
A member of the 2018 class that has played the entire year up on the Nike EYBL circuit and thrived, Williams is good for a number of dunks and double-digit rebounds grabs regardless of who he is facing off against. His motor is as well-oiled as can be and so is his alpha-dog mentality on the playing floor. He has incorporated a catch and shoot jumper that he was able to convert on from deep at one point and also displayed some moves around the basket but the big man's bread is buttered by way of his energy exertions and physical tenacity around the rim.
Williams is on track to set the BOTS dunk record for the entire event. Sure, we probably have never recorded such stats but if we ever were to do so, now would be the time. Williams looks to dunk everything and anything within his grasps. The 6-foot-7 forward sports a 7-foot plus wingspan and he uses it nicely in annihilating his opposing unit with the two handed hammer dunk and as a rim protector as he oftentimes jumped over his teammates just to swat away his opponents shot attempts.
Things are far from complete with the IMG product's recruitment where the elite finisher hasn't even taken too much time to consider his options for two years from now. "I am not really worried about all of that stuff right now. I am just trying to play basketball and get better," the Sunshine State native said. "Florida, Florida State, Oklahoma, Texas A&M, and a bunch of others text me a lot, though."
Look for more rim-rattling dunks and utter dominance within the painted area for the E1T1 star as Emmitt Williams is one of the most consistent double-double guys that you're going to find within his 2018 class nationally.
PAUL ATKINSON EARNS HIS STRIPES
What were you doing yesterday at 3:45am? I am hoping that you were sleeping but Paul Atkinson sure wasn't. The 6-foot-9 big man out of Florida was getting up for his flight as he was set to make his debut at the Best of the South on Friday for the D3 MOAM 17-under squad.
Playing most of the summer with the Nike South Beach program, Atkinson moved over to the adidas based program this week and immediately lit a fire for the squad with his nose for the ball around the basket and relentless energy levels that allowed for several second chance opportunities.
He will never be defined as an elite athlete that can jump out of the gym or someone that brings oohs and awhs from the crowd, but what Atkinson does is produce and on a consistent basis. He has excellent hands and touch around the basket along with a solid feel and IQ for the game. Atkinson works angles well near the lid and is an underrated passer facing the basket when used within the high elbow setting.
While Atkinson showed no signs of exhaustion during his last contest of the day in Suwanee, we caught up with the Florida native before he called it a night as to where things stand with his recruitment. "Yale, Old Dominion, and Richmond are probably the schools that talk to me the most along with a few new schools," he said as such others as Lehigh and Bucknell have turned up the heat for the productive big man.
Hoping to narrow things down in the coming weeks, it is one program that has caught his eye and will more than likely be taking a visit to following the busy month of July. "I will probably visit Yale," Atkinson said. "I like them a lot. They're a great school and it is the Ivy League. If you go there, you're guaranteed a great job whether it is overseas, in the NBA, or just a regular job."
Planning to major in engineering in college, all Atkinson did was on Friday was engineer another productive outing at the BOTS as he continues to prove himself as one of the best that there is within the frontcourt down south.
OTHERS OF NOTE
Trent Frazier did it again on Friday as he was the catalyst for a giant comeback win for his Florida Elite squad. With Illinois head coach John Groce in attendance in the morning and an assistant from the Big 10 squad watching later on, the 6-foot guard scored 29 points in every which way possible as he nailed  a giant 3 to tie things up with under a minute to go and provided sticky on-ball defense that led to turnovers and run-outs for his teammates. He might not be ranked by every scouting site but the kid is going to win a lot of games wherever he attends college next year.
Want a super underrated combo guard option in the 2017 class that is and should be on the cusp of a break out? Kane Williams has the goods. Bringing good size onto the perimeter, the 6-foot-3 senior has slid over nicely into the lead guard spot as the crafty play maker is a fine passer of the ball from off the bounce, has bettered his outside jumper, and currently holds three offers from the likes of Southern, Alcorn State, and MTSU.
Say what you want but one-time UConn commit and top-50 big man Zach Brown continues to develop his game and body and has produced more consistently because of it. Sure, he oftentimes finds himself out of position on defense and needs to watch his foul counts, yet the South Beach big man plays hard and is an elite rebounder of the ball as he brought down over double digit rebounds in both of his outings on Friday.
CROWD WATCHING
The sidelines were again jam-packed as, for some games, it was a standing room only at the Suwanee Sports Academy. The head coaches that we spotted throughout the day were those from Dayton, Western Kentucky, UTC, Stetson, Belmont, Youngstown State, George Mason, Clemson, Nicolls State, Navy, Furman, and Wofford, along with a bevy of assistants including those from Maryland, Florida, Tennessee, Murray State, Rhode Island, Radford, UCF, Presbyterian, Illinois, BYU, NC Central, LSU, Temple, St. Louis, Western Carolina, East Carolina, Georgia State, Bradley, Wright State, Bowling Green, Ohio, and SIUE.