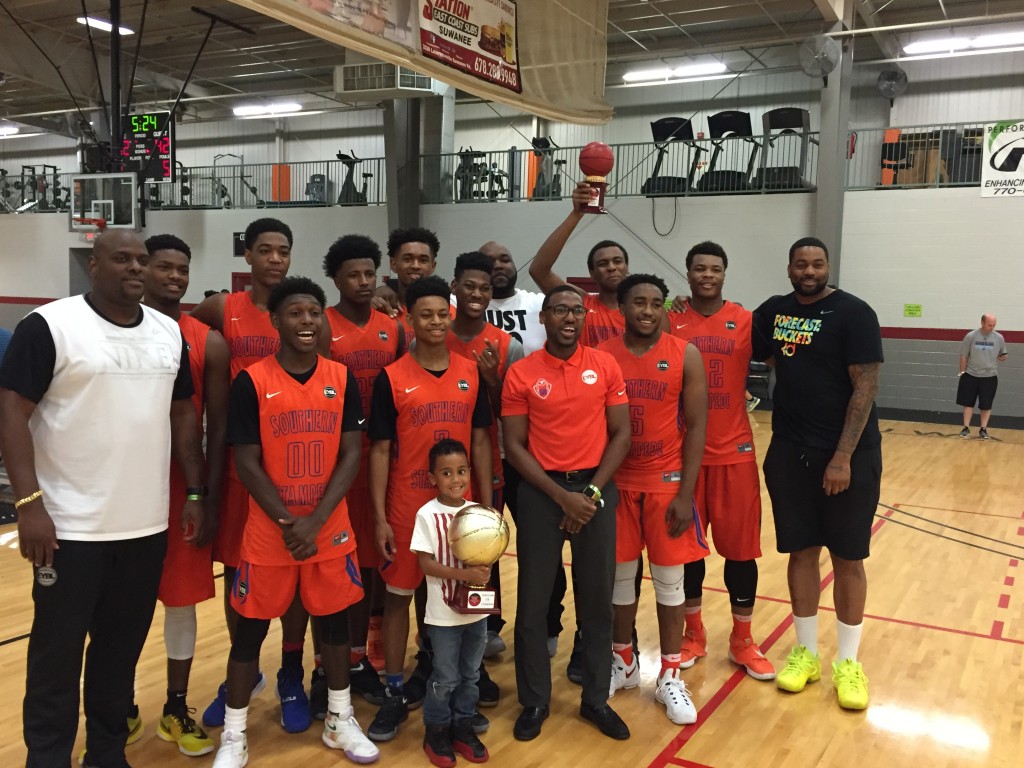 TJ Massenburg and Zach Cooks were named Co-MVPs of the 17U Division while Al Durham, Jalen Hillary and Rheaquone Taylor did the bulk of the damage in the title game. The Stampede raced out to a quick 8-2 lead behind two three-pointers from Jay Estime. The lead ballooned to double digits and remained that way for the rest of the half after Durham began to find his stroke, netting eight of his 13 points in the first half on mid-range jumpers and contested floaters off the glass.
At the half the All-Stars trailed 36-22. Javon Greene paced the group with eight first half points and finished with a team-high 13 to go along with his six rebounds and five steals. Sharpshooter Colby Leifson was held in check before hitting a pair of late threes and finishing with eight points. The All-Stars managed to hang around and trailed 41-33 before the wheels began to fall off as Hillery and Taylor started their assault on the rim. Taylor scored a game-high 14 points and added six rebounds. Taylor's 14 points were loud, a few coming off powerful slams. Hillery's path to the goal often ended with a trip to the foul line. He scored 12 points, nine via the stripe.
Evan Cole went for 10 points and eight rebounds in the loss while battling Massenburg and Chris Agbo. Massenburg scored five points and blocked three shots while Agbo earned six points, 10 rebounds and two blocks.
Cooks and Massenburg didn't stuff the stat sheet in the final, but both did see their stock rise over the weekend. Massenburg began his high school season as a raw shot blocker but has seen his game improve by leaps and bounds and has become a versatile scorer, able to knock down the three.
"I just found the right coaches and I worked really hard. I try to do the best I can every day and I get to be named Co-MVP," said Massenburg of his hard work paying off at Best of the South.
Asked what people can expect out of him his senior season at Shiloh (Ga.) High School?
"We're going to win the state championship."