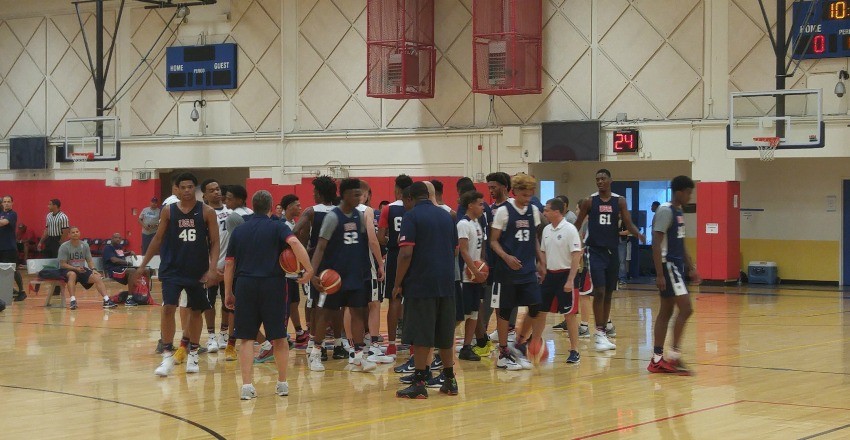 The USA U18 trials kicked off on Tuesday evening in Colorado Springs, bringing together a collection of some of the top rising seniors from the high school ranks, along with several others that will be hitting a college campus within the coming weeks. Led by Texas head coach Shaka Smart, the group of 38 went through 5-on-0 play, shooting drills, and finished it off with a quick scrimmage. Cuts will be made in the coming days but it was Markelle Fultz and Quade Green that put themselves in prime position for the completed roster.
MARKELLE FULTZ STARS
The ascension hasn't stopped just yet as Markelle Fultz was dominant all practice long and finished it off with a complete outing in the scrimmage. He is too valuable to be placed off of the ball and needs to be seen first as a lead guard. His feel for the game, pace, instincts, and collective feel is all off the charts and so is the DeMatha Catholic grad's size for his position.
The 6-foot-4 guard has quick twitch abilities and is nearly unstoppable out of high ball screen sets. He fits perfectly into today's era of positionless basketball as he can play on and off the ball and his production never suffers.
Against some of his top peers, Fultz rained down outside jumpers from off the catch and with an added hand in his face, scored at the basket with crafty and well-controlled lay-ins, and showed off epic vision and a passing prowess that he has continued to polish.
Three years ago, Fultz was a practical no-name. Now, it would be a bit of a shock if he wasn't a one-and-done guy at Washington next year and was the first guard taken in the 2017 NBA Draft; he is that good. Huskies fans, be excited but also appreciate what you're about to get your hands on because the DMV product might not be in Seattle for far too long.
QUADE GREEN BUYS IN
It is quite remarkable the transformation that Quade Green has gone through in recent months. Coming up through the ranks, the Philly guard was more of your score-first type at the lead guard spot. Before he would look to set others up, he would first attempt to get his. The PSA Cardinals product has taken a complete 180 with his game and because of it, was superb fighting off others headed to college in the fall while he still has one more year to go in the high school ranks.
After averaging over 10 assists per game in the gantlet that is the Nike EYBL this past spring, Green once again bought into being the primary facilitator for his group in the scrimmage session of the practice on Tuesday evening. Several times he looked off his first option down the floor like vintage Tom Brady in the backfield, and found an even better, more open teammate for a clear look at the basket. His vision and passing abilities are on point and during one quick spurt, had three assists within five possessions of each other.
This is not to say that Green cannot score the ball where he nailed a nice mid-range pull-up with the defense sagging off of him and used excellent body control on an acrobatic lay-in with his off-hand in traffic.
On the recruiting front, Green spoke on a pending visit to Duke following the CP3 Camp come June 26. The Blue Devils have not offered but one could be in the works; the PSA Cardinals star did note that he has yet to take the SAT exam, which could be the hold-up.
While a cut list could be made in July, expect for many of the top blueblood programs nationally to make a hard push for what might be, the best facilitating lead guard in all of high school basketball.
OTHERS NOTES & THOUGHTS
Hamidou Diallo brought some noise to the floor as the bouncy, 6-foot-6 wing threw down a tremendous, lefty putback dunk in traffic and followed it up with two more tip-ins within the next few minutes. His outside jumper remains a work in progress but this type of a competitive setting is where the New Yorker thrives the most.
How fun was it for Shaka Smart to see both of his incoming big men go at it in the post? To finish the scrimmage session off, Jarrett Allen and James Banks checked each other in the paint. Allen brought a great motor along with some quality finishing abilities to the interior while Banks used his strength and disciplined defensive acumen to change shots in the lane. A time and place could be made for both to be on the floor together in Austin, with a bevy of high-low sets being implemented, especially for the skilled Allen.
Michael Porter had his moments as he hit on and-1 3-point jumper, a nifty pull-up in the lane as he squared up while off of his feet, and used his quick leaping skills to rebound balls from in and out of his area. Washington Huskies head coach Lorenzo Romar was on hand as he is a staff member for the U18 group, where he had to be salivating about what could be with the MoKan star after recently naming Porter's father an assistant on his staff.
MJ Walker had a few nice possessions as he hit on two under control pull-ups following the upfake off of the left wing and bought in to defending the much bigger and stronger Michigan State recruit, Miles Bridges. His outside jumper wasn't falling as much in the drills session but he is one of the finer wing recruits in all of America within the 2017 class.