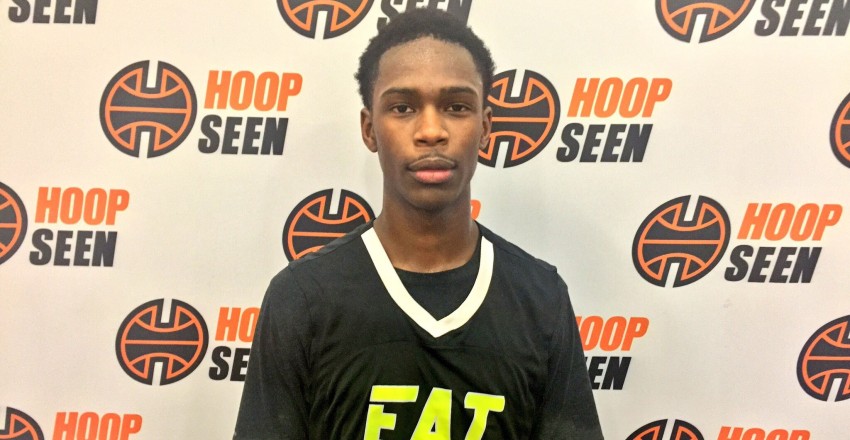 16U Middle Georgia Supersonics met Team Atlanta in what looked like an intriguing matchup, but it was the Supersonics that dictated the tempo. They opened the game up 16-2 and never trailed in a commanding 56-41 victory. Upson-Lee freshmen Zyrice Scott and Travon Walker picked up where they left off last night. Scott ran the show well and controlled the pace of the game offensively while defensively he came away with two of the Supersonics' 13 steals, a majority coming off their full court press. Scott sank three three-pointers and finished with a game-high 20 points. Walker did his damage on the low block, posting 16 points and eight rebounds. The big-bodied banger had a nice touch inside and was active on the glass, giving Team Atlanta problems all day. KJ Jenkins led Team Atlanta with 13 points while Dontarius Carter chipped in eight points and 10 rebounds.
Highlight Factory
17U Team EAT and Southern Stampede Fuller put on a show for those in attendance. Even though Team EAT led wire to wire in a 75-55 win, there were still some incredible plays being made on both sides. Isaiah Banks (pictured) and Ray Washington were tough to corral. Banks brought the house down with a couple slam dunks on his way to 19 points and nine rebounds. The uber-athletic Heritage-Conyers guard relentlessly attacked the rim and finished with authority.
Washington, an unsigned senior guard from Rockdale, was great in transition and was everywhere on the floor. He stuffed the stat sheet with a game-high 22 points, five rebounds, five assists and four steals. He drilled five of Team EAT's 11 three-pointers. Jahsun McNeil (Clarkston) added on 13 points, four rebounds, two assists and three steals.
Southern Stampede's Evan Jester (Sandy Creek) scored all eight of the team's first quarter points and finished the night with 20 points and six rebounds. The mobile 6-7 forward with a 4.0 GPA and a 25 on the ACT should be a highly sought after target his senior season. Point guard Jonathan Foster (Riverdale) scored 16 points in the second half and netted 20 overall to pair with his five rebounds, three assists and two steals.